In addition to managing Pages and Navigation, the Website section of the Manage Team console is where you set up smart content such as News Posts.

News Page
To manage where your News Posts will reside, go to Manage Team > Website and you can drag and drop the News page where you'd like it to appear in your navigation.  See more about Managing Menus and Navigation.

You can rename your News Page by clicking on "Properties."  The News page is a Smart Page, indicated by a small gear icon - 

. Smart pages automatically display news posts, schedule, registration, and login pages and can not be added manually or deleted.  These pages shouldn't be repurposed—in other words, the News Page should always just be the News Page,
News Posts
Go to Manage Team > Website > Posts to see and manage the news posts which appear in the Recent News snippet and on the News smart page.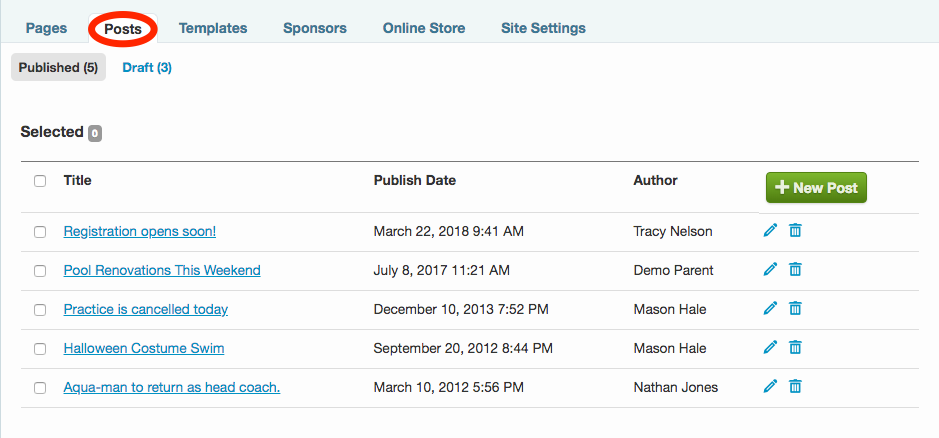 Click the New Post button and enter a title for your post and more details in the text box.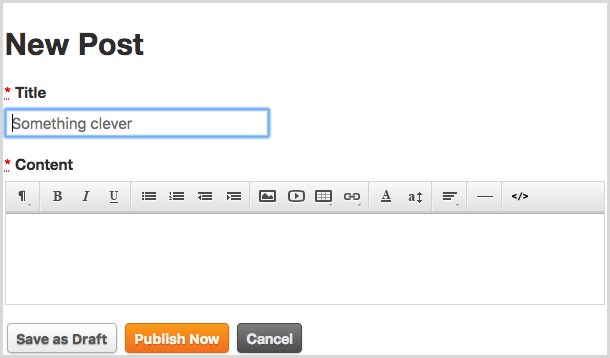 Or, to quickly add a News Post while browsing your website, click Add News Post link in the Manage Website menu.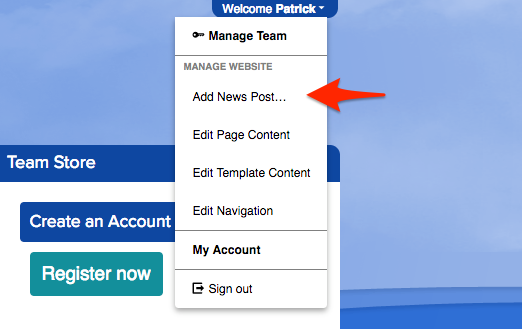 After entering your text in the Content box, click Save as Draft to save your post without publishing, Publish Now to publish your post, or Cancel to exit. 
Drafts 
Clicking on the Draft() sub tab under Posts will display all the posts that are currently unpublished. The pencil icon will let you edit and publish the post while the trash can will remove the draft. Drafts will not display publicly until they are published. 

Publishing and Unpublishing
A published post can be unpublished by editing the post using the pencil icon or clicking the checkbox next to the title and selecting the Unpublish button at the top. Drafted posts work in the same way but with Publish instead of unpublishing. 
Editing a published post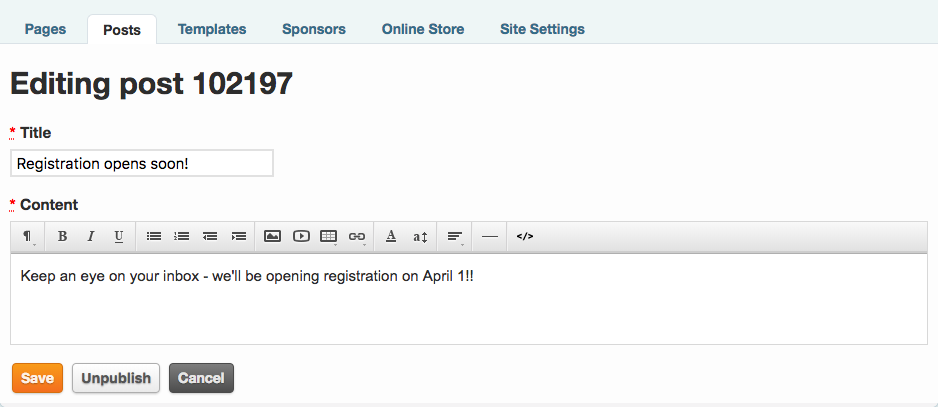 Multiple posts can be selected at once by clicking the checkbox at the top of the list, this will apply any changes to every post selected on the page (50 max).
Selecting multiple posts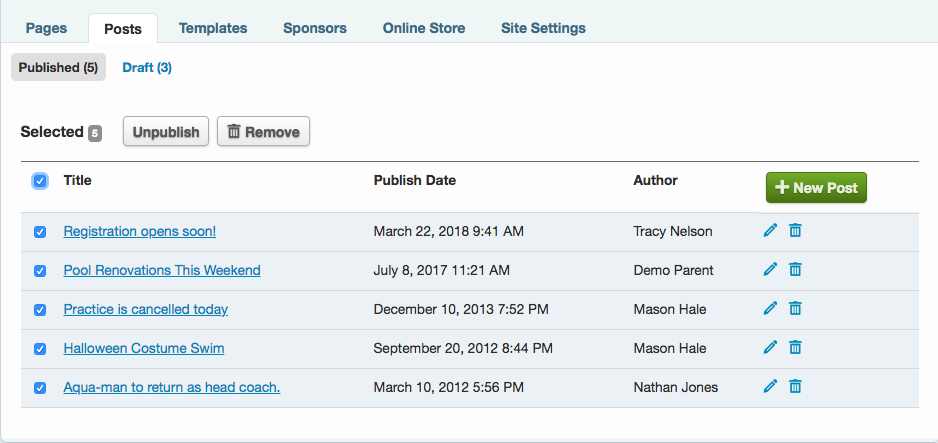 Tip: The Remove button will delete the post(s) selected, there is no trash tab so make sure you are certain. 
Images in News Posts
It's better to not use special characters such as "#" in image file names.
Recent News Snippet
You can display a summary of several of your most recent news posts on one of your pages or in a sidebar by using the Recent News Snippet.  With the snippet, you can decide how many recent posts will be displayed, and the most recent posts will be automatically updated.  
For more information, see our Help Center article about the Recent News Snippet.