>>Note: Changes in each released version of Meet Maestro are documented in our Meet Maestro Version History, and we specify when updates apply to the desktop version required for a timing system.
---
Covered in this Article:
---
Time Drops Overview
---
Meet Maestro Windows Desktop App Installation
The Time Drops Timing System is supported via a downloadable Microsoft Windows Meet Maestro desktop application. Our desktop application enables tighter integration with Time Drops so that times can be detected and loaded automatically.
>>Note: If you have previously installed Meet Maestro Desktop, please be sure to close any currently running version before installing a new version.
When the installer is running, you will see this screen. This graphic will not show any installation progress or status. As long as you see this window, the installer is working. The installation may take several minutes. When the installation is complete, the app will launch automatically.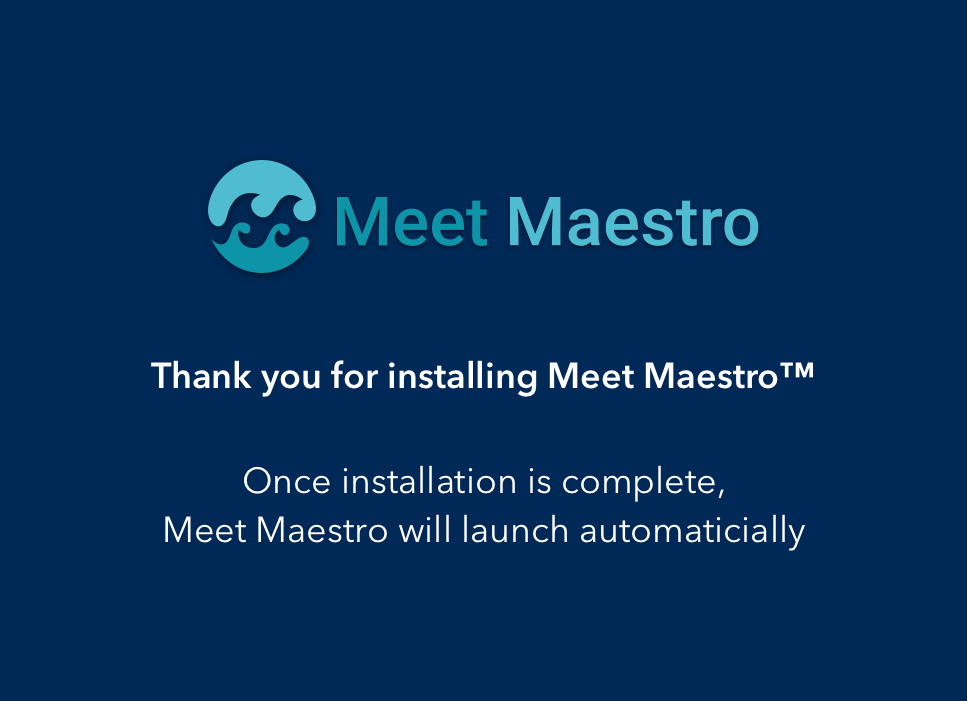 Once installed, log in with your SwimTopia credentials. You should be able to navigate to any of your meets that have been Merged under Merge/Export in your SwimTopia team management interface. You will only see meets that have been Merged in this interface.
For specific details on general system requirements to run Meet Maestro using a timing system ➞ See our Meet Maestro - Windows Desktop Application Installer & Details article.
---
Meet Maestro Timing Setup & Scoreboards
➞ See the Meet Maestro Settings – Timing Setup & Scoreboards article to select your timing system in Meet Maestro and download the start list files for your scorebards as needed. You will be directed back to this article to complete the remaining setup steps below.
>>Note: If you came here from the Timing Setup article, and have performed those steps already, continue below.
---
Time Drops Setup
➧

Time Drops MM-Link Download
➧

Time Drops Setup Cont.
After you have selected the Time Drops option from the Meet Maestro Timing Setup screen and downloaded the Time Drops MM-Link (above), follow the steps below to complete your setup:
Step 1 ➧

Select the Correct Directory
Maestro should default to the same directory as your timing system. If it does not you may see the following error and will need to use the CHANGE DIRECTORY button to resolve the issue:
You can change the directory to any folder on the computer (e.g. C:\TimeDrops), but it needs to match the folder you selected for MM-Link (assumes you already installed MM-Link). Then hit 'SAVE". This will automatically export the meet program. The program will be sent to the console which will generate a new meet number (if this is a new meet).
Step 2 ➧

Write the Timing System Configuration File (Optional Step)
This timing system writes a 'meet_details.json' file which the timing system will use to configure event descriptions, number of heats, entries, etc.
Step 3 ➧

Set the Session Number
This should be auto-detected by Meet Maestro once the timing system is running...
However, past session data can be loaded by using the Change Session Number button.
Step 4 ➧

Select the Expected Number of Times per Lane
Available options are 1, 2, 3.
Step 5 ➧

Choose to "Publish current event & heat to SwimTopia Mobile App"
This setting is referencing the ability for Time Drops to automatically send information about the current event and heat being swum to the SwimTopia Mobile Live Event/Heat Bar.

>>Note: The SwimTopia Mobile Live Event/Heat Bar keeps your athletes and parents up-to-date on what's happening in the pool in real-time. And when using a timing system, updates happen automagically! ➞ See Enabling the SwimTopia Live Event/Heat Bar to learn more.
Step 6 ➧

Click SAVE
---
Editing Time Drops Settings
All of the settings configured during setup can be changed by pressing the gear icon

in the timing system bar. You do not need to go back to the main Timing Setup screen under the meet settings.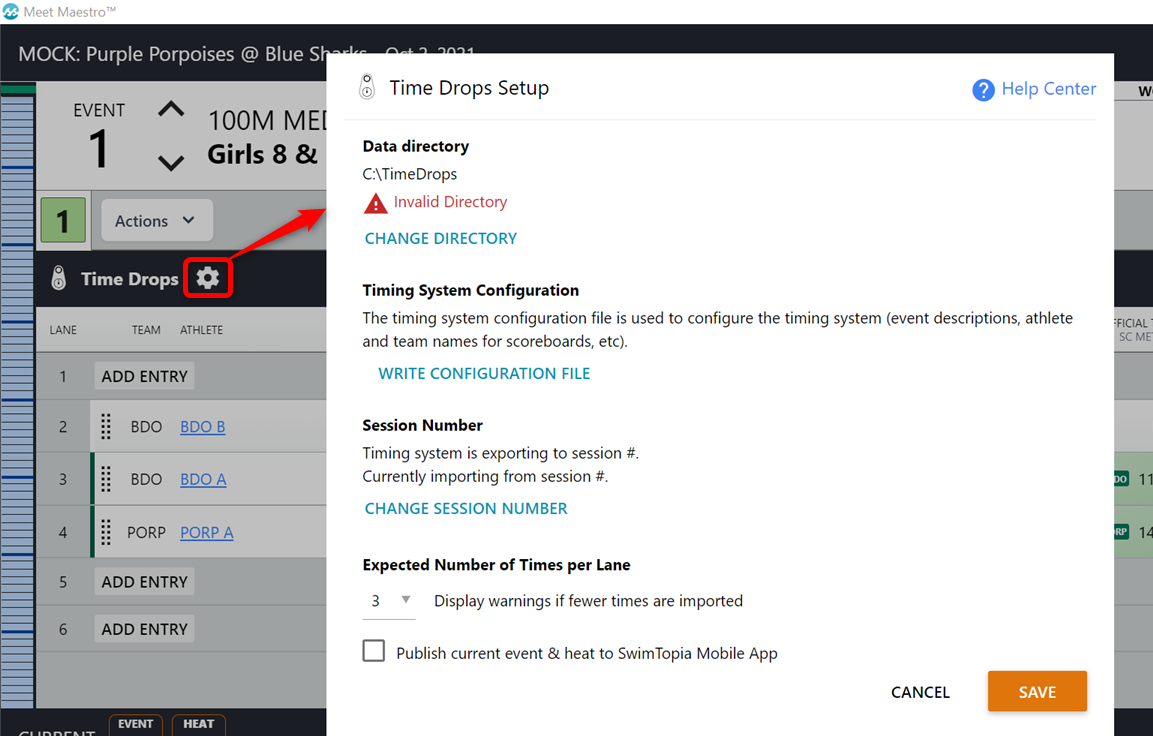 ---