SwimTopia's mobile app is available to all members of a team using a SwimTopia website.
>>Note: A valid SwimTopia login is required. If you need assistance with a login/password ➞ See our Login, Password and "My Account" Details Help Center article.
---
Covered in this Article:
---
Free Features Overview
Notification Alerts from your team's admins

Live Event/Heat Bar on meet days*

Personalized calendar view of upcoming meets and events

Personalized Meet Overview for your family (including swim events and volunteer jobs)

Your swimmers' best times

Your swimmers' swim history

Post-meet results for your family's swimmers
*  If your team is running the Live Event/Heat Updater
>>Note: To sign up for meets (meet entries or job signup), you will need to access your team's website through the browser on your phone. Also, some teams choose NOT to display relay team designations on the app. 
---
Notification Alert Details
Notification Alerts are helpful when your team or coach needs to get information out quickly, such as rain delays or weather alerts. Based on your phone's notification settings for the SwimTopia app, you may see these pop up as banners to grab your attention quickly.
>>Note: If you don't download the app, OR download the app but do not have notifications turned on, you'll receive the alerts via email. You need to update to the new release of SwimTopia's mobile app to receive push notifications (Version 2.1.17 or higher) 
To receive alerts on your phone:
Download the SwimTopia mobile app

 on the

App Store or Google Play

 

Log in with your SwimTopia login

Be sure to check your app notifications in your phone's settings -- ensure that it's set to pop up on your screen
>>Android Users: ensure the PhoneGap Push Plugin notification setting is not turned off. If you experience any issues after checking this ➞ See Android's Notification Support Article. If this does not help, we will need screenshots from your phone to assist - Submit a request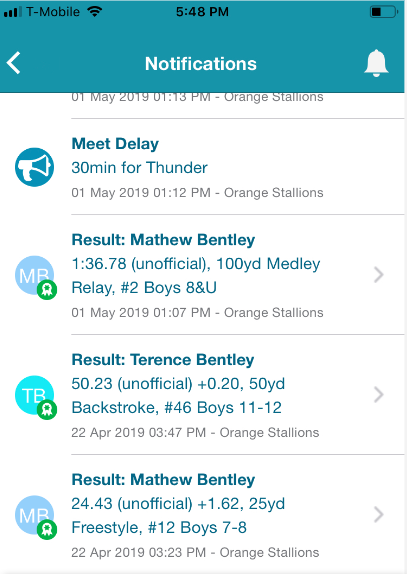 ---
Pro Subscription Features
You'll see prompts to upgrade to a free 7-day trial of the Pro version. If the host team is running the meet with SwimTopia's Meet Maestro, the Pro subscription will provide these great meet-day features in addition to all of the features listed above:
Heat sheets

Estimated start times for each swim

Updated results for your swimmers

Live result push notifications for your swimmers

Team scores
Try Pro for FREE for 7 days, then upgrade to Pro for $1.99/month
---
SwimTopia Mobile App Download
The SwimTopia mobile app is available in the Apple App Store and Google Play Store.
Mobile System Requirements:
iOS 9

 or higher

Android 8 or higher
---
Pro Subscribing & Unsubscribing
For more information on subscribing to Pro ➞ See our Help Center article How to Subscribe to SwimTopia Mobile Pro
If users wish to cancel the Pro subscription, this is done through the app store subscription tool, not within the app itself. ➞ See our Help Center article How to Cancel a Pro Subscription 
---
➞ Learn more about the SwimTopia Mobile App