If you plan to use the CTS Dolphin Timing System to run your meets using SwimTopia's Meet Maestro meet management system, you will need to complete the setup process first.
➞ See Setting Up CTS Dolphin Wireless Timing System with Meet Maestro for more details on setup requirements for the CTS Dolphin wireless timing system.
---
>>Notice: Colorado Time Systems has created a rental program that allows swim teams to rent their Dolphin wireless timing system, with an option to buy after the season. ➞ See our blog for more details.
---

---
Covered in this Article:
---
Dolphin V5+
We've recently made significant performance improvements featuring a tighter integration with the newest version of the Dolphin system. Upgrade your Dolphin software to Version 5+ and update your Dolphin firmware on the watches and starter module.
>>Note: A firmware upgrade is required to use this new version of the Dolphin software.
With Dolphin v5+, Meet Maestro now publishes full event details to the Dolphin software, which enhances the detail of event and heat information displayed in the Dolphin software and on any attached scoreboards. When paired with a Dolphin timing system, Meet Maestro is able to broadcast the current event and heat to SwimTopia Mobile's Live Event/Heat Bar directly from the Dolphin starter controls.
---
CTS Dolphin Timing System Bar
When "CTS Dolphin" is selected under Meet Maestro Settings (gear icon) > Timing Setup, an additional "CTS Dolphin" timing system bar is displayed in the data entry interface. This bar indicates the current Meet and Race number (mapping the current heat to the corresponding CTS Dolphin data file).

When new data files are detected for the corresponding race number, the button label will change from "Not Ready" to "Load Times." Click the button to import the times from CTS Dolphin into the current heat.


After clicking "Load Times", if any times are missing, or if times are loaded for empty lanes, a warning message will be shown in the timing system bar.

Click the Race number in the timing system bar to update the race number for the current heat. This helps the meet software stay in sync with the data files generated by the CTS Dolphin wireless timing system.
>>Tip: Editing the race number to keep things in sync is useful if the race number is thrown off by something unusual, like a false start.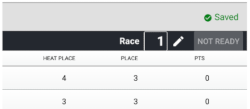 Then update the Race Number and click OK.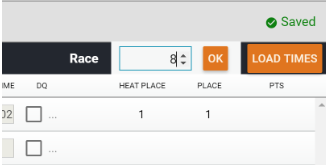 All changes made in Meet Maestro are automatically saved as you go. You'll notice saving activity indicated in the heat/lane bar. When you see a green "Saved" checkmark, you can be assured your data is saved and up-to-date.
---
Current Event/Heat Status Bar
As the meet progresses, the current event and heat will display at the bottom left of the screen.

---