Customized Permissions for your Roles
You can assign customized administrative permissions to each role, which can provide access to separate admin sections of your site. Any users assigned to that role will inherit the administrative permissions defined in that role.
It's a powerful, flexible and simple system for defining fine-grained permissions on a role-by-role basis.
---
Covered in this Article:
---
Accessing Role Permissions
Role Administrative Permissions are managed from within each Role found under the Roles tab in the Manage Team console.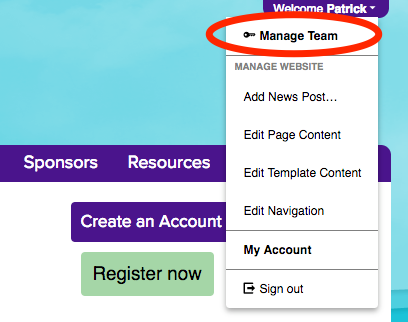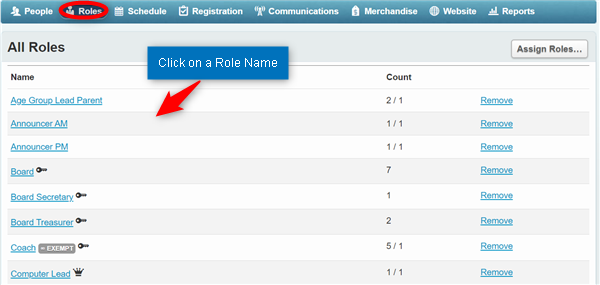 ---
Permission Levels

>>Tip: We highly suggest limiting the number of administrators assigned to Roles with "All administrative permissions". This will give you more control over who has the ability to make changes that could affect your parents/athletes. We do not provide logs that would tell you who made changes, so keep this in mind when you make these decisions. In most cases, other admins may only need to access particular areas such as People, Registration, Meets/Events, or Reporting. You can grant partial privileges based on a role as noted below.
With Some administrative permissions selected, a role can be granted Read or Manage permissions for a dozen categories such as Registrations, Meet Entries or Website.
With Read access, a user will be able to find and view data and run reports in that category but will be unable to make any changes.
With Manage access, the user can add data, make edits and delete data.
If the access in a given category is None, that category of information won't show up at all.
For example, a board role such as Treasurer might need Manage access to People, Registrations, Sponsorships, Merchandise orders and Organizational Settings (to access the payment processor setup), but only Read access to the Schedule, Roles, Communications and Website (as shown below):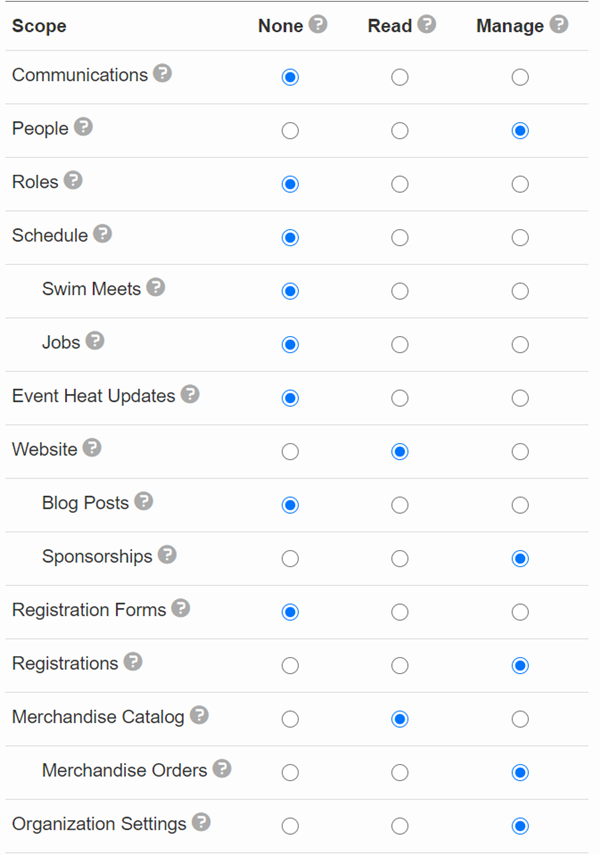 >>Tip: Hovering over the information icon (?) will provide guidance on what is accessible for each option. If unsure based on descriptions, you could create a test Parent account with another email to see what access you have with specific permissions set. Feel free to contact your friendly Customer Happiness Team for assistance as needed.
"Manage Schedule" or "Manage Meets" allows for Season configurations.
"Organization Settings" controls access to the "Settings" link found at the top of the screen ➞ See our SwimTopia Site-wide Settings article for details.
Don't Forget...To save your changes, click Create, or Cancel to go back to All Roles.
---
Permissions Indicators - Keys and Crowns
Once you assign permissions to a role, and assign roles to a user, you likely want to be able to see at a glance which users have what permissions in the system. To provide that quick visibility you'll see icons displayed within the role tags.

A crown icon indicates the role/user has full admin access.

A key icon indicates the role/user has some permissions.
Hovering over the role tag when on the People screen will show a summary of categories in which the role/user has read or manage permissions.
When necessary, a Read Only access reminder is shown to the user.

---
hcmanagerolesnewrole hcmanagerolesedit