SwimTopia provides a detailed payment history report, encompassing transactions from any online and offline payment type your team has provided during registration, and online store sales. (A CSV download is available).
» Note: For teams using our Stripe payment processor, the report can be filtered by the Payouts received from your Stripe payments and full/partial refunds can be initiated right from this report. See ➞ Quick Start Guide to Enabling Stripe if interested in setting up an account.
---
Covered in this Article:
---
Designating Access to Payment Information
➧

Who has access to payment information?
The following designations determine who can access the payment processor details (under Settings), payment records, and initiate refunds from the Payment History Report (Stripe payments only):
Site Admin (red badge): designated using "Make Admin" in the profile under People
Role Assignment: with the permission to Read or Manage > Financials ("Manage" required to initiate a refund), or with "All administrative permissions."
➧

How do I control this access?
See ➞ Adding New Admins to learn how you can grant full or partial admin permissions to specific volunteers to limit who has insight into your team's financial information.
» Tip: Although we record who initiated the Stripe refund, we highly recommend limiting who is designated as a Site Admin and who you assign to a Role with All administrative permissions or the Manage Financials permission.
➧

Does this also grant permission to our Stripe account settings?
Only individuals listed as the Business Representative or Team Members on your Stripe account can access the Stripe dashboard due to a mobile verification step to access the account. However, on your SwimTopia team site, they can see transactions, change the payout day, and initiate refunds as stated.
See ➞ Stripe Account Access & Management if you need to add/update who can access your Stripe account information.
---
Accessing Your Payment History Report
➧

Direct Access - Reports Tab
From the Manage Team admin console, click on the Reports tab. The Payments report link is under the Financial category.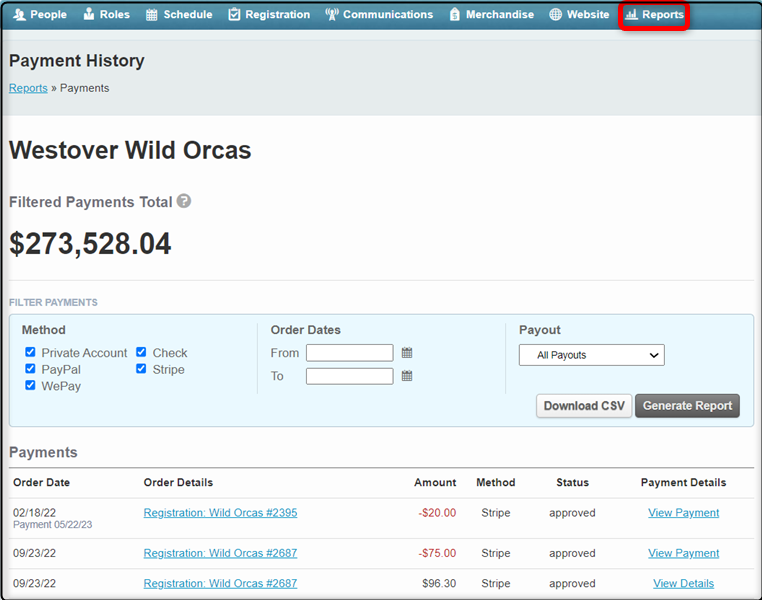 ➧

Registration Form > Payment Section
Access to the specific payment record within the Payment History report is provided from within each registration form under Registrations > Click on Registrant# > View/Edit > Payments
➧

Stripe Account Overview (Stripe Users)
Teams using our Stripe Payment Processor can also access this report from the Settings > Stripe Account screen.
Select View All Transactions (or VIEW DETAILS on each Payout).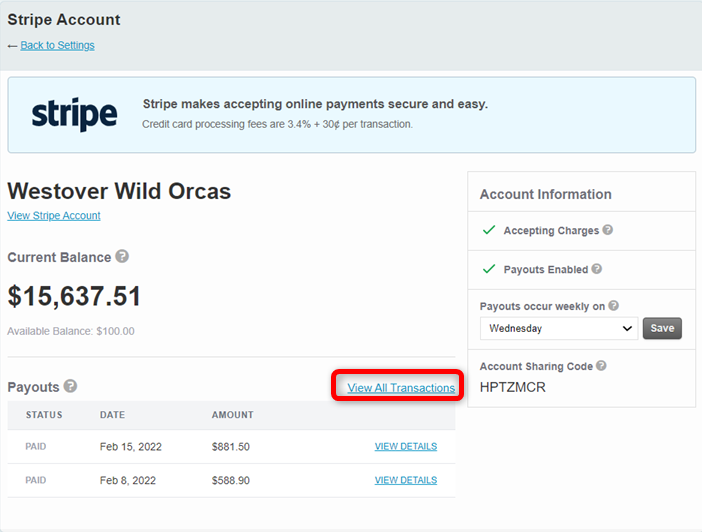 ---
Payment Filters & CSV Download
➧

Filter
by the Payment Method provided
by the Order Dates
by the Payout you've received from Stripe. (If your team uses our payment processor)
➧

Download the CSV to modify the data as needed

➧

Stripe - Negative Payouts
Each payout reflects your available account balance at the time it was created. In some cases, you may have a negative account balance.
For example, if you receive $100 in payments but refund $200 of prior payments, your account balance would be -$100. If you don't receive further payments to balance out the negative amount, Stripe creates a payout that debits your bank account.
Your bank account must support both credit and debit transactions so that Stripe can perform any required payouts.
Resource: https://stripe.com/docs/payouts#negative-payouts
---
Payment Report Details
Payments are displayed based on the Order Date.
The Order Details are based on the Registration# found at the top of each registration form...

...and the Order# for Store Orders found under Manage Team > Merchandise > Orders

» Note: Clicking on the order link will take you to the specific registration form or online store order.
➧

Amount
You will see the registration and online store payments in black and refund payments in red (Stripe only).
➧

Method
As mentioned, this report includes transactions from any payment type your team has provided during registration and online store sales.
➧

Status
The status will display as pending, approved, or failed
» Note: A refund can fail if the customer's bank or card issuer has been unable to process it correctly (i.e. a closed bank account or a problem with the card). The bank returns the refunded amount to Stripe and they add it back to your Stripe account balance. This process can take up to 30 days from the post date.
➧

Payment Details
➞ "View Details" will display in the Payment Details column for registration and online store payments and payouts. Clicking on this link will take you to the details screen for each payment.
Check Example: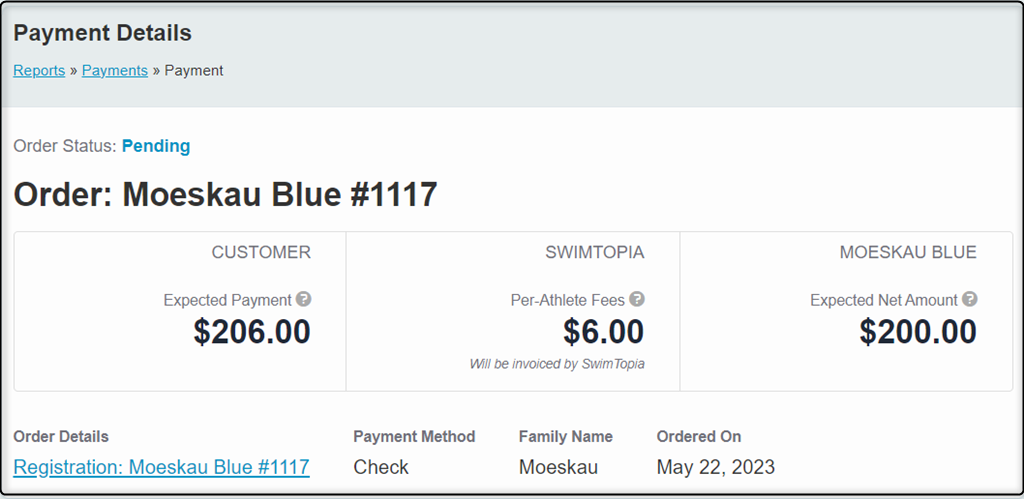 ➞ "View Payment" will display in the Payment Details column when a Stripe refund has been processed. Clicking on this link will take you to the details screen for each refund.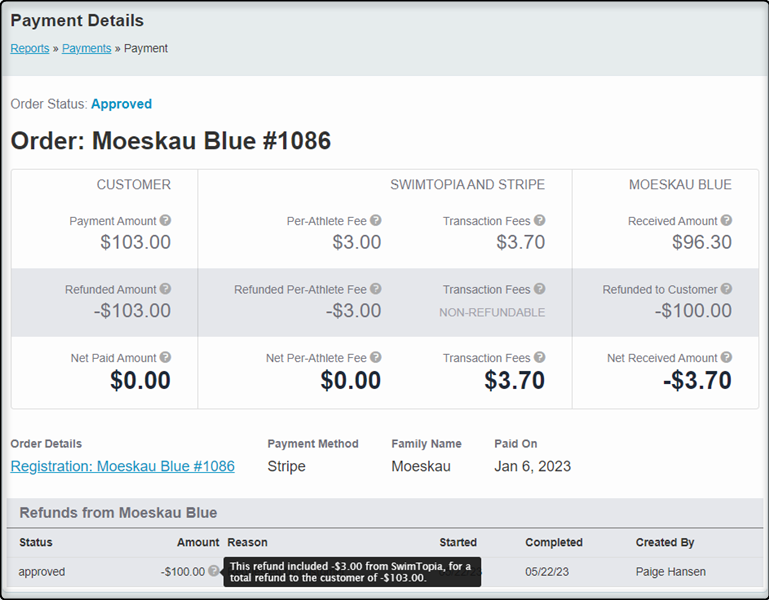 ➞ See Refunding Payments below for more details on the refund process.
---
Payment Allocation Examples
Below are a few examples to help explain the allocation of funds based on a specific configuration.
➧

Example: Registration Payment
SwimTopia Per-Athlete Fee Paid by League
Buyer/Customer Pays Transaction Fee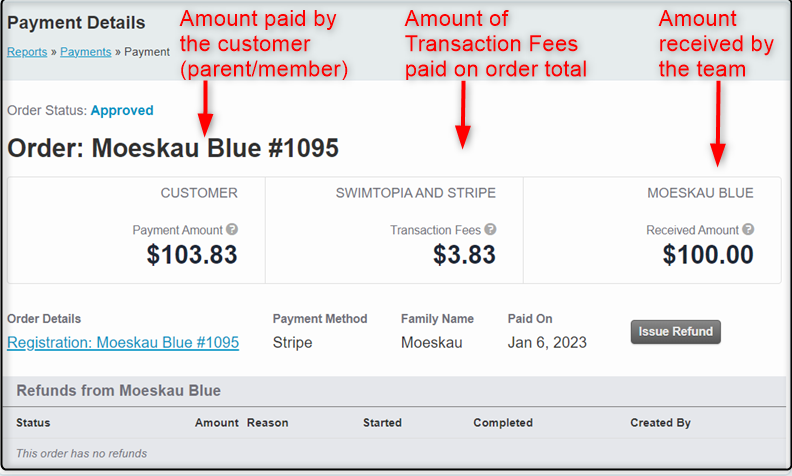 ➧

Example: Registration Payment
SwimTopia Per-Athlete Fee Paid by Customer/Team
Seller/Team Pays Transaction Fees

---
Refunding Payments
» Note: Only registrations paid for using the Stripe payment processor can be refunded from your SwimTopia team site.
➧

Stripe Refunds
Process full and partial refunds for purchases made during registration or your online store right from your team site!
➞ See our Stripe Refunds article for details on controlling access permissions, initiating full or partial registration refunds (including conditional fees), and online store refunds, league fee refund process (if applicable), viewing refunded transactions, email receipts, processing fee details, and the expected timeline for refunds to process.
If you have additional Stripe questions ➞ See our Stripe FAQs article.
➧

Checks or Account Membership Numbers
These payment options must be refunded outside of your SwimTopia team site.
---
hcmanagepayments