SwimTopia's photo uploader will automatically crop and resize uploaded athlete photos to generate dynamic age-group photo rosters. These can be a useful tool for tent parents getting to know swimmers at the beginning of each season.
---
Generating the Athlete Photo Roster
Select the Athlete Photo Roster report under the Athlete Information section of the Reports tab.
Select your season and layout preferences, and click Generate Report.
Each swimmer will be displayed with a photo if one has been added to their profile. If no photo is available, a generic icon will display.
---
Printing The Athlete Photo Roster
Clicking Print will create a separate photo roster page per age group.
---
Add or Edit Photos
To add or edit a photo, click on a swimmer from the age-group roster report or from the People tab to edit their profile.
Click Choose File and select an image file from your local drive.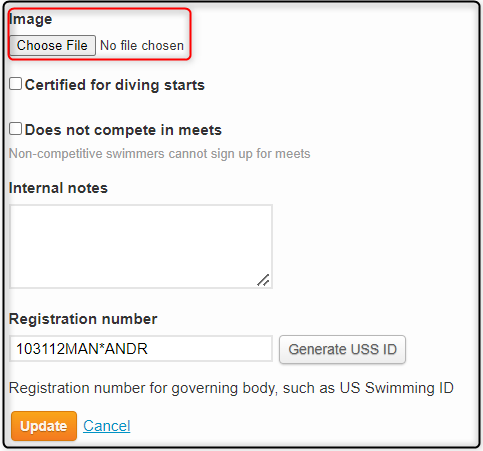 Click Update to save the new image to the user's profile or Cancel to return.
---