Now that your account has been activated, you can sign up for upcoming meets and events, and have access to your "My Account" section to see an overview of parents/guardians and athlete's linked within your family, job signups and time history for your athlete(s).
>>Note: Completing a Team Registration form is required to create a team account, unless you have been instructed otherwise by a team rep/administrator. If you are unsure and do not see an option to register on your team website (this is not Swimtopia.com), look for a contact page to find out how your team will manage registrations.
For details on activating an account, login and password management ➞ See Account Activation, Login and Password Management.
---
Covered in this Article:
---
Accessing "My Account"
Once you are logged in, you will see a Welcome <Name> menu at the top right of the page. Hover over the menu and select My Account.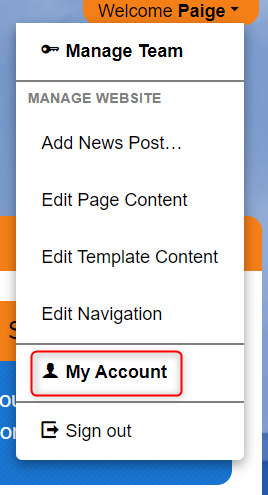 ---
Family Account View
Your main account page contains:
Family Members associated with your registration/account
Contact Info (you can edit address/home phone, contact your site admin for email updates*)
Job Signups for all family members in the current season
Points earned in the current season (if your team uses the point system)
>>*Email Updates: SwimTopia usernames are based on emails, which are unique per user. It is possible to utilize the same login credentials across multiple SwimTopia sites (summer league, school, team transfers), but you must register on each site using the exact same email, first/last name format in order for the accounts to be synched. Due to the important ties, an email has with processes in the database, updates after registration can only be made by your team admin at this time.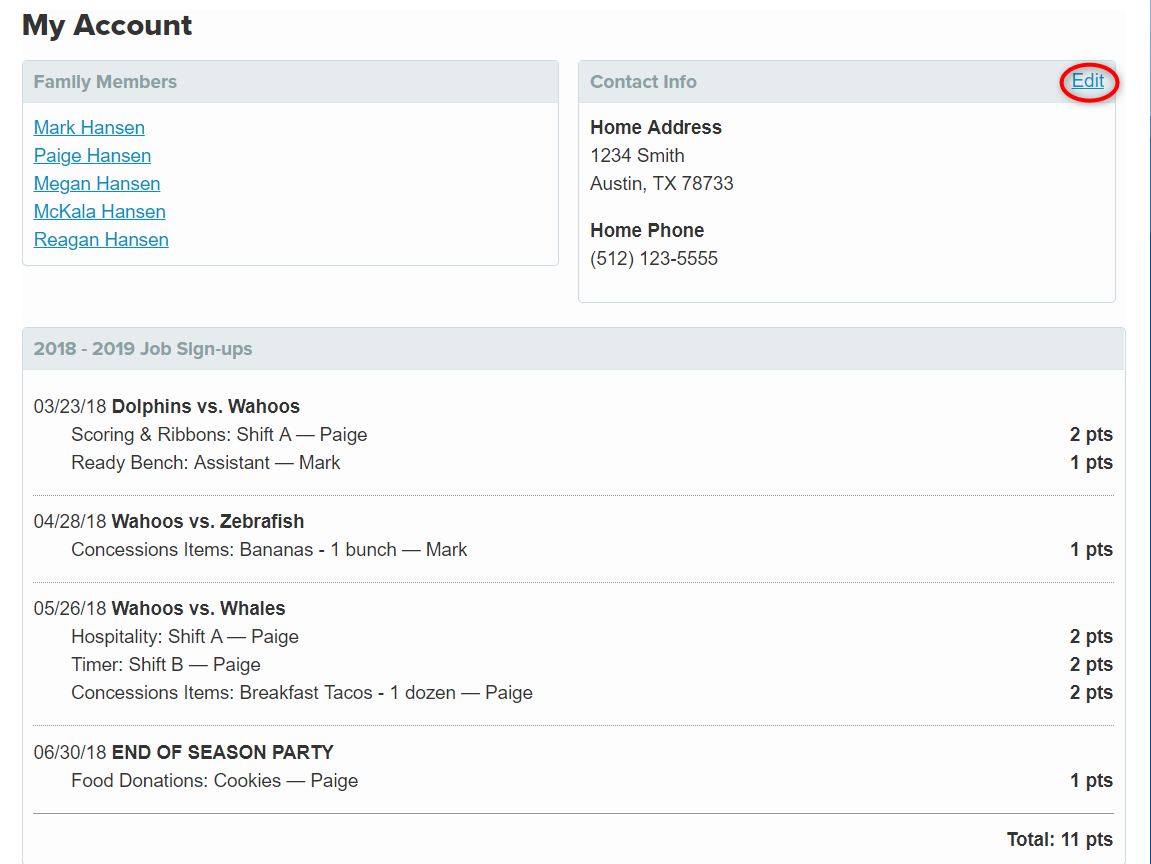 ---
Your Account View
Click on your name to see:
Personal Info (you can only change your password here)
Season Affiliations and season-long roles assigned to you
Job Signups for the current season specific to you
Points earned in the current season specific to you (if used by your team)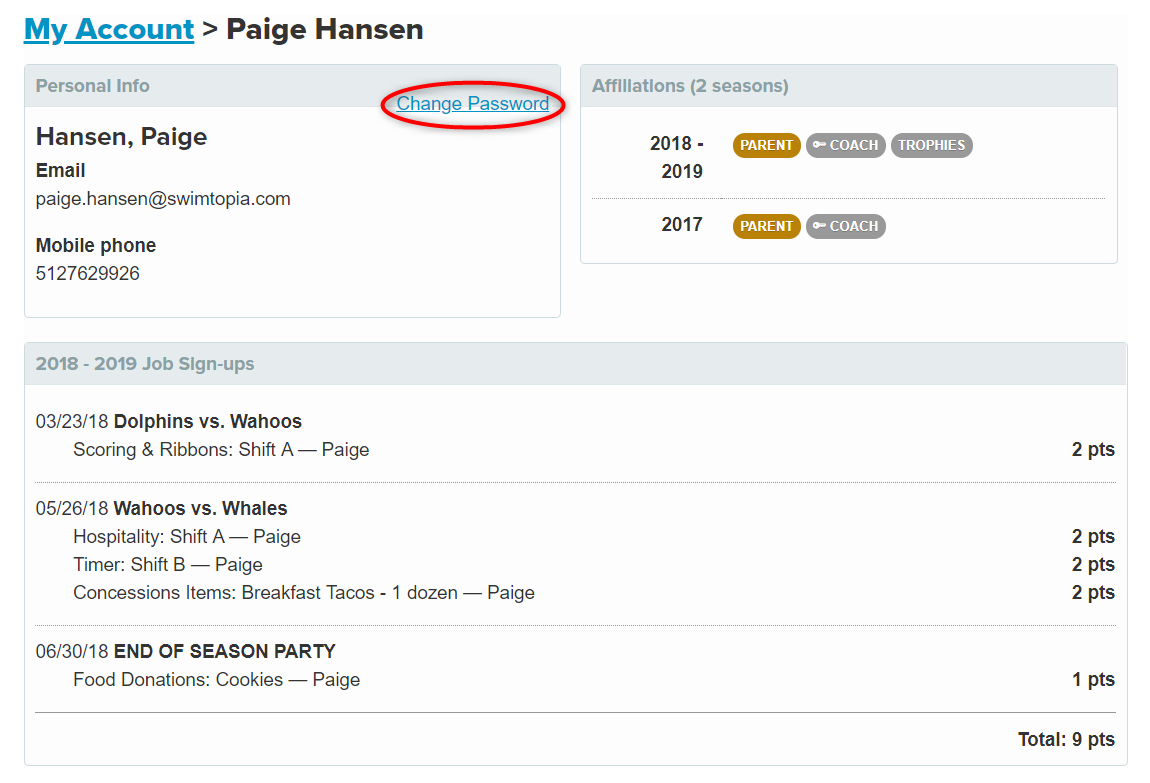 ➞ See Viewing Volunteer Assignments article for more details on how you can see your job signups based on the status of the signup for each meet/event.
---
Athlete Account View
Click on an athlete's name to see:
Personal Info (only editable by your site admin after registration)
Season Affiliations and season-long roles if assigned by your site admin or coach
Job Signups for the current season if assigned by your site admin or coach
Points earned in the current season (if used by your team)
Time History (Best Times & All Times Per Stroke) with Display Options (details in next section)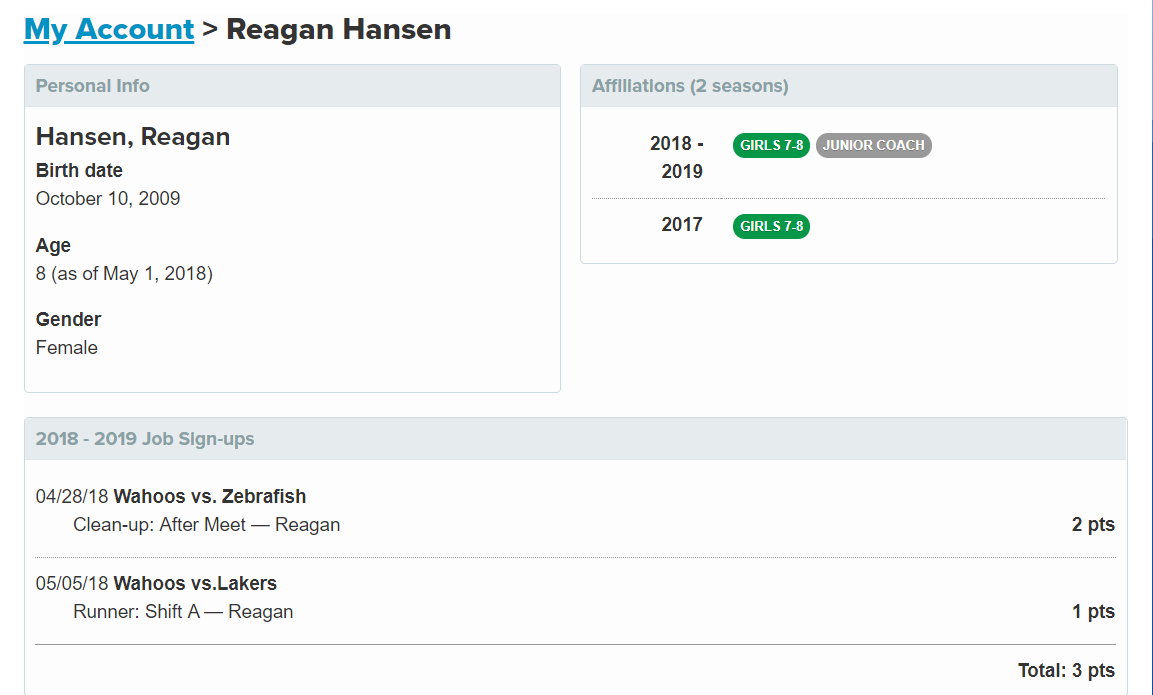 ---
Time History
Everyone with an account has access to their athletes swim history under their My Account page.
➧

Best Times
You can see your athlete's Best Times for each event. You can also click on the Display Options link to control how your view is displayed.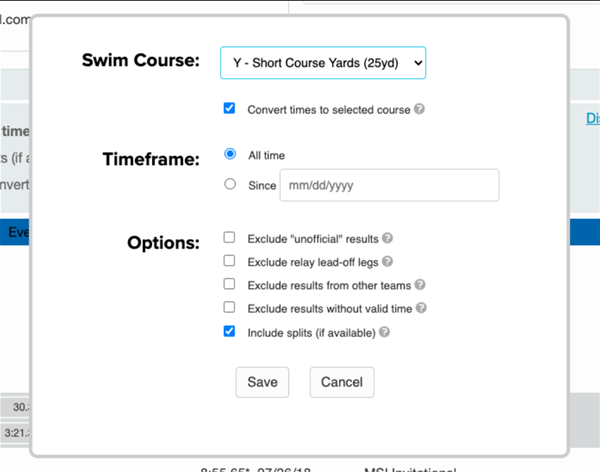 ➧

All Times
And you can click on each event name to see a sortable display of all times for that event:

➧

Splits Display
When the option to Include splits (if available) is selected in the Display Options, splits will show up on the overall best times screen for results that have them entered:

And when you click into a specific event, splits that have been entered are also displayed on this Event times screen, providing a historical view per event: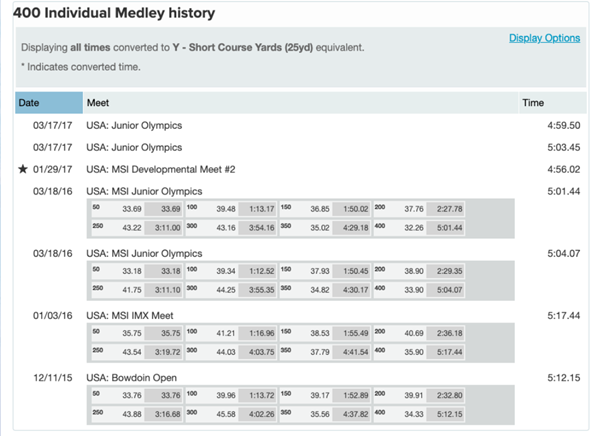 >>Note: Athletes are not auto-matched across teams to automatically share athlete times. They always have a separate user account per team. Some parents of athletes swimming on school and summer teams don't want the times to merge, so we don't automatically make this choice for parents. If your athlete is a member of multiple teams utilizing SwimTopia and you want to see a cumulative time history, you will need to submit a support request with the athlete's name, so the accounts can be merged.
---
SwimTopia Mobile App
Don't forget to download the SwimTopia Mobile App to receive team alerts for weather delays/cancellations and to view upcoming meets, volunteer commitments, and swim results.
➞ See our SwimTopia Mobile App - Features & Parent Info help center article for details. Available for download on the App Store or Google Play.
---