By Qualifying Times, we mean how fast a swimmer must swim that same event prior to the Meet in question to be permitted to swim that event for this Meet.
There are two ways to get Qualifying Times into a Meet: imported with a Meet Events file in a new meet, or manually entered in a meet template or meet.
Both options are located under Manage Team > Schedule.

---
Covered in this Article:
---
Importing Qualifying Times (suggested method)
The easiest way is to make sure that information is part of the Meet Events files exported from Meet Manager (or other meet management software you have utilized). If the Qualifying Times are present in that file, they will be part of your SwimTopia Meet as well.
You can import a meet file by selecting the "Import Meet Event File..." option when clicking the "Add Swim Meet..." button within Schedule > All Meets & Events➞ See Meet Setup: Events
---
Manually Entering Qualifying Times
Although we highly suggest importing your event file containing your qualifying times and then saving this meet as a Meet Template so you can easily apply this template to future meets, it is possible to add or edit these times manually to a Meet Template or directly to a meet.
➧

Adding to a Meet Template
Go to Manage Team > Schedule > Meet Templates > Template Name > Qualifying Times button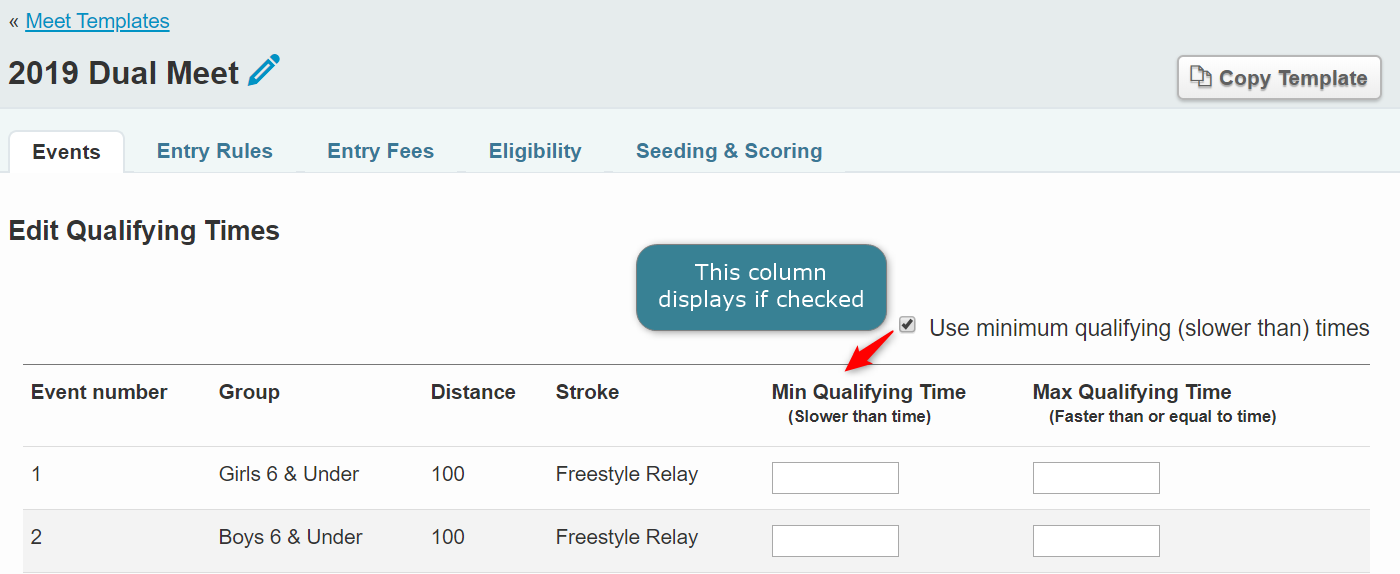 ➧

Adding to a Meet
Go to Manage Team > Schedule > Meet Name > Meet Setup > Events > Edit Qualifying Times
There you can view the existing Qualifying Times (if they are present) and edit them as well.
Click the Edit Qualifying Times button to enter times for each event.


When you have finished adding the Qualifying Times, click the Save button at the bottom of the page.
---
How do I track which swimmers have qualified for a meet?
Go to Manage Team > Schedule > Meet > Entries > Reports > Qualifiers
>>Note: This report is only available if the meet in question has qualifying times entered.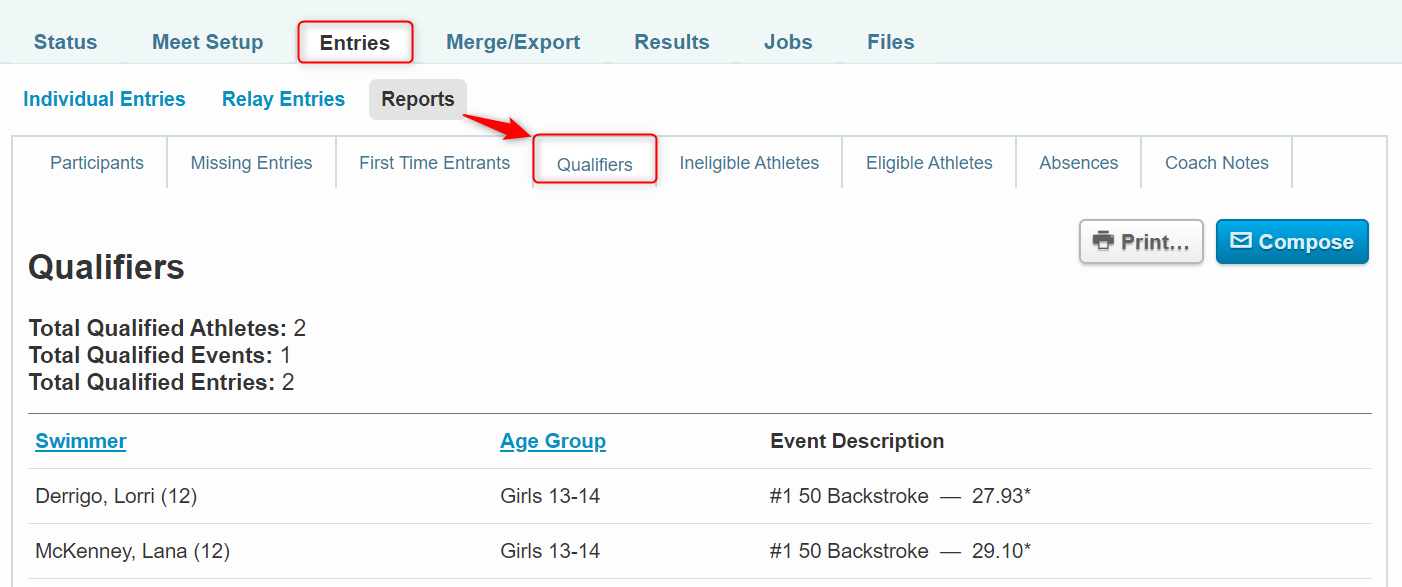 Here you can sort the Qualifiers by name or Age Group as well as send a Message to the Qualifiers via Communications by clicking the Compose Email button.
---
hcmanagescheduleswimmeetmeetsetupevents