» Note: If your team roster and time history are available in Team Manager, you'll have better results using a Hy-Tek export ➞ See our instructions about how to Import Team Roster & Time History (Active/Hy-Tek).
---
Covered in this Article:
---
Team Roster Export from TeamUnify
We can import your Team Roster from your existing TeamUnify database into your SwimTopia website. For future seasons, SwimTopia's Registration process will collect all the personal data for you.
In TeamUnify, the team roster is exported as follows:
Login to your TeamUnify account
Go to Team Admin > Account/Member Admin (new CMS: go to Team Tools > Members)
Click on the Members tab, click "Select all" (small box to the left of "Last Name")
Click the "Export" button select "Custom Excel Report."
In the upper left corner, click "Select All."
Click "Create Report." This should create a report ending in .xlsx
» Note: For efficiency, please reference the spreadsheet format in this article ➞ Import Team Roster (Excel spreadsheet).
---
Upload the Roster File and Notify Us
Our support site limits attachments to tickets sent at 1MB. Instead of attaching your roster export, or any other large files to a support ticket, please log in to your site to upload them and notify us:
Go to Settings > Uploaded Files
Click Add File and choose the export file you just created on your local hard drive
Click Save
Submit a support request to notify us that there is a file waiting that needs importing (these files are not automatically imported). Please let us know your team name AND if this is a past roster (historical) or if it's a current roster (active in this current season).
» Tip: This is a good place to upload and store any other files that you need to reference from your website (if you have a website through your SwimTopia subscription). Once you have uploaded the file, right-click on the file name and copy the link to your clipboard, and use the link in any text areas to create a link so that your users can download the file.
➧

Turnaround Time
Turnaround time for uploading new team roster files is usually 24 business hours M-F, unless there are issues to be resolved. (business hours are from 9AM-6PM CST)
---
Time History & Best Times
TeamUnify does not provide an option to export your team's time history in a format we can import. However, we highly suggest downloading your team's time history report (steps below) before closing down your account if you want to obtain this information, and for access if we are able to provide a way to import this information in a future release.
➧

Exporting Time History from TeamUnify
» Note: These steps were provided by a customer in 2020, so we cannot confirm these steps will remain the same with any TeamUnify updates.
Step 1) Log into TeamUnify as Admin
Step 2) Choose "Time Reports" from left nav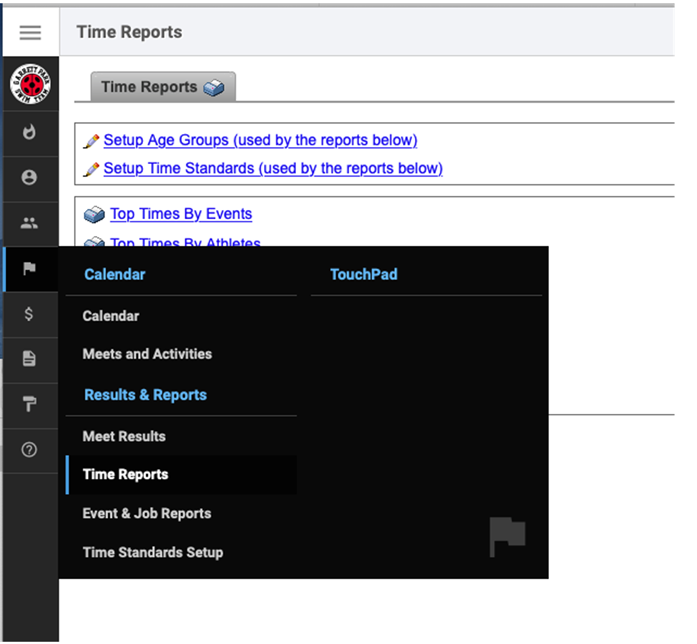 Step 3) Choose "Top Times by Athlete"
Set "Course"
Select all "Meet Types"
Set "In this period" to your date range
Select "All" for all other fields, except "Show Top"
Set "Show Top" to "0" to get all times
Click "Report Now"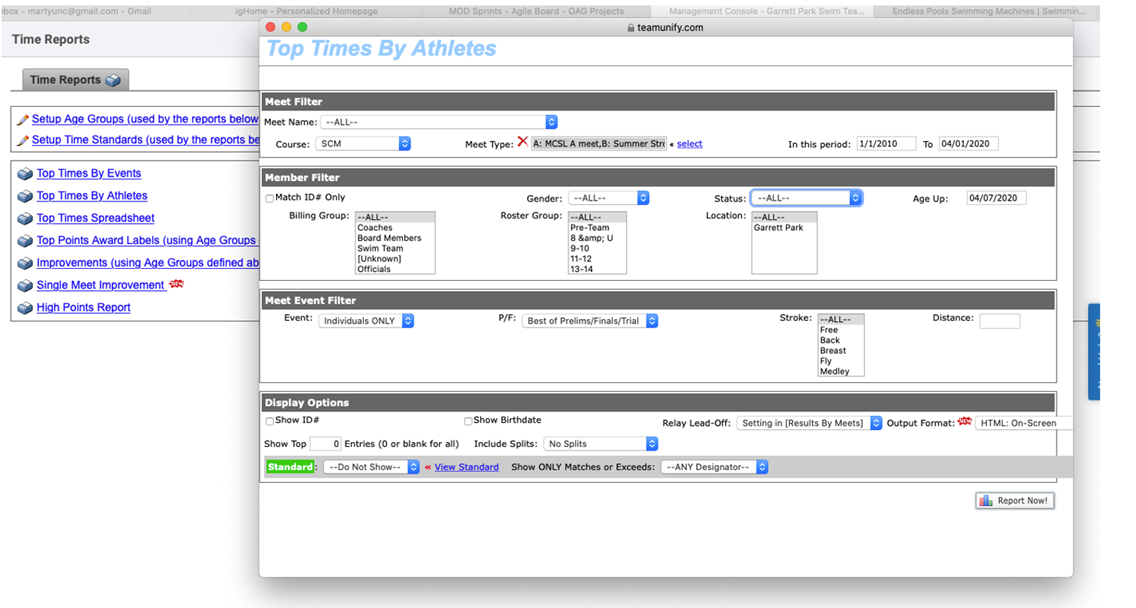 Step 4) Click "Save As Excel" from report results page
➧

Importing Time History and/or Best Times in SwimTopia
Even though TeamUnify does not provide the export data in a format we can import, if you have individual meet's Meet Results files you can import those into your SwimTopia site to get historical times. If you just want to capture your athletes' best times, you can do that as well.
➞ See Import Time History or Add Best Times for step-by-step instructions.
---
Viewing Imported Data & Exporting Roster
If your data is already imported ➞ See our tutorial on Viewing your Team Roster and History.
To export your roster ➞ See our Exporting Athlete/Team Roster Report article.
---
What's Next...How do Parents Log In?
➧

Create your registration form and notify your parents
Your parents create their accounts thru the registration process. Regardless of whether you imported a past or current season roster, we suggest that you create a registration form and invite your parents to register so they can activate their accounts by setting a password. This can be a simple form for collecting contact information or you can use all sections of the form as needed. Each season they register to be affiliated with the current season, but they don't have to activate their accounts more than once.
» Note: Even though the information is imported, parents will need to fill out the registration form completely the first time. Our registration auto-fill is based on the last known registration form, so it will take over each season after this one (as long as they log in before registering).
When you open this form a Register Now button will display automatically on your website for your members. You would then send an email out through the Communications tab to invite your members to register. When parents complete the registration form, they'll enter their information and their athletes. Under the covers, our system will sync up the names so that duplicate records are not created, as long as they have entered the same information that was imported.
➧

Check for duplicate athlete accounts
If our system doesn't see an exact match when parents register, there may be duplicates created:
Parents: we're looking at first name, last name, and email address
Athletes: we're looking at first name, last name, and birthdate
For example, if an old record is listed as Joseph Smith and the new registration says Joe Smith, our system would not see a match.
To check for duplicate swimmers, there are two options:
Go to Settings > Data Maintenance Tools > De-Duplicate Athletes
If our system sees some possible duplicate swimmers, you'll see two choices and will have the opportunity to merge them.
If the differences are too great, they might not show up on the De-duplicate Athletes tool. You can compare the "Non-returning Athlete" report and the "Rookie Athletes" report (under Reports). If the same swimmer shows up on both reports, that means there's a duplicate. Submit a ticket with the names and we will perform the merge for you.
» Tip: After registration is closed, we recommend you go to the De-duplicate Athletes tool first, then run the two reports after that, and let us know if there are any duplicates we can help you with - SwimTopia Support
➧

Don't want your parents to register?
If you imported a current season roster with emails and prefer not to have your parents submit another registration form, you can send them to the login page to use the "Forgot your password?" option, which generates the same type of email to activate their account.
If you did not import emails but you have them, you can manually add these email addresses on their profile under People. Our system sends an activation email to the parent with instructions on how to activate their account.
» Note: You may occasionally receive an error that an email is already taken. This means that the user has used this email on a separate team. Just reply here or submit a new ticket with those names and we can merge the records for you.
---
Need Help?
If you have any questions about this format or the roster import process, here are our SwimTopia Support Options for assistance.
---