If you plan to use the Time Drops Timing System to run your meets using SwimTopia's Meet Maestro meet management system, you will need to complete the setup process first.
➞ See Time Drops Timing System - Meet Maestro Setup for more details on this setup.
---
Covered in this Article:
---
Timing System Bar
When "Time Drops" is selected under Meet Maestro Settings (gear icon) > Timing Setup, an additional "Time Drops" timing system bar is displayed in the data entry interface.
This bar indicates the current Meet and Race number and maps the current heat to the corresponding Time Drops data file.

As each race is finished, the timing system will save a results file into the shared folder. When new data files are detected for the corresponding race number, the button label will change from "WAITING FOR RESULTS" to "Load Times." Click the button to import the times into the current heat.
>>Note: After clicking "Load Times", if any times are missing, or if times are loaded for empty lanes, a warning message will be shown in the timing system bar.
After loading times, the button will change back to "WAITING FOR RESULTS".
---
Race Number Selector

The race selector will monitor the output of the timing system for result files. Once it detects one matching your current heat and event it will make it available to load times. If there are multiple races matching your event and heat Maestro will choose the largest race number by default.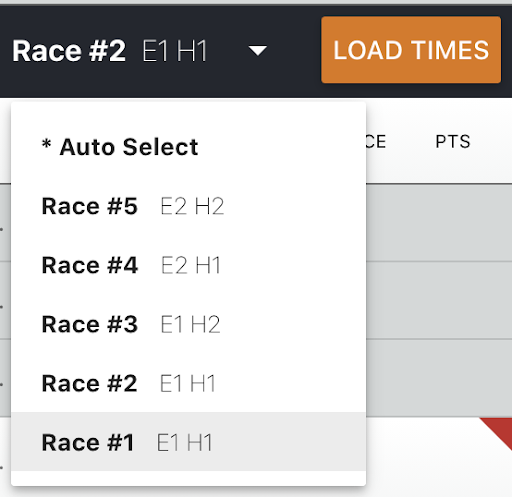 If there is a mismatch, you can open the race selector dropdown and select a race to import. The star in the menu highlights which option is currently selected.
>>Tip: Editing the race number to keep things in sync is useful if the race number is thrown off by something unusual, like a false start.
>>Note: All changes made in Meet Maestro are automatically saved as you go. You'll notice saving activity indicated in the heat/lane bar. When you see a green "Saved" checkmark, you can be assured your data is saved and up-to-date.
---
Combining Heats in Meet Maestro
Currently, the way you can combine heats in Meet Maestro is by moving individual athletes/relays to non-overlapping lanes within each heat (e.g. heat 1 to lanes 1, 2, 3 and heat 2 to lanes 4, 5, 6), so that both heats can swim simultaneously, and score separately.
For Heats seeded in that way, Time Drops will automatically combine the heats or events when 'Combine Heats/Events' option is enabled in the Time Drops meet settings. Even if two or more heats or events are combined, the results will be split automatically into several result files for each heat and event. You can import the results in the usual way by clicking 'Import Results' for each heat separately.
---
Current Event/Heat Status Bar
As the meet progresses, the current event and heat will display at the bottom left of the screen.

---