---
Covered in this Article:
---
Purposes for Linking
If both teams are using SwimTopia for team management, the meets must be linked in each team's site for the following purposes:
For the meet results to appear on a league's division standings
For teams to be able to merge entries and run the meet together using Meet Maestro™ (if using for meet management)
For teams to share live event/heat status (via the SwimTopia Mobile App) ➞ See our article on Enabling the SwimTopia Live Event/Heat Bar to learn more about this feature
If you need to link your meets, go to Manage Team > Schedule > [Meet Name] > Meet Setup > Linking.
>>Note: If your league imported your team's meet schedule, your meets will already be linked.
---
How to Link Meets
To link meets the home team should send the visiting team(s) the visitor code for that meet.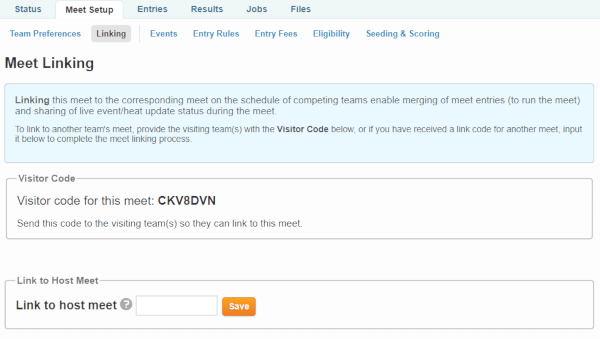 Once the visiting team has entered the code in their meet the home team will see the other team(s) listed on their Merge/Export tab (under the "Entries" heading).

Visiting team's view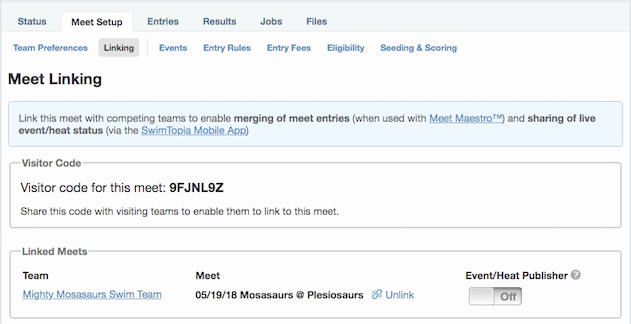 Host team's view
---
Withdrawal from Multi-competitor Meet
If a team withdrawals from a multi-competitor meet, they need to unlink from the meet by removing the code. The host team can re-merge the meet if previously merged. See the next topic below for more details. 
---