League admins can use the Communications module to send messages to individuals or to groups. Begin typing in a name, Role, or Group, and the system will begin to autofill your choices:
Any Member Name: Any individual who is listed on the league's People page ("local" to the league site)
Any Role name: All members who are assigned to that role
For Roles that are defined on the league site, this will only include those members of your league site (on your league's People page) who are assigned to that Role. For any Shared Roles, this will include members of your SwimTopia teams who have been assigned to those Shared Roles. For more information, see our Help Center article about Shared Roles.
Members: All members on the league's People page
All League Members: All members of the league's SwimTopia teams (similar to addressing a message to "Members" on each team site)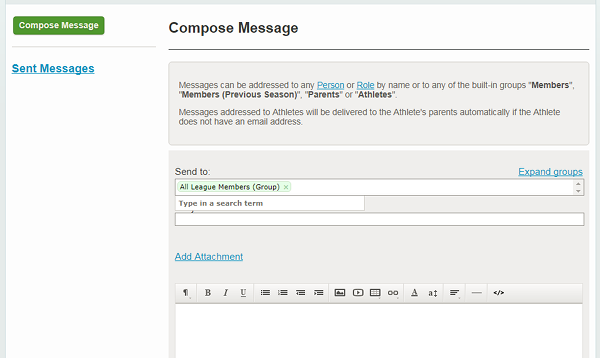 For more details, see our other Help Center articles (including a video demo) about our Communications Module.