---
---
>>NOTE: Meet Maestro is included with your SwimTopia subscription. If your team has a SwimTopia website, you already have access to Meet Maestro and do not need to sign up for a new account.
To access Meet Maestro, at least one meet MUST be merged in your SwimTopia account. Steps include: create a new meet in Schedule, add meet entries, then merge the meet in the Merge/Export tab. ➞ See Setting Up Your Meet. Once you've merged the meet, you can access Meet Maestro—see below for the two options for meet access.
---
---
Covered in this Article:
---
➧

Accessing Your Meet
>>Note: These access points only apply to the web version. If using a timing system, the desktop version of Meet Maestro is required. You will log in from the desktop application and select your meet.
➞ See Getting Started with Meet Maestro to locate the timing system article that applies to your team.
There are two ways to access your meet. The main access point is from within your merged meet on your SwimTopia team management site. The other more direct approach is by direct access via Meet Maestro's URL.
Option 1: From within the SwimTopia meet
After the meet is merged, a Meet Maestro button will appear in the header. Clicking on this button will launch Meet Maestro in a new window.

Multiple admins, including admins on any of the participating teams, may then click the Meet Maestro button to see the meet in Meet Maestro and run reports. The meet may be open in multiple browsers concurrently.
Option 2: Direct login to Meet Maestro
Log into an account with site admin or swim meet management level permissions at https://maestro.swimtopia.com. If you are a member or multiple teams, you will select the team first, and then you are presented with a list of swim meets to select the particular meet. Be careful to select the correct meet.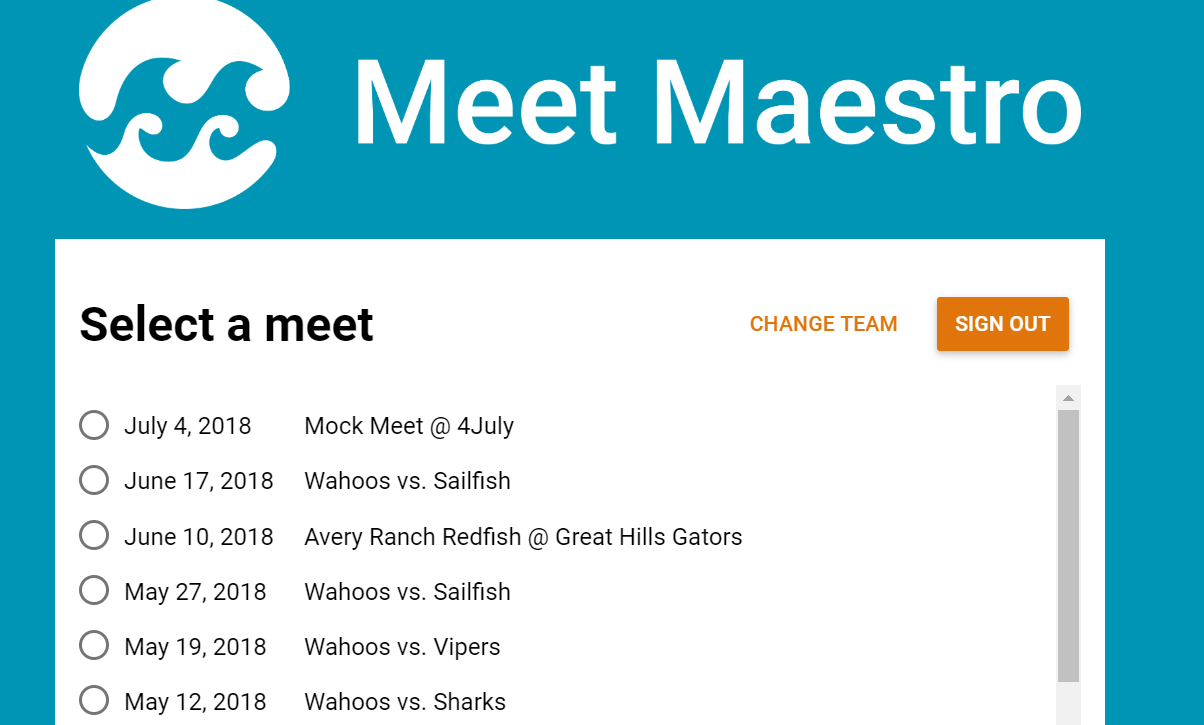 ---
➧

Re-Accessing the Meet
If you close the meet in Meet Maestro you can return to the same meet from any screen within your meet on your SwimTopia team site. Or you can access your meet directly as listed above.
Go to Schedule > Select Meet Name and click the Meet Maestro button.

---
➧

Login Permissions
Team admins with swim meet permissions or "red badge" sitewide admin permissions will be able to log in with their SwimTopia username and password. Read-only swim meet access will limit the user to read-only mode.
➞ See Role-Based Permissions article for more on this topic.
>>Tip: If there are issues with someone logging in, an admin should check that their role has the appropriate permissions. As an alternative, you can click the "Make Admin" button within the user's profile, but only do this if the person can have full admin privileges.
---
>>Note: We only support the Google Chrome browser.