---
---
» Note: We are currently in private beta for the Gen 7 system. Fill out this Beta Testing Application Form if you are interested in participating or receiving updates as we get closer to a public release.
---
---
If you plan to use the CTS System 5/6 or CTS Gen 7 Timing Consoles to run your meets using SwimTopia's Meet Maestro meet management system, you will need to complete the setup process first.
➞ See Meet Maestro - Setting Up CTS System 5/6 or CTS Gen 7 Timing Consoles for more details.
---
Covered in this Article:
---
CTS System 5/6 or CTS Gen 7 Timing System Bar
When "CTS System 5/6 or CTS Gen 7" is selected under Meet Maestro Settings (gear icon) > Timing Setup, an additional "CTS System 5/6" (or CTS Gen 7) timing system bar is displayed in the data entry interface. This bar indicates the current Race number (mapping the current event and heat to the corresponding CTS Console).
➧

Selected Meet Information
The selected meet will display in the timing console bar on the time entry interface as a reminder of what meet is being utilized. This can be changed by clicking on the gear icon if incorrect.

➧

Race Data
Maestro starts without knowledge of available race data for this meet in the CTS.

➧

Editing Timing Settings
» Note: The Event Sequence and other settings can be changed by pressing the gear icon

in the timing system bar. You do not need to go back to the Timing Setup screen accessed during the initial setup process.
In addition to settings changes found under the timing bar gear icon, you will possibly find suggestions in the Troubleshoot section if we detect any issues.

---
Importing Times
Pressing Load Times (or F3) will read the available race data AND load times into the current event/heat if a race matches.
➧

Matching Race Event/Heat Found
Maestro will auto-detect any race data which matches the current event and heat. When it does it will save the most recent race.

➧

No Matching Race Event/Heat Found
Maestro will briefly (2 seconds) display this message if there is not race data for this event/heat yet.

Then the timing bar will return to this display:

At that point, the user can press load times to check the CTS for data again OR manually select a race from the dropdown

» Note: After they have manually selected a race from the dropdown, they must press Load Times to save those times into this heat.
At that point, the dropdown will now show an asterisk* next to the selected race indicating that Maestro is respecting their selection instead of using the auto-select mode.

➧

After Loading Times
After loading times, the Timer 1, Timer 2, Timer 3, and Result Time fields will all be disabled. Once loaded you are not allowed to manually manipulate the data imported from the CTS Console.
This ensures a clean history of the race data. If heat or lane corrections are required, use the Time Adjustment interface.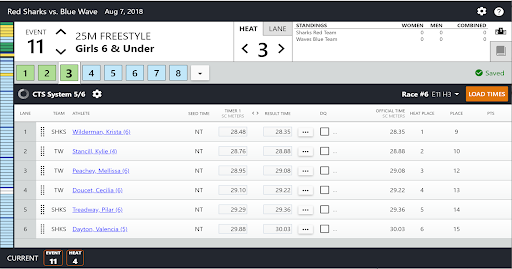 ➧

Overriding Race Number Matching
Sometimes data gets stored in the wrong event/heat in the CTS Console and it is necessary to override the race number match. In that case, open the race matcher select menu. Choose a race other than 'Auto Select'.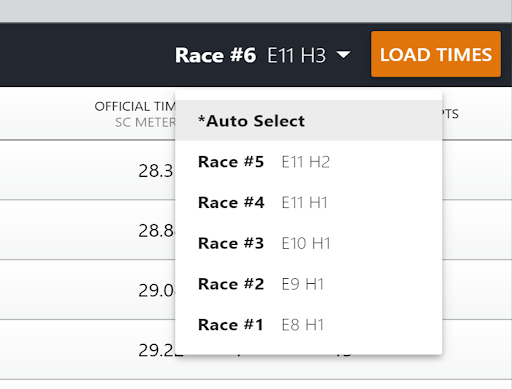 ➧

Duplicate Heat/Event Races
Sometimes the CTS Console will have more than one race for the same event/heat. In this case Maestro will import the most recent race.
---
Combining Heats in Meet Maestro
Currently, the way you can combine heats in Meet Maestro is by moving individual athletes/relays to non-overlapping lanes within each heat (e.g. heat 1 to lanes 1, 2, 3 and heat 2 to lanes 4, 5, 6), so that both heats can swim simultaneously, and score separately.
There would be one race in the timing software that includes times for all the combined heats. You will need to import the same race data file for each heat that was combined in Meet Maestro.
To do that, you will need to click to edit the Race Number field in the system timing bar to match the race number of the file saved by the CTS software. You'll end up with two different heats in Meet Maestro that both load the same Race Number from CTS.
Times from all lanes will be loaded into each of the combined heats -- you can either clear those times in the empty lanes, but that's not required (they'll be ignored).
---
CTS System 5/6 and Gen 7 - Trouble-shooting Guide
For common error scenarios and debug steps ➞ See CTS System 5/6 and Gen 7 - Trouble-shooting Guide
---