Security-related changes to web browser software including Google Chrome, Firefox and Safari, have necessitated a change to the way SwimTopia integrates with WePay to securely collect credit card payments.
Previously, a secure payment form provided by WePay was embedded in the SwimTopia checkout page. With this change, online purchasers will need to click a button to complete payment on a separate page hosted by WePay.
---
Covered in this Article:
---
Previous Process
Prior to this change, users would remain on the SwimTopia site with the WePay checkout process seamlessly integrated on your team's registration or online store payment page.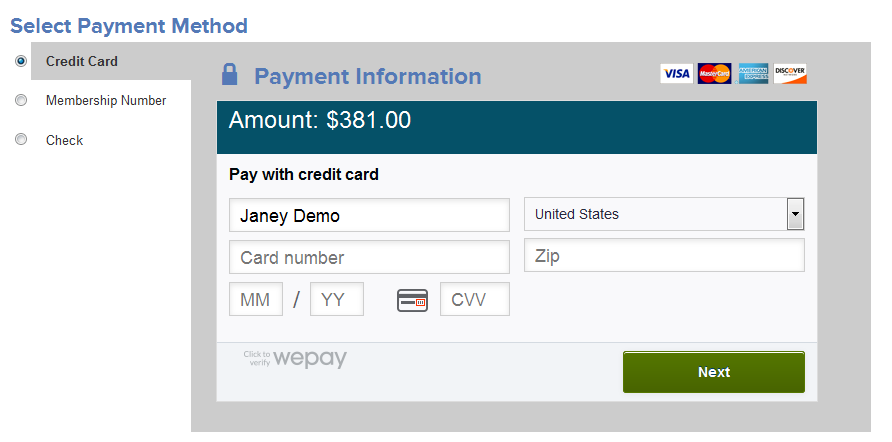 ---
New Process
With this change, users will still see the Credit Card processing option during registration (if your team supports this payment method), and when checking out from the online store (if utilized), but will first click on a Checkout button as seen below:
Registration View
Online Store View
This will momentarily take users away from your team site to securely complete your payment process on the WePay.com site. This is a secure service provider, much like PayPal, so no need to be concerned, but you are always welcome to contact WePay if you have any questions.
---
Registration Confirmation
After completing a payment during registration, users will be brought back to your team site where they will see a confirmation screen. This is their queue that they have fully completed the registration and payment process.
---
Online Store Confirmation
After completing an online store payment, users will be brought back to your team site and will see a confirmation screen similar to the one below. This is their cue that they have fully completed the registration and payment process.
---
Email Confirmation
Users will still receive the same email confirming the payment amount, team name and how the charge will be captured on their bank statement, along with a separate registration confirmation and activation email as usual:
---
WePay Customer Support
➧

WePay Support Hours
9am-9pm EST M-F (WePay does not offer weekend support hours)
➧

WePay Chat Support
(currently disabled)
WePay offers chat support (9am-9pm EST M-F) from within your Merchant Center (bottom right of your Home screen when logged in to your wepay.com account). We suggest trying this avenue first when you have any questions related to your WePay account.
➧

WePay Online Request Form
Follow up with a support request directly to WePay if you do not receive an answer, or do not know/have an account to log into - WePay Support.
>>Note: SwimTopia does not have insight into the details of your WePay account as this is a secure banking relationship. If you do not hear from WePay in a timely manner, your friendly SwimTopia Customer Happiness team can help expedite your request.