USA Swimming and Speedo have announced the Speedo Swim Again Virtual Series. featuring four non-sanctioned or sanctioned virtual meets between Sept 7 and October 11, 2020 – with each week featuring a new set of events.
Your Meet Maestro account has the Speedo Swim Again meet templates pre-loaded, making Meet Maestro the quickest, easiest, and free-est way to run your #SpeedoSwimAgainSeries virtual swim meets and be part of the action!
Before you begin adding meets for the Swim Again series: if you haven't done so already, take a look at our Quick Start Guide for Virtual Meets and USA Swimming (Step 1). To use our Meet Entries Matrix™, we recommend you have athletes in your roster, along with their best times in each event.
---
Covered in this Article:
---
Create Each Week's Meet
Set up a meet for each week's meet for the Speedo Swim Again Virtual Series:
Week 1: IMX/IMR Events
Week 2: Modified High School
Week 3: Distance
Week 4: IMX/IMR Events
Go to the Schedule tab and click on the green Add Swim Meet button, select "New (Empty) Swim Meet."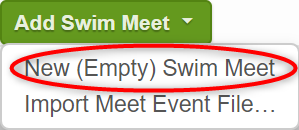 Set the details of the meet, including the meet name, date, and pool course (SCY, SCM, LCM).
See ➞ Meet & Event Details
>>Note: USA Swimming has made EV3 files available, but those files have multiple-day sessions, which are not currently supported by Meet Maestro. For the Speedo Swim Again Series, you'll need to create a "New (Empty) Swim Meet" for each week rather than import an EV3 file.
---
Apply a Meet Template
For each week's meet, apply the corresponding meet template. Your Meet Maestro account has come pre-loaded with a meet template for each week of the Speedo Swim Again series, including the schedule of events and meet entry rules. Before you apply any meet templates, review the setup to ensure that's how you'd like to run your meets, especially the Entry Rules and the Seeding & Scoring Rules. To review and make edits, go to Schedule > Meet Templates and click on the template name.
Now you're ready to apply your templates to your meets:
Go to Schedule and click on the meet name. Then go to Meet Setup > Events > Template > Apply Template and select the appropriate meet template
See ➞ Applying Meet Templates to Your Meets
---
Ready to Go!
Now you're ready to create your meet entries and run your meet. Once your meet is complete, you can send your results to USA Swimming.
See ➞ Quick Start Guide for Virtual Meets and USA Swimming, beginning with Step 3, Add Meet Entries
---
Compete Live and Virtually Against Other Teams!
For even more fun, you can invite other teams to compete against your team, from the safety of your home pools. Meet Maestro allows you to hold live virtual meets against other teams, with results being scored out at the end of each swim event—creating that live meet excitement.
See ➞ Meet Maestro - Virtual Meets
---
Follow the Fun with the SwimTopia Mobile App
Don't forget to remind your parents to download the SwimTopia mobile app so they can follow the excitement each week!
See ➞ Tools to Inform Parents about SwimTopia's Mobile App
Happy racing!