With the SwimTopia mobile app, parents can stay informed about the meet with our Event/Heat Live Bar, heat sheets, upcoming swim reminders, results updates, and more. The SwimTopia mobile app is available for free in the App Store or Google Play. Your meet participants will log in to the app as a Guest.
---
Covered in this Article:
---
Guest Mode Access
SwimTopia Mobile's Guest Mode allows meet spectators without SwimTopia logins to use the app so they can search for upcoming or past meets and follow their favorite athlete's throughout the meet from anywhere!
<<Tip: We suggest spreading the word to your members so they can inform any grandparent/friend etc who wishes to follow their athlete, that once you log into the mobile app via Guest Mode, don't log out. When someone logs in via Guest Mode, a "token" is associated with the user to remember who their Favorite swimmers are. As long as they don't log out of the mobile app, the app will remember their favorites, and they can continue to see their history over time. But if they do log out of the app, the token is no longer associated with the user to remember their favorites. The next time they try to use the app, they would have to log in as a guest again, and then re-favorite their swimmers.
With a Pro Subscription, guest users can access heat sheets, follow the progress of the meet if the team is using the Live Event/Heat bar, and view live results and scores. Without Pro, guests will still be able to follow along as the meet progresses if the team is using the Live Event/Heat bar, but will only see results once the meet has completed.
>>Note: For a meet to show up in the Public Meet Search, the meet MUST be using SwimTopia's Meet Maestro meet management software AND the "Public Meet Search" option must be explicitly enabled by a team admin under the Mobile App settings in Meet Maestro (disabled by default). ➞ See Meet Maestro Settings - Mobile App for more details.
---
Live Event/Heat Bar
This is a Free feature of the SwimTopia mobile app.
Like having an Event/Heat board in their pocket, SwimTopia Mobile displays a Live Event/Heat Bar that keeps parents up-to-date on what's happening in real time. The Live Bar is invaluable if parents can't see clearly from their volunteer position, or are home with siblings and trying to time their arrival.
If your team performs a few simple steps to enable SwimTopia Live before and day of a meet, the SwimTopia mobile app displays the Live Event/Heat bar for your team's parents who have downloaded the app.
If the visiting team also uses SwimTopia for team management their team members can also view the Live Bar in the app once their team admin has "linked" to the meet (see details below). And if the meet is being run in Meet Maestro, and the "Public Meet Search" feature has been enabled by the home team admin, then spectators can see the Live Bar by using the free Guest Mode Access ("Continue as Guest") for that meet.
The home team admins assign a volunteer to update the mobile app with the current event and heat throughout the meet (or create a job for parents to sign up for during registration or for each meet).
>>Note: Updates occur automatically when using Meet Maestro and the CTS Dolphin timing system v5+.
In a meet that has multiple sessions (like a boys pool and a girls pool, or virtual meets), the volunteer can select a session (or team/pool for virtual) to manage. As long as both pools have a volunteer manning the Live bar, then parents from either team can pull up the live bar that corresponds to their "session" and see the live event/heat updates.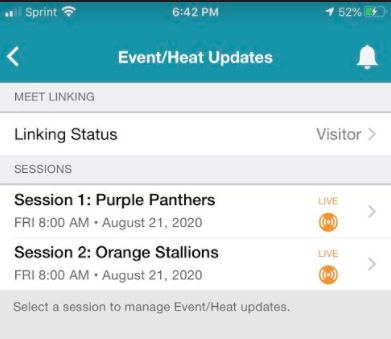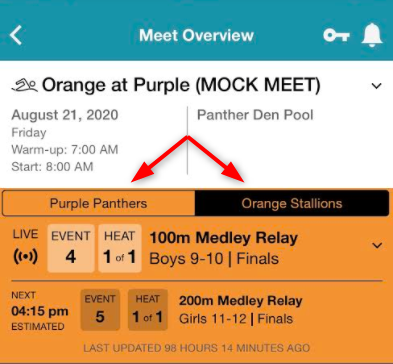 >>Team Admins: Team members can access SwimTopia Live in the mobile app when team admins perform a few simple steps. ➞ See Enabling SwimTopia Live
---
Pro Features: Heat Sheets, Upcoming Swim Reminders, Live Results & More
Parents with a Pro subscription will unlock many great meet-day features, including:
Heat Sheets
Heat/Lane Assignments
Estimated Start Times
Athlete Favorites
Upcoming Swim Reminders & Adaptive Timeline
Live Meet Results & Team Scores
Try Pro for FREE for 7 days, then upgrade to Pro for $2.49/mo or $9.99/yr
See ➞ SwimTopia Mobile App
---
Encouraging Parents to Download the Mobile App
We make it easy for you to remind parents to download the SwimTopia Mobile app, including text for an email reminder and a poster you can hang at your meet.
See ➞ Tools to Inform Parents about SwimTopia's Mobile App
---
---
>>Note: Meet Maestro accounts come with limited-access SwimTopia accounts (a segment of the "Manage Team" interface). If you access our Help Center, you will see articles detailing other SwimTopia features that are available to those with a full SwimTopia account.