Any number of Meet Maestro teams can hold a head-to-head virtual meet against each other from the convenience and safety of their own pool. The meet is scored in real time—as soon as each swim event is complete, the event is scored and swimmers can see how they fared. The results are merged together as the meet is progressing, and parents can see realtime results updates, with push notifications, in the SwimTopia mobile app (with the Pro subscription; available in the App Store or Google Play Store).
Each team will set up a meet in their Meet Maestro account and add the steps listed below.
If the other teams are not using Meet Maestro, they can send their entries files to you, and you an upload them to your meet. See ➞ Uploading Entries Files
---
Covered in this Article:
---
Link the Meets
The meets must be linked in Meet Setup > Linking. The home team will give a visitor code (A) to the visiting team(s). The visiting team(s) will enter the visitor code into the "Link to Host Meet" section on the same tab of their own meet (B).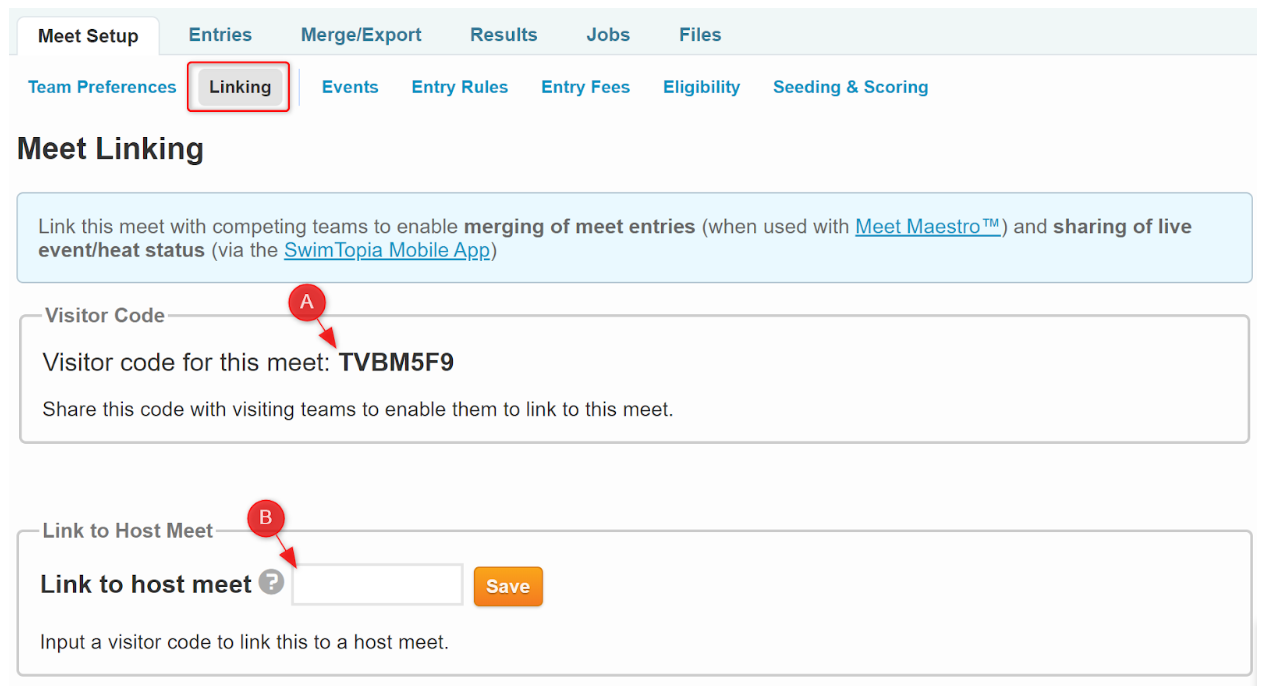 See ➞ Meet Linking
---
Ready to Merge
All teams must mark themselves as Ready on the Merge/Export tab once their meet entries are complete.

See ➞ Ready to Merge
---
Build the Meet in Meet Maestro
Once all teams are marked Ready, the home team can build the Meet Maestro meet. If this is a virtual meet, select "Build as Virtual Meet."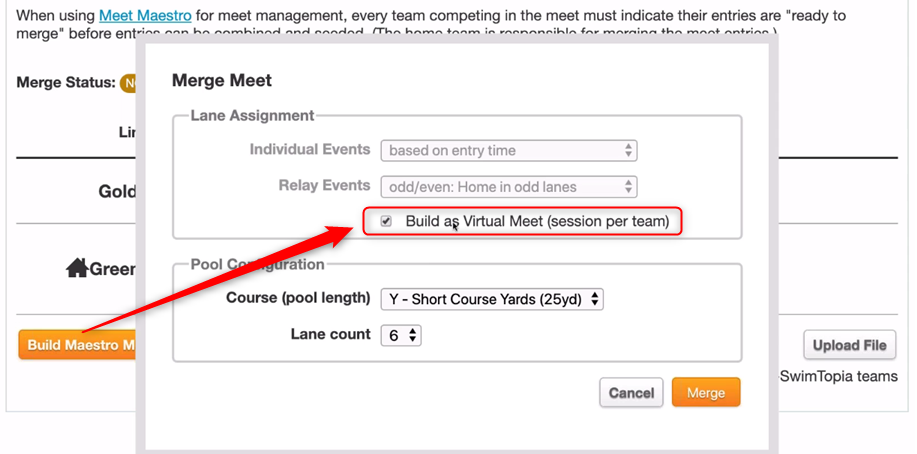 ---
Access the Meet in Meet Maestro
Once the meet is built in Meet Maestro, all teams will have a blue Meet Maestro button where they can access their meet.

See ➞ Meet Maestro - Virtual Meets
---
---
>>Note: Meet Maestro accounts come with limited-access SwimTopia accounts (a segment of the "Manage Team" interface). If you access our Help Center, you will see articles detailing other SwimTopia features that are available to those with a full SwimTopia account.