You can create your meet entries in SwimTopia, or you can create your entries in your own team management system and import the entries into your SwimTopia meet.
---
Covered in this Article:
---
Create Meet Entries in SwimTopia
Coaches love SwimTopia's intuitive and easy meet entries features.
Individual Entries
Use SwimTopia's Meet Entry Matrix™ to enter individual meet entries.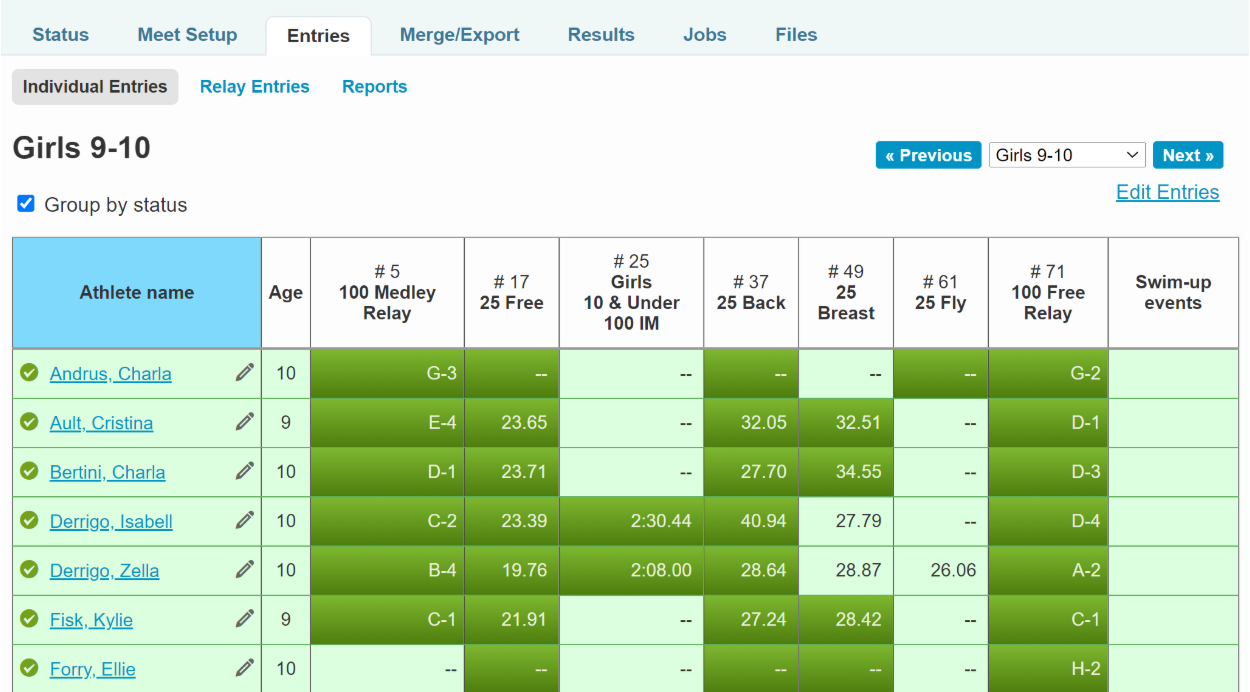 Go to Entries > Individual Entries. Click the pencil icon next to each athlete's name, or click "Edit Entries" for the bulk-editing tool. In either interface, you can click on each column to sort by seed time within each event. Be sure to save your entries as you move through each age group.

See ➞ Meet Entries
---
SwimTopia's One-Click Relay Generator
With the click of a button, all of your relays will be automatically created. Relay preferences are set under Meet Setup > Preferences.

From the relay entries screen, you can also build relays manually. And when you use the relay-generator, you can easily make edits to all relays.

See ➞ Automatic Relay Generation
---
Import Meet Entries
If you create meet entries in another team management system, you can upload your meet entries to your SwimTopia meet.
Go to the Merge/Export tab, click the button next to "Lock out all entry changes," then click Upload File in the lower right corner. You can upload a a Meet Entries File or Merge Entries File.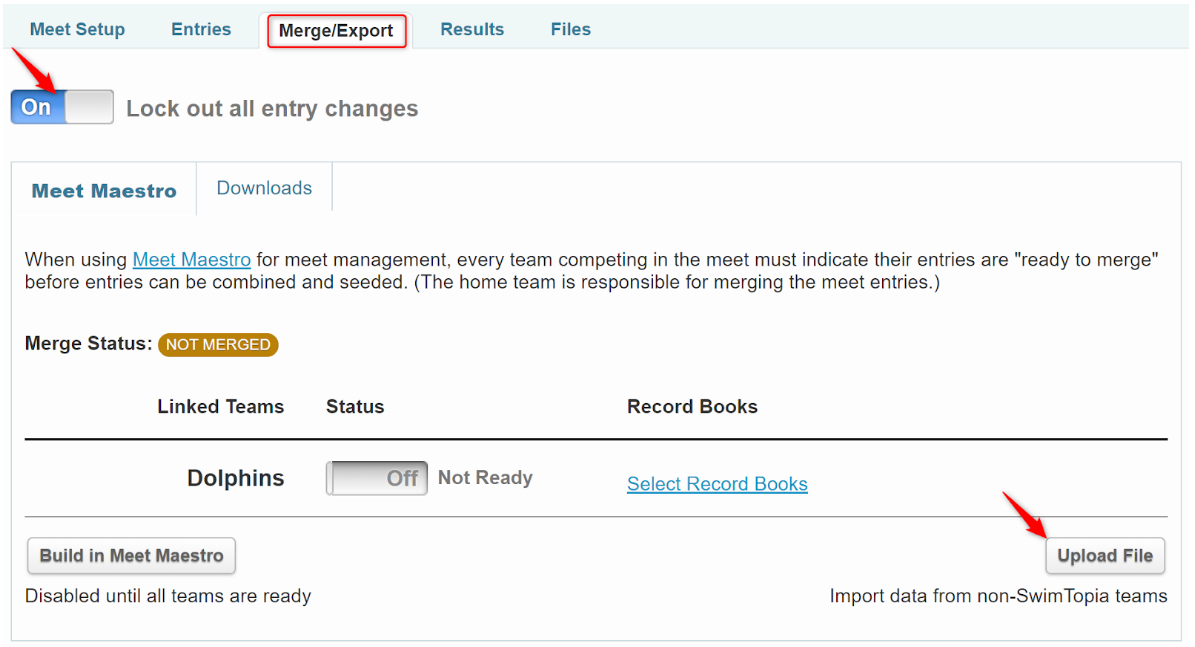 ➧

Supported Formats
.hy3 (Hy-Tek proprietary)
.sd3 (SDIF - Swimmingly, Team Unify...)
.zip file (containing a .hy3 or .sd3)
➧

Can we do deck entries later?
SwimTopia customers are able to do deck entries since the full roster is available in Meet Maestro.
Hy-Tek meet entry files from Team Manager only include athletes entered in events, so non-SwimTopia visiting teams using this system cannot do deck entries when these files (or any files not containing a full roster) are uploaded.
Workaround: It is possible to import a roster file in addition to an entries file for the same team and to have both loaded into Meet Maestro. By doing this it would limit the potential issues with "deck adds" to only those cases where an athlete is not already on a team's roster, provided you load a full team roster during the merge process.
>>Note: Use the same Upload File button for both files. The Meet Name and Meet Date will be empty and the number of Entries and Relays will also be zero. The order in which the two files are uploaded does not matter. Once both are uploaded you'll see duplicate listings for the same team in the Merge/Export list.
---
---
>>Note: Meet Maestro accounts come with limited-access SwimTopia accounts (a segment of the "Manage Team" interface). If you access our Help Center, you will see articles detailing other SwimTopia features that are available to those with a full SwimTopia account.