You can import your meet results and team roster from your existing Hy-Tek Team Manager database into your SwimTopia website. This will provide you with past Meets (including all the events that make up a meet) that you can copy to make your new season's schedule. It has the side benefit of importing the parents' and kids' information as well.
If you don't have access to this information, don't worry. The SwimTopia Registration process will collect all the personal data for you.
» Note: If you were a Team Unify customer, or you are a non-swim team using our Team Topia product, reference our instructions specific to this software ➞ TeamUnify - Team Roster Import (.xlsx or .xls). Or you can use our Excel spreadsheet format ➞ Excel Spreadsheet - Team Roster Import (.xlsx or .xls).
---
Covered in this Article:
---
Team Roster & Time History Export from Team Manager
It is useful to have a complete time history for each swimmer, as well as a record of the seasons each swimmer has been affiliated with the team. This is best exported from Hy-Tek Team Manager.
» Note: Ensure you are exporting from Team Manager to obtain your full team history and roster. Meet Manager is focused on a single meet and therefore, not a good source for a complete team roster. If your team does not have a current Hy-Tek Team Manager database, we suggest using our Excel Spreadsheet - Team Roster Import (.xlsx or .xls) option.
In Hy-Tek Team Manager, the roster and time history are exported as follows (assuming Hy-Tek has not changed this process):
➧

Step 1:
From the
File menu
, go to
Export > Generic MS Access
➧

Step 2:
Be sure to select the option to export
athlete information, individual and relay results
and click OK to save the file.
The file name should end in ".mdb".
➧

Step 3: The resulting file will begin with "GenericData" and end with ".mdb"
. (e.g., "GenericDataMosasaurs.mdb"). If the name doesn't resemble that, double-check the steps above to make sure you are performing an export. If there are multiple files, choose the one that matches this description.
» Note: Compressed files (.zip) are also accepted when importing data and suggested if larger than 5MB.
Now you're ready to import the file into your new team site as described below in the Import Your File Into Your Team Site section.
---
Importing a Current Team Roster
Historical data should be in .mdb format. If you are wanting to import a current team roster, this will require a different process. There are two options:
➧ Option 1: Use our Excel spreadsheet format. Our import tool can load your active roster into your current season automatically when using this format. ➞ See Excel Spreadsheet - Team Roster Import (.xlsx or .xls).
➧ Option 2: Mark the athletes in Team Manager as 'Active', and follow the process outlined in this section of our Import Roster or Time History article, to request that we load your data. Keep in mind, this could take 24-48 hours to complete since it is based on our queue of requests, but these are assigned a higher priority.
---
Import Your File Into Your Team Site
After you have exported your data, your next step is to import this data into your new SwimTopia site.
This is done from your Settings > Import Roster or Time History page as shown below.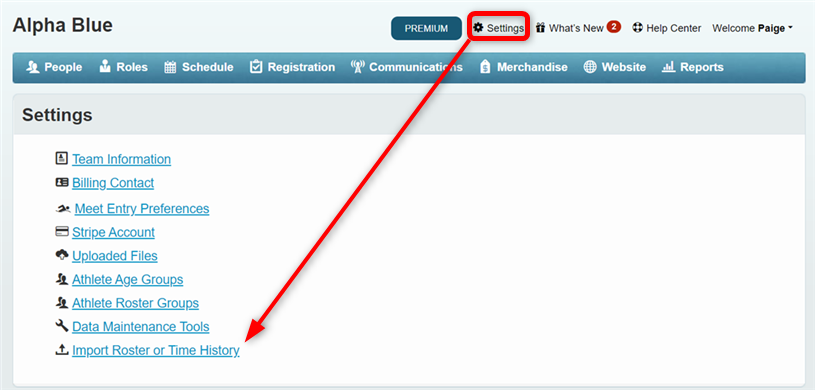 ---
Viewing Imported Data & Exporting Roster
After your data is imported ➞ See our tutorial on Viewing your Team Roster and History.
To export your roster from your team site ➞ See our Exporting Athlete/Team Roster Report article.
---
What's Next...How do Parents Log In?
Your parents create their accounts thru the registration process. Regardless of whether you imported a past or current season roster, we suggest that you create a registration form and invite your parents to register so they can activate their accounts by setting a password.
This can be a simple form for collecting contact information or you can use all sections of the form as needed. Each season they register to be affiliated with the current season, but they don't have to activate their accounts more than once.
See ➞ Creating New Accounts - How do Parents Log In? for more details.
---
Need Help?
If you have any questions about this format or the roster import process, here are our SwimTopia Support Options for assistance.
---
hcmanagesettings hcmanagesettingsimportrosterortimehistory hcteammanagerimport