If you need to charge a "non-resident fee", a "non-member fee", or anything like that, you can! You can either use a separate registration form with different prices or have an Acknowledgement with a fee.
Multiple Registration Forms
Use the "Copy" feature to make a copy of your completed registration form and alter the prices in the copied form, as needed. Name the copied form "2019 Non-Resident Registration" or something similar. If you have more than one registration open, clicking the "Register Now" button will provide a list of registration forms instead of just starting the registration. You may want to also include an Acknowledgement "I am a resident of the neighborhood" or something similar in the resident registration form (see below), without a fee.
You can accomplish this without having multiple registration forms, however, using an acknowledgement with a fee.
Acknowledgements
Click Add Acknowledgement Section for Resident or non-resident or neighborhood or HOA fees, etc. you will be including on your registration form.
Enter the title, text and display order of your acknowledgement.
Click Require Acceptance if it is necessary for registration approval, and review or change the text you want your users to see next to the checkbox. If you are using a single registration form, a resident acknowledgement can't be required, since not everyone will be a resident (unless they must be to be on the team).
Require electronic signature will allow the registrant to enter their initials to indicate acceptance.
Acknowledgement Fees
Check Include additional fee to allow collection of an additional fee required for registration, such as a a volunteer opt-out fee or other types of one-time per swimmer or per registration fees.
>>Tip: there is a place in the Payment Section to add an HOA or Club member number for registration payment.
Set the parameters of your fee and a description your users will see on the payment confirmation page. The example below shows how to charge a non-member facility fee per swimmer, except for those older swimmers who already pay a reduced registration fee (see Age-Range Fee Override above).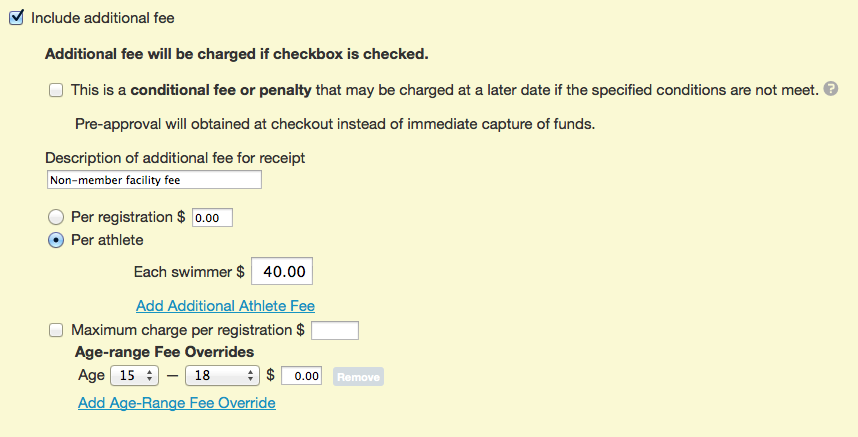 Fees can be charged immediately (as in the example above), or pre-approved for capture or release in the future (conditional fee).
You can have the fee be a discount, rather than a fee if you like, by simply entering a negative number for the fee. In this case, you'd make the main registration fee the price a non-resident would pay: