If your team performs a few simple steps during a swim meet, the SwimTopia mobile app displays a live Event/Heat bar for your team's parents. If the visiting team also uses SwimTopia, the Live Bar will appear on their mobile apps as well.
Enabling SwimTopia Live features for your team is easy:
Team admins assign a volunteer to update the mobile app with the current event and heat throughout the meet.
If the visiting team uses SwimTopia, share a subscriber code with their admin to activate the Live Bar for their team's parents.
Users will know exactly which event and heat is in the water – which is really handy if you can't see the pool from your volunteer position or you want to time your arrival at the pool.
If your team is using Meet Maestro™ to run your swim meets your team will also have live results updates and more. See other mobile app features available to Meet Maestro teams.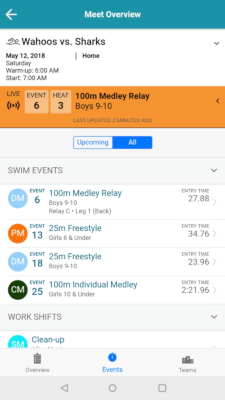 To Enable SwimTopia Live:
Before the meet
Step 1) Spread the Word
Be sure to tell your team members about SwimTopia's free mobile app, available for iOS in the App Store and for Android in the Google Play Store.
Step 2) Assign a Volunteer
Create a job for "Event/Heat Updater" in each swim meet and let team members sign up for one of the easiest jobs at the meet.
Ensure the volunteer assigned has the necessary admin privileges. To access the Event/Heat Update area of the mobile app a team member must have either full admin privileges (denoted by a crown symbol in SwimTopia) or partial permissions to "Manage" Event Heat Updates.
To assign a team member partial permissions:
Add a "New Role" called "Event/Heat Updater" or similar.
Define the Role's permissions by checking "Some administrative permissions", then check "Manage" next to "Event Heat Updates." Click "Create" to save the Role.
Assign the Role to the volunteer signed up for the job by "Adding" them to the Role.
Day of the meet
Step 3) Get the SwimTopia Visiting Team On Board
If the visiting team uses SwimTopia for swim team management, their parents can also follow your meet's live event and heat updates. Connect with an admin from the visiting team and give them the "Subscriber Code" to enter in their mobile app.
Your admin will log in to the SwimTopia app:
Click on the day's swim meet
Click on the key symbol on the upper right of the screen
Click on Event /Heat Updates
Click Update Mode > Publisher (Note: DO NOT click Subscriber or this will unlink you as a Publisher and require SwimTopia Support help)
Copy or note the Subscriber Code to share with the visiting team
Click Done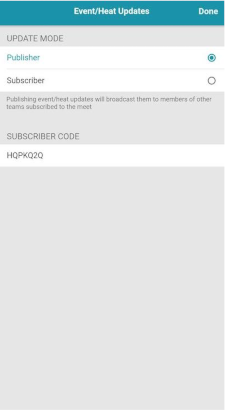 The visiting team admin will log in to their SwimTopia app:
Click on the day's swim meet
Click on the key symbol on the upper right of the screen
Click on Event /Heat Updates
Click Update Mode > Subscriber
Enter the Subscriber Code the received from the home team
Click Done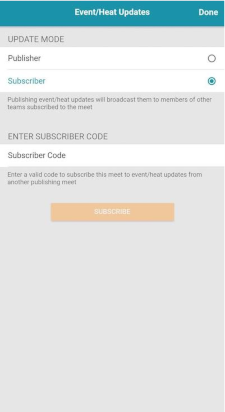 Step 4) Tap to Update the Current Event and Heat
To begin updating the current event and heat, your volunteer will log in to their SwimTopia app. Once in the app, the volunteer will:
Click on the day's swim meet
Click on the key symbol on the upper right of the screen
Click on Event /Heat Updates
Click on the Session
When ready, click on Broadcast Status to Live
Use the plus and minus keys to move through the meet. After a new heat starts and you tap the plus sign, click "Update" to save and publish the current event and heat to the mobile app
When the meet or session is over, switch on Session Completed and confirm your session has finished