---
Covered in this Article:
---
Accessing Timing Setup
Timing Setup options are found under Meet Maestro Settings (gear icon).

The meet can be configured to run with 1 to 3 stop watches or the "Colorado Time Systems Dolphin" wireless timing system. Touchpad is not supported at this time.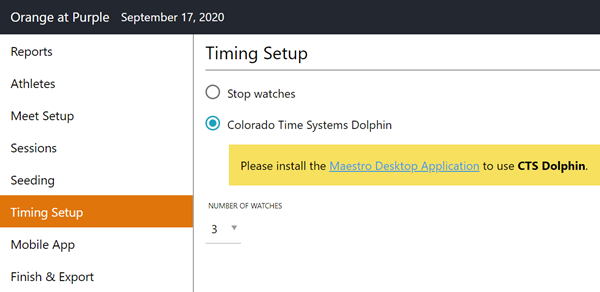 >>Note: The timing configuration is per computer, not per session or per team or per meet. For example, if you have a laptop setup to use Dolphin it will try to use Dolphin for any sessions.
---
Stop Watch Options
When in 1-watch mode, only an "Official time" will be entered.

When 2-3 watches are active, the "Official time" is calculated automatically, following league-specified rules that are set in the Meet Template (within SwimTopia under Schedule > Meet Templates > Seeding and Scoring).
---
Colorado Time Systems Dolphin

If running your meet using CTS Dolphin timing system, select the applicable radio button, Save, install the Meet Maestro Desktop Application and then ➞ See our Setting Up CTS Dolphin Wireless Timing System with Meet Maestro article for more details.
>>Note: In a Virtual Meet scenario where multiple sessions are created, competing teams could be using different timing mechanisms. To support this possibility, we moved the CTS Dolphin settings from this page to the timing system bar. This bar displays on the time entry interface when Dolphin is setup on a computer.
---