Settings for seeding and scoring are tied to the Meet Template in SwimTopia and they transfer to Meet Maestro when you merge the meet. For most teams, your league will have set seeding and scoring rules. You can see these rules in your meet, under Schedule > Select Meet Name > Meet Setup > Seeding & Scoring. 
OR
Do You Need to set up seeding and scoring for your team?: Edit your dual meet template with the league's seeding and scoring rules.
You can create/edit your meet templates under Manage Team > Schedule > Meet Templates. To edit the scoring and seeding rules in a specific meet, you can find them under Meet Setup > Seeding & Scoring.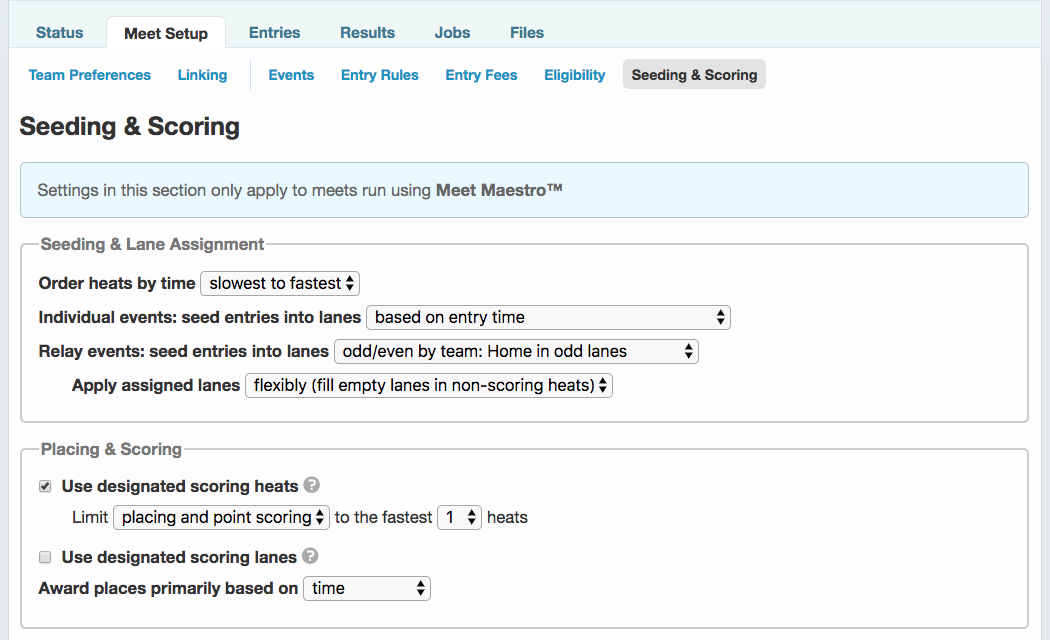 Seeding & Lane Assignment
This section controls how meet entries are assigned to heats and lanes during the 'seeding' process.
Order heats by time — Controls whether heats are created "slowest to fastest" or "fastest to slowest" order
Individual/Relay events: seed entries into lanes — supports separate lane assignment rules for individual and relay events. Lanes can be assigned to specific teams, otherwise entries are assigned based on time which minimized heat duration and helps the meet run faster. Several options are available to automatically assign lanes to teams:

Odd/event by team: Assigns home and visitor teams to alternating designated lanes. (Dual meet only)
Sides by team: Assigns home and visitor teams to sides of the pool, in high or low number lanes. For example home in lanes 1,2,3 and visitor in lanes 4,5,6. (Dual meet only)
Manually assigned during merge: Adds a step to merge process where per team lane assignments can be made. Works with any number of teams.

Apply assigned lanes — For assigned lanes options, this controls when and how the lane assignments are applied. Options include:

Flexibly: This option will fill lanes with entries from the assigned team, until no more entries for that team are available. If no entries for the assigned team are available, it will fill the lane with the next fastest entry from any team. However, lane assignments are strictly followed in any designated scoring heats.
Strictly: This option will only fill a lane with an entry from the assigned team. If no team is assigned to the lane or not entries from that team are available, the lane will be left empty.
In designated scoring heats only: This option will only follow lane assignments in designated scoring heats. All other heats are seeded based on entry time. In meets with designated scoring heats, this option can reduce the overall duration of the meet by optimizing non-scoring heats to groups swimmers of similar speed.
Placing & Scoring
This section controls how places are awarded and how points are scored. Ribbons are awarded based on place. Points are scored primarily based on place, but in some instances points may be awarded to different places.
Use designated scoring heats — this option enables limiting placing and point scoring, or just point scoring to the specified number of fastest heats. Only swimmers seeded into these designated scoring heats will be eligible to be awarded points and place ribbons (if placing is also limited). If the "point scoring only" option is selected, swimmers in other heats will be eligible for place ribbons, but not points.
Use designated scoring lanes — this option enables limiting point scoring and (optionally) placing to the designated number of "inner/fastest" lanes. Entries in lanes outside the designated scoring lanes will be treated equivalent to an Exhibition entry, that is ineligible for placing or point scoring (depending on the setting selected).
Award places primarily based on — this option controls how places are primarily awarded in Meet Maestro. Options are "time" and "place judging". If the "place judging" option is selected, then the heat place is made editable in the Meet Maestro Run Meet interface to make it easier to input judged places. In designated scoring heats, the judged heat place also becomes the overall place.

If your meets are already created, you will then need to "Apply" the correct template to each meet. Go to Manage Team > Schedule, and click on the name of a meet. Then go to Meet Setup > Events > Template > Apply Template.
>>Tip: If the meet already has events, make sure the template events are in sync before you apply the template. If nothing happens when you select Apply Template, the events do not match.

 For more details, see our Help Center article about Meet Templates.