Back for another season? Want to catch up on all the latest and greatest changes since you've been gone? You've come to the right place! This document provides links to information on the major updates to SwimTopia, Meet Maestro and our Mobile App. For more details, we recommend searching the SwimTopia Help Center using keywords of interest.

If you do not find what you are looking for, feel free to contact our Customer Happiness Team.
>>Note: for release details specific to our meet management product, Meet Maestro ➞ See our Meet Maestro Version History article.
---
Covered in this Article:
---
New Features - Posted to SwimTopia.com
We're continually adding new features and product enhancements to all of our products. ➞ Check out our latest feature updates from our Marketing team...

---
"What's New" - From Within Your Manage Team Console
Have you ever wondered what recent changes have been made to SwimTopia? Whether catching up at the beginning of a new season or staying up-to-date during the season, the What's New announcement feature will help keep you informed of any major updates or announcements.
The What's New announcement feature is available in the administrator-only "Manage Team" area. When we add a major new feature or make an important announcement, a red notification bubble is displayed in the top right corner of the manage team page.
If the What's New page has not previously been visited, a small red dot will indicate the presence of unread items. After the first visit, the count of unread items published since the previous visit will be shown.

Clicking on the What's New link will direct you to the list of announcements. Any previously unread items will be highlighted.
---
Timeline of New Releases (reverse chronological order)
---
10/15/2023

- *BETA* Support for Daktonics Omnisport 2000
This Meet Maestro release adds beta support for Daktronics Omnisport 2000 timing system. This timing system can be enabled on a per-organization basis. Please
contact the SwimTopia Help Center
if you wish to be considered for beta testing.
---
12/04/2023

- New Drag and Drop for Relay Athletes in Meet Maestro
This Meet Maestro release adds the ability to change the order of your relay athletes by dragging and dropping their position within the relay. Please visit our Help Center for more information:
Relay Event - Entry Changes
---
11/22/2023

- Add Record Books in Meet Maestro
Have you ever merged your meet and then realized you forgot to add your record books before the merge? We have great news! You can now add record books from within Meet Maestro, even after the meet has been merged! Go to the Gear Icon > Benchmarks, and select "Add Record Book," and you'll see a list of all eligible record books for all participating teams (and league, if applicable). Please visit our Help Center for more information: Meet Maestro Settings - Benchmarks (Records & Time Standards)
---
11/22/2023

- League Record Books Now Available
It's the moment so many of you have been waiting for... you can now add League record Books to your meet. Once the meet has been merged, click on the Gear Icon > Benchmarks, and select "Add Record Book," and you'll see a list of all eligible record books for your league. Record books will still need to be manually managed if records are broken, but they may now be applied to the meet for teams to use as a benchmark. Please visit our Help Center for more information: Applying League Records to a Meet Maestro Meet
---
10/31/2023

- Per-Organization Sending Limits to Prevent Spam
As part of our ongoing security efforts to protect our teams, we have launched a new per-organization email sending limit to prevent exploitation by spam trial accounts. A new account will be limited to 25 email recipients in the first 24 hours, then will increase to 500 recipients per day. If your team or league receives an error message similar to the one below while sending emails, please
contact the SwimTopia Help Center
to request your email limit be increased. These will be approved on a per-team/league basis.

---
10/15/2023

- *BETA* Support for Daktonics Omnisport 2000
This Meet Maestro release adds beta support for Daktronics Omnisport 2000 timing system. This timing system can be enabled on a per-organization basis. Please
contact the SwimTopia Help Center
if you wish to be considered for beta testing.
---
10/02/2023

- New Printable Athlete Attendance Report
This printed report has a row for each selected athlete and a column for each day in the selected month. It's meant to help with manual, handwritten tracking of attendance. Please use the Chrome Internet Browser for printing.
This report is located under Manage Team > Reports > Member Information > Athlete Attendance
---
09/29/2023

- Leagues Can Add Record Books Before Meet Merge
If a meet is merged from the League site, the league admin can add available league record books to the meet when merging the meet from the League site.
More information to come soon about this new feature.
---
07/26/2023

- New in Meet Maestro: Ability to Edit Seeding and Scoring Rules
Meet admins are now able to change the seeding, placing, and scoring rules in Meet Maestro if the configurations were not accurately set up (or set up at all) in SwimTopia prior to the merge. This eliminates having to access the meet setup in SwimTopia to make changes and get all teams to mark themselves ready to merge again to re-merge the meet.
---
07/27/2023

- New in Meet Maestro: Current Event Now Highlighted in Editor
When editing entries for a swimmer in Meet Maestro in a particular event, once you click the athlete's name the event you are currently on will now be highlighted in yellow. Learn more here:
Meet Maestro - Athlete Entry Deck Changes
---
06/18/2023

- New in SwimTopia: Updated Payment Details Now Available
To help our admins better reconcile team funds, the Payment Details Report now displays additional information including the per-athlete-fee and any transaction fees. Learn more here:
Payment History Report
---
06/29/2023

- New in SwimTopia: Per-Athlete-Fee Reports
Introducing the new
Per-Athlete Fees Reports
. These reports can be found under
Manage Team > Reports > Financial
. The Per-Athlete Fees reports (summary and detail), provide transparency into paid and outstanding per-athlete fee payments to SwimTopia / Team Topia (non-swim teams) at a team and league level. (There are similar reports for leagues, which will give you summary and detail information for each of your SwimTopia teams). Learn more here:
Per-Athlete Fee Reports (for Teams)
---
06/18/2023

- New in Meet Maestro: Incomplete Relay Team Alert
To assist meet administrators as they make deck changes, and computer operators as they enter times, a warning will now display next to relays with a missing athlete. Hovering over the warning icon will provide additional details and clicking on the relay name will allow selection of available athletes. For more information, visit
Relay Event - Missing Athlete Warning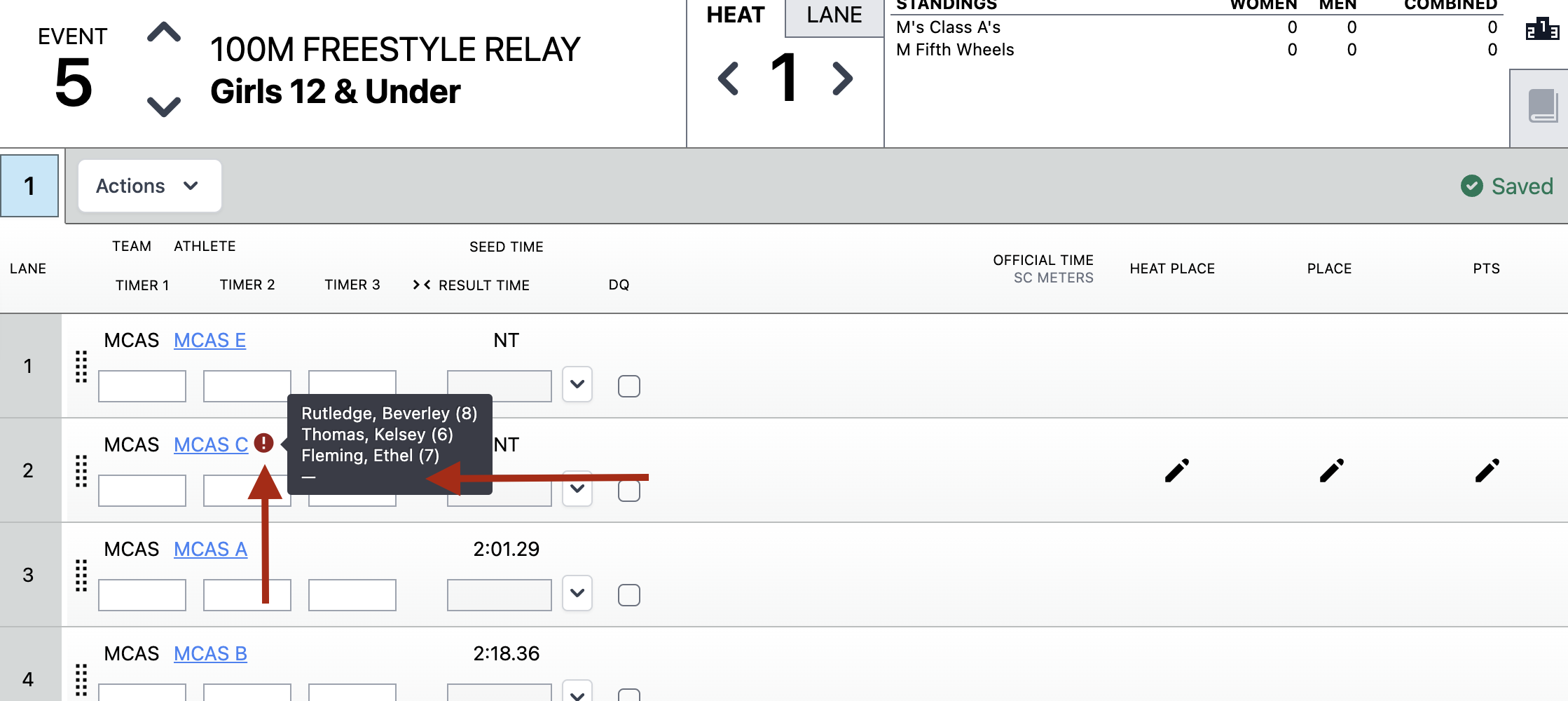 ---
06/18/2023

- New in Meet Maestro: Swimmer Status Displays in Event Editor
Athlete selection is now quick and efficient with our new swimmer status indicators. All available athletes display first with scratched and unavailable athletes at the bottom of the list. Learn more here:
Individual Event - "ADD ENTRY"

---
06/08/2023

- New in Meet Maestro: Add an Athlete
Introducing the ability to add a new athlete to the meet that is not on the team roster at the time of merge. Meet administrators can use the Add Athlete button to "deck add" a new athlete who was not included on the roster for a team competing in the meet at the time of the merge.
---
06/08/2023

- New in Meet Maestro:

Add a Team!
Meet admins can now manage teams competing in the meet directly in Meet Maestro. This includes adding new teams, editing existing teams, deleting teams, and filtering by team name or abbreviation.
The ability to add a new team is beneficial when a competitor does not have a team management system, so you need to basically "deck add" their team of athletes into the merged meet. These teams and their scores will be displayed in the mobile app just as any team already included in the meet.
---
05/31/2023

- Partnership with Sporfie
New for 2023, we have partnered with Sporfie, an easy-to-use live streaming and fundraising platform that allows users to stream and share practices or meets using nothing but their phone (without having to even log into an account). Sporfie's fundraising platform makes it easy to raise thousands of dollars for your team. Book a demo, or give them a call for more info!
---
05/17/2023

- New in Meet Maestro: Edit Points
Uh oh! You're partway through your meet in Meet Maestro, and you're wondering why none of the swimmers have any points and the score is 0 to 0? Then you realize it: your meet template didn't have any points included in it (that's ok, it happens!).
Never fear! With our new feature, you can edit the points within a Meet Maestro meet. Whether your meet template didn't have any points at all, or it had points but they were incorrect: now you can edit the points under Seeding & Scoring, then rescore your meet.
Learn more about Seeding and Scoring here: Meet Maestro Settings – Seeding & Scoring
---
05/07/2023

- New and Improved SwimOutlet Integration
With SwimTopia's updated SwimOutlet team store integration, we display your teams' custom items on the SwimOutlet snippet. This gives your families a preview of your team's customized gear available in your SwimOutlet Team Store. Drop the SwimOutlet snippet anywhere on any website page to give your families better visibility into what's available in your SwimOutlet Team Store, where they can easily click through to make orders.
Learn more about integrating your SwimOutlet Team Store here: SwimTopia's SwimOutlet Team Store Integration is Better Than Ever
---
04/20/2023

- New "Show all Swim-Up Athletes" Option
From within the Meet Entry Matrix, athletes set or available to swim up will be designated by highlighting of their names with an up arrow. If you check the new Show all swim-up athletes checkbox, you will then see every athlete that is available to swim up in an event, including the athletes already set to swim up. Learn more here in our Help Center: Swim-Ups for Individual and Relay Entries
---
03/17/2023

- New "Needs Attention" Registration Status Tab
When clicking the Registrants# to see a list of all registrations submitted broken out by status, there is now a new "Need Attention" status tab. In rare cases, a registration form can become stuck in an incomplete state. The reasoning for these occurrences is not always known, so we provide visibility to these registrations under the Needs Attention status. Note: This tab will only display if there are registrations that require your intervention. Resolution options are provided from within the interface.
Learn more here in our Help Center: View/Edit Completed Registrations - Needs Attention
---
03/14/2023

- New Seeding & Scoring Preview
Raise your hand if you need a visual? We see you!
Seeding and scoring rules can be complex, but configuring your meets with these rules doesn't have to be! There's no need to wait until you've merged the meet entries to verify athletes are seeded in lanes as expected, and heats/lanes are designated as scoring or exhibition as required!
This new update allows you to see a visual representation of the seeding and scoring settings before merging the meet. Learn more here in our Help Center: Set Up and Preview Seeding & Scoring Rules
---
02/27/2023

- Support Added for Google Analytics G4
Added support for Google Analytics 4 to SwimTopia. Please note that Google Analytics 3 will stop receiving data on July 1, 2023. All of our customers should upgrade to GA4 and add the new tracking ID to your team's site settings before this date or you will have a gap in your GA data.
Learn more about Google Analytics G4 and migrating from G3 here in our Help Center: Google Tools: Analytics and Search Engine Optimization
---
01/30/2023

- New! Updates to Registration Page - View by Season
We are pleased to announce our latest new enhancement: registrations organized by season
When you go to the Registration page, you'll notice the following changes:
Registration forms are now organized by season
The current season is marked with an asterisk
Seasons with an open registration form will be marked with a green "Open" badge
We've added intuitive controls for each registration form, including:

A count of registrants, which includes a link to that form's Registration Details
Actions: preview, copy, or remove the form
Learn more about Registrations here in our Help Center: Creating and Managing Registration Forms
---
01/17/2023

- Enhanced support for SwimOutlet Online Store
SwimTopia has partnered with SwimOutlet, the web's most popular swim shop, to streamline the management of your merchandise offerings directly from your SwimTopia team site. We offer a SwimOutlet snippet, where you can integrate with a SwimOutlet team store right on your SwimTopia site. This is a great fundraiser for your team: a percentage of the sales from your SwimOutlet team store will go back to the team via in-store credit or cash. Now it's even easier to get your team set up.
---
01/16/2023

- Teams can now Import Their Roster File or Time History
New SwimTopia teams can now import their roster files immediately without the extra step of contacting support. After you have exported your team roster and/or time history data from your previous software, or used our Excel spreadsheet format to create your data import, your next step is to import this data into your new SwimTopia or Team Topia (non-swim) site.
This is done from the Settings > Import Roster or Time History page. Please see our Help Center for a complete step-by-step tutorial: Import Roster or Time History
---
01/16/2023

- Can now partially refund Conditional Fees
Refunding conditional fees work like refunding any other part of the registration payment. This is done from your Payment History Report under the Reports tab.
You can quickly get to the specific payment transaction by clicking on the View Payment button within the registration form as seen below. Otherwise, you would need to know the registration# to track down the payment from within the report. Please see our Help Center for more information about Conditional Fees: How to Pre-Approve, Capture & Release
---
01/06/2023

- Important Update: SwimTopia to Collect Per-Athlete Fees During Registration
SwimTopia will now automatically collect the per-athlete fee during online credit card registrations (for teams that are not participating in upfront league-wide billing).
The default setting is to not itemize the SwimTopia technology fees. Visit our Help Center to learn more about how to edit your settings and to read our FAQ.
---
12/16/2022

- WePay and PayPal Decommissioned
As of December 16, 2022, SwimTopia has transitioned to Stripe as our integrated online payment processor. We are excited about the many benefits Stripe will bring our teams.
Setting up a Stripe account will go smoothly if you are prepared. Before setting up your Stripe account, we suggest gathering the following information to ensure a quick setup. If your team does not already have an EIN number, learn how to create one now. If you have all of these requirements ready, you'll be able to set up your new Stripe account in a matter of minutes.
When you're ready to set up your Stripe account, it must be done from within your SwimTopia account, under Settings > Stripe Account. We are unable to integrate with any Stripe accounts that are set up outside of your SwimTopia account.
Please visit our Help Center for a Step-By-Step Tutorial that will walk you through every step of the way along with screenshots.
---
11/09/2022

- NEW! Scheduled Breaks in Meet Maestro!
By popular demand, we're thrilled to announce that you can now add scheduled breaks in Meet Maestro. Use our scheduled break feature whenever the meet action will be paused, including:
Halftime
Volunteer shift change
Coaches relays
Weather delay
Estimated start times will be up-to-date on your heat sheets, timeline, and mobile app. Learn more about this new feature here: Scheduled Breaks
---
08/23/2022

- Updates to the Stripe Services Agreement
Stripe is updating the Stripe Services Agreement and related terms. You can read the entire Stripe Services Agreement here. The updates to the Stripe Services Agreement will take effect on October 1, 2022. No action is needed from you, but by continuing to use Stripe's services on or after October 1, 2022, you are agreeing to the updated Stripe Services Agreement.
---
08/11/2022

- SwimTopia to Provide SWIMS 3.0 Integration
SwimTopia has been working with USA Swimming throughout the summer, preparing for the upcoming launch of SWIMS 3.0.
If you are a USA Swimming club, you will be able to connect your SwimTopia account to USA Swimming as soon as USA Swimming launches the new SWIMS 3.0 database. With this connection, you'll be able to sync your roster to the USA Swimming membership database.
The first step will be to visit your Club Portal and select SwimTopia as your Team Management Vendor. See the how-to video: Activating a Team Management Vendor.
Be sure to read our Complete Overview - SwimTopia and USA Swimming Teams (SWIMS 3.0)
---
08/02/2022

- Announcing New Competition Category Terminology
SwimTopia has updated the terminology used in our products from "Gender" to "Competition Category." This change to our products is in line with policies adopted by USA Swimming and FINA. The name of the field is now "Competition Category" rather than "Gender," to define "Male" and "Female" for the purposes of competitive classification (and not as an indication of an individual's gender identity). Learn more here: Announcing New Competition Category Terminology
---
06/10/2022

- Online Payment No Longer Available for RSVP Fees
In non-meet calendar events, we no longer offer the ability to collect fees with RSVPs. We've received customer feedback that this feature did not meet the level of quality we strive to provide to our customers. We apologize for the inconvenience this may cause.
You can create the event fee as a merchandise item on your team site ➞ See Merchandise and Setting up the Online Store. Learn more here about Charging a Fee for your Event
---
06/07/2022

- Non-Scoring Lanes & Heats Marked in Meet Maestro
We've added EXH tags in Meet Maestro to provide better visibility to athletes who are not eligible to score and/or place.
For teams who have designated scoring heats and designated scoring lanes, you can immediately see which lanes and heats are non-scoring, as soon as you merge your meet.
Learn more here: Non-Scoring/Exhibition(EXH)Designations
---
06/07/2022

- New Enhancements: Meet Maestro Reports
Due to popular demand, we've just released several enhancements to our Meet Maestro reports:
Add 'show empty lanes' option to the Heat Sheets report. This will include empty lanes in the Heat Sheet report, which some teams find helpful in the ready bench.
Add a heat filter for the Place Judge Form. This will allow teams with designated scoring heats to print Place Judge Forms for only the scoring heat.
Add a competition category filter to the Timer Sheets report, which enables printing timer sheets on colored paper based on competition category.
These choices will be available in "Options" for each report. Learn more here.
---
05/30/2022

- Seeding and Scoring an Odd-Laned Pool
Are you the home team in a 5-lane pool? Trying to designate whether Lane 1 or Lane 5 is the non-scoring lane? We're here to help! When it's time to merge your Meet Maestro meet in an odd-laned pool, there are two steps right after you click on the "Build in Meet Maestro" button:
1. Lane count: Select the number of lanes in your pool
2. Lane assignments: List only the lanes that are the scoring lanes (the non-scoring lane should not be listed)
Click "Learn More" for detailed steps and screenshots, scroll to the section on Odd-Laned Pools.
---
05/26/2022

- New Feature: Heat Sheet Alerts
When you first build your Meet Maestro meet we realize you might be making some lane changes and deck changes and that heat sheets aren't quite ready immediately. Introducing a new feature: you specify when you publish your heat sheets, and when you do, you can send an alert to all of your parents to let them know that heat sheets are ready in the mobile app.

Note: the default now is to not publish your heat sheets to the mobile app – now you choose when parents can see the heat sheets in the app by publishing them when you're ready (but don't forget!). This helps keep parents in the loop as soon as your heat sheets are ready!
More details: Publish Heat Sheets
---
05/13/2022

- Timing Systems - Testing Before Your Meet Starts
If you're testing your timing system (CTS Dolphin, Wylas, Time Drops, or CTS touchpads) before the start time of your Meet Maestro meet, you'll be asked if you're starting your meet early. Letting the system know that you're not starting early will prevent premature delivery of upcoming swim reminders and live result notifications to parents using the SwimTopia (Pro) mobile app at your meet.
More details: Testing Before the Meet Starts
---
04/28/2022

- Online Store with Stripe is LIVE!
We're excited to announce that our online store integration with Stripe is now live!
A few important things to note:
1. Online store is automatically set to Stripe, for all teams with an active Stripe account -- this includes any legacy teams with both a WePay and active Stripe account
2. Seller pays the fees -- there is no way to designate otherwise
More details: Stripe Integration with Online Store
---
04/08/2022

- Stripe Refunds are Live!
Exciting News! We just rolled out our Stripe refunds feature, so you can now initiate refunds, including partial refunds, directly from your SwimTopia team site! Please note:
All red-badge admins can issue refunds, plus anyone with the "Financials" Role Permission(if you don't want all red-badge admins to be able to issue refunds, assign them to limited-permission roles instead).
The processing fee is not refunded to the team. The payor receives what they paid in full unless you determine a partial refund amount.
It could take 5-10 business days for Stripe to complete the refund process.
Learn more about Stripe Refunds.
---
04/07/2022

- New Role Permission: Financials
Anyone assigned to a Role with "manage" rights to Financials can:
Access Stripe account screens (under Settings)
View the Payments Report and payment details
Capture conditional fees
Issue Stripe refunds
Learn more about this and other role-based permissions.
---
02/25/2022

- Stripe Payment Processing Now Live
SwimTopia is pleased to integrate with Stripe for your payment processing needs. Stripe is one of the largest payment processors in the world. As a secure (Level 1 PCI-compliant) payment provider, Stripe enables easy online payments, eliminating the need to track a paper trail of check payments. Stripe accepts all major credit cards (Visa, MasterCard, Discover, and American Express), and Google Pay can be used to checkout (No Apple Pay at this time).
With no setup costs or monthly fees, Stripe is the preferred payment processing partner of SwimTopia. Learn more about the many benefits Stripe will provide.
>> Note: As a reminder, all teams must transition from WePay or PayPal as their payment processor no later than November 30, 2022.
---
01/31/2022

- SwimTopia and SwimOutlet Partner for Team Store
SwimOutlet and SwimTopia announced a partnership to offer a best-in-class team sales experience for all SwimTopia teams, with integration expected in early February.
Teams will be able to easily customize their SwimOutlet Team Store, and they can then curate the products presented to their families on their SwimTopia site. SwimTopia teams can also continue to use SwimTopia's built-in merchandise and sponsorship features they've come to know and love. And when teams set up a SwimOutlet Team Store on their SwimTopia site, they'll earn a commission from each purchase, adding to the team's fundraising options. Learn more here.
---
01/21/2022

- SwimTopia Launches Product Tiers
Effective January 25, you'll notice a badge at the top of your Manage Team admin portal. What does this mean?
Premium: all legacy SwimTopia accounts will be converted to Premium, with all the same great features you've been enjoying
Lite: all Legacy Meet Maestro accounts will be upgraded to Lite, with added features
League: all legacy League accounts will now have a League badge
All admins should have received a letter from SwimTopia on January 18, 2022, announcing the change and the impact on your pricing in future seasons. For more information, please read our Product Tiered Pricing – FAQ
---
01/18/2022

- HAPPY NEW YEAR! Reminder to update your Season
As we begin the new year, there's a bit of housekeeping to do on your SwimTopia site before you set up for your new swim season, and especially before you begin accepting registrations. One step that's especially important is to change your Current Season.
And once you change your Current Season, it may seem like things "disappear" from past seasons. Never fear, it's all still in your system! However, there are some things that only show up when they're associated with the current season, including registrations, people, roles, meets/events, and more.
For more information, please read our Step-By-Step Guide For Transitioning to Your New Season.
---