You'll use the Status subtab of a meet or non-meet event to set the status of meet signups or event RSVPs, plus job signups.
| | | |
| --- | --- | --- |
| |   | |
| Swim Meet |   | Calendar Event |
The Meet entry online sign-up status controls whether parents can sign up their swimmers for meets from your Swim Meet calendar, and if the coach allows, swimmers can even sign up for their preferred swim events.
>>Note: some teams refer to meet attendance as an "RSVP"—in SwimTopia, we refer to this as Meet Signup or Meet Attendance Declaration. And SwimTopia uses "RSVP" for non-meet calendar events ➞ See Creating Calendar Events (Non-Meets). 
The Job signup status controls when and where parents can sign up for event jobs/shifts online.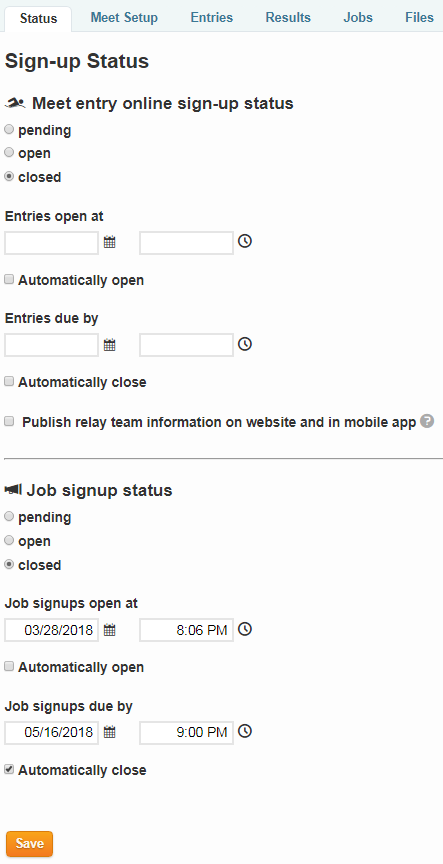 You can enable auto-open and auto-close for meet entries: After setting a time and date, click the Automatically Open or Automatically Close to make the meet entry sign-up status open or close once the date has passed.
Some teams enable online signup for all meets before the season; some teams only open signups one meet at a time, a week or two before each meet. With auto-open and auto-close, we make it easy to open and close your signups automatically.
Status Definitions
Meet and Non-Meet Event Signups
Pending:
× Disable view and change meet signups or non-meet RSVPs
(no button)
Open:
✓ Allow sign-up, view, and change meet signups or non-meet RSVPs (parent account login required)

  or

Closed:
✓ Allow view meet signups or non-meet RSVPs (parent account login required)
× Disable signups and changes to meet signups or RSVPs

or

Job Signups (for both Meets and Non-Meet Events)
Pending:
✓ Allow job sign-up during registration
× Disable sign-up, view, and change jobs outside of registration
(no button)
Open:
✓ Allow job sign-up during registration AND
✓ Allow job sign-up, view, and change jobs outside of registration (parent account login required)

Closed:
✓ Allow view job signups outside of registration (parent account login required)
× Disable job sign-up during registration
× Disable signups and changes to jobs outside of registration

hcmanageschedulecalendareventstatus hcmanageschedulecalendareventrsvpsreplies hcmanageschedulecalendareventrsvpssettings