With a little bit of housekeeping, your SwimTopia league website will be ready for your new season to start! We have put together a checklist to make this as quick and easy as possible.
---
Covered in this Article:
---
① Edit Content on Your SwimTopia Site
First, scan through your website content to see if there are any references to policies, dates, deadlines, etc. that are relevant to the last season but may have changed for the new season. You can edit those pages directly by going to Manage Site > Edit Page Content.
» Tip: Limiting specific dates throughout your site will speed up this process each season. If you need to list specific dates, keep track of the pages that will need to be updated to expedite updates.
➞ See more about Managing Your Website.
➧

Do you want to require a CAPTCHA to prevent spam?
If you use the Contact Us Form snippet, you might want to consider turning this feature on if your team has received any spam through your Contact Us page. You can turn this setting off at any time and revisit the need for this extra security level each season.
Learn more about this topic ➞ Contact Us Form Snippet.
---
② Change the "Season" on Your SwimTopia Site
You will be reminded to create a new season when you use SwimTopia and the current date falls outside the time that defines your current season.
When you go to Manage League > Schedule > Seasons, you'll see a warning that your season is out of date, and when you click on Fix the Current Season, your new season will be created for you. Or you can select +Add Season to create one manually. Be sure to update the age-up date as well.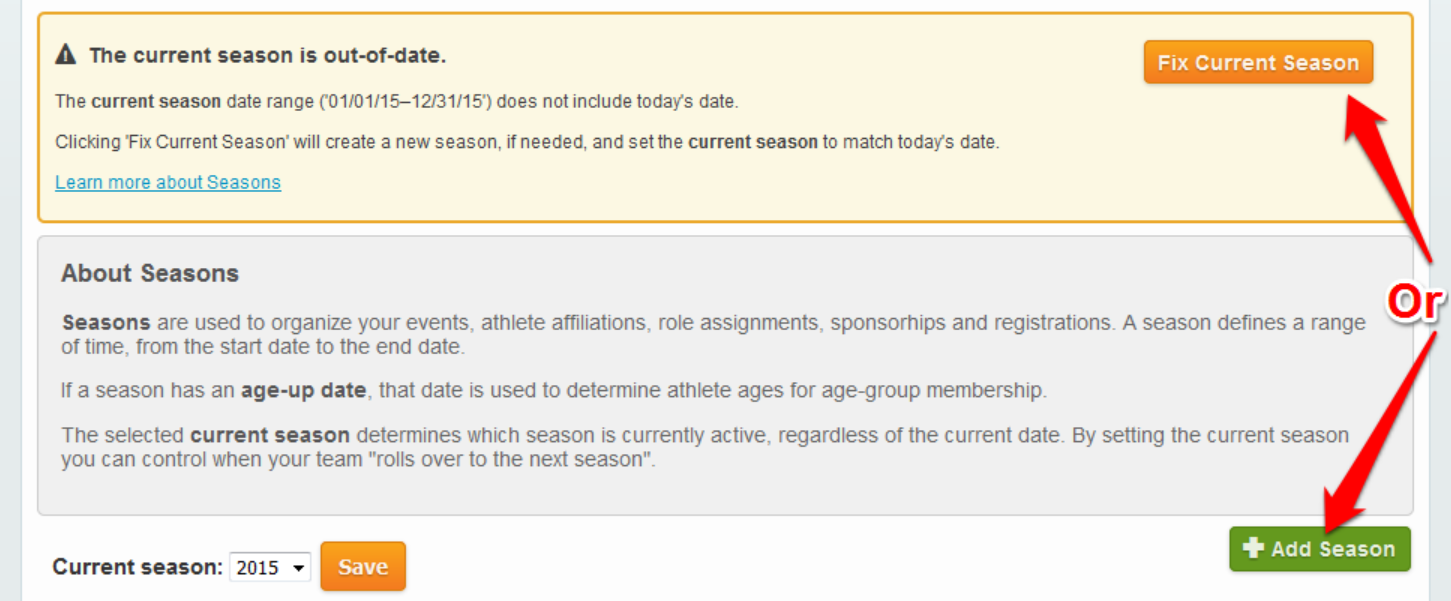 ➞ See more about Creating & Managing Your Seasons and Multiple Seasons in a Year
---
Where did everything go?

Once you change your Season, you might notice that some things seem to "disappear" depending on how you utilize your site. The following items are associated with the current season:

Registration Forms

People*

Role Assignments

Division Assignments*

Meets & Events*

Sponsors*

Reports*

When you change seasons, that information is retained but will not show up on your site since they are associated with a prior season. Past registrations can be found by running the registration report from the Reports tab.

* Any time you'd like to view these items from a past season, you can select that season from a drop-down box or select the season from the left margin.
---
③ Update Your Roster
When you go to your People page, the members listed are those with an affiliation to the current season (you can easily change to a different season with a drop-down box).
Administrator accounts, those with the red "Admin" badge, will appear in People (even if they do not have a current season affiliation), but their Affiliation will not be automatically renewed with the new season.
You can manually add a Season Affiliation to these members by clicking their name on the People page. Once you've clicked on their name, look to the right for "Add affiliation for" and select the current season from the drop down box on the right, then click "Save."
➞ See more about Adding New Admins.
---
④ Update Role Assignments
Role assignments are also associated with seasons. Some roles are set up so the assignments are seasonal, others can be set up so the assignments are ongoing from year-to-year.
Seasonal roles
If "This role is reassigned every season" is checked, the role assignments will be reset at the change of a season, and all members who were assigned to those roles last season will no longer be assigned to those roles. If you know that any of your members are repeating their role from last season, you have the ability to manage their role assignments manually.
» Note: Keep in mind, you won't be able to assign somebody to a role if they aren't a member of the current season.
Ongoing roles
If "This role is reassigned every season" is unchecked, role assignments will carry over from season to season. Once you've changed your Current Season to the new season, you'll see people in your Roster with this Role badge next to their name. If a member is not returning to one of these roles in the new season, you'll need to manually remove them from that role assignment.
» Tip: You may wish to check your Role settings before you change your Current Season -- if you'd rather edit a role to be an ongoing role, you'll want to do so before changing to the Current Season.
Shared Roles
Leagues can create Shared Roles that are then pushed down to their SwimTopia teams. Shared Roles are used for positions that are common to all of the league's teams, and especially when the league admins would like visibility to the assignments for those positions and for communication to those assigned to the roles from all teams. Examples can include: Team President, League Rep, Head Coach, Computer Person, and other board members
Each season, you'll want to review your Shared Role definitions and make any adjustments necessary for the new season.
» Note: If a shared role is seasonal, last season's role assignments will "disappear," so you'll want to remind your teams to assign names to those Shared Roles.
Go to Manage League > Roles and then click on Role Assignments in the upper right corner.

To remove a name, click on the "X" next to the member's name
To add a name, click on "Add/Remove" next to the role
Begin typing in the name of the member, and select the name when it appears
Click "Save."

» Note: The Role assignees shown here are from each site's Current Season. Shared Roles will show the team's assignees from that team's Current Season. "Local" roles will display assignees from the league's Current Season.
➞ See more about Shared Roles.
---
⑤ Shared Acknowledgement Sections
If you've created a Shared Acknowledgement that your SwimTopia teams are using on their registration forms, you should review the Shared Forms and determine if you need to make any updates to your acknowledgments.
Go to Manage League > Registration > Shared Form Sections. Click the "Copy" button to the right of the form you'd like to replicate for the new season.
Make your edits to the new Shared Form to reflect the new season, make sure that it is published, and then edit the old Shared Form to unpublish it.
» Note: if you make edits to an existing Shared Form that your teams are currently using on a registration form, you will need to communicate that to your teams. The team admin will need to edit their registration form, remove the old Shared Form, and re-add the new, updated Shared Form.
➞ See more about League Shared Form Sections.
---
⑥ Division Assignments
As you begin your new season, you'll want to update your Division Assignments. Go to Manage League > Settings > Division Assignments. Review the list of SwimTopia teams, and if any teams are missing from the list, contact SwimTopia Customer Happiness (The team must also be using SwimTopia to show up on your list).
Select the new season. Then for each team, select the appropriate division from the drop-down list next to each team name.
➞ See more about Setting up Divisions for Your League.
---
⑦ Meets and Events
If you'd like to send us your league's meet schedule at the beginning of the season, we can push those meets down to the sites of all of your SwimTopia teams, and they'll be automatically added to their Schedules.
To send a league meet schedule file to us, follow the instructions under "League Meet Schedule" in our Help Center article about the League Meet Schedule.
» Note: If you've listed any events on your own site's calendar in past seasons, be aware that events and meets are associated with a season. If any of these events are recurring from one year to the next, you'll want to copy those events from last season to this season.
Go to Manage League > Schedule and change the season to the past season. You should then see your list of events from that season.
Click on an event
Click on "Copy" in the upper right corner
Change the date (and the meet age-up date for meets)
---
⑧ Shared Time Standard Sets
If you did not create Shared Time Standards Sets last season, you can create those or update as needed and apply these to your Shared Meet Templates, so your teams can access these Time Standards to apply to applicable meets.
➞ See more about League Shared Time Standard Sets
---
⑨ Update Your Sponsorships
If you are displaying league sponsors on your site, be aware that Sponsorships are tracked per season. So once you update your Season, old sponsors will no longer show up in the section of your website that is created by the Sponsor snippet. You'll need to set up new Sponsorships for the new season. We offer a handy tool for copying Sponsorships that renew from one Season to another:
Go to Manage League > Website > Sponsors > Sponsorships
Select the last season
Select all the Sponsorships that will be renewing for the new Season - you can either select all by checking the box above the top of the list, or you can select individual Sponsorships from within the list
Once you've selected one or more Sponsorships, you'll see a drop-down box that says "Copy to Season"
Select your new season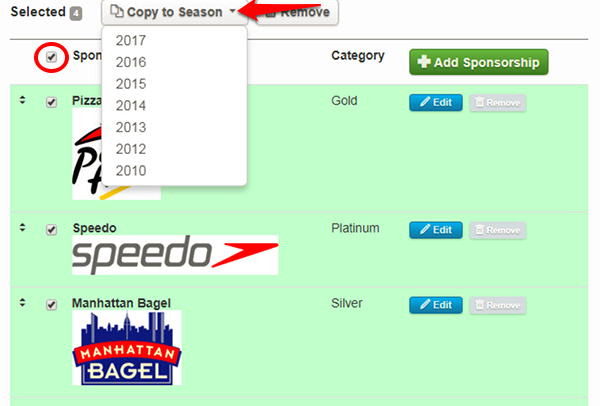 Once the Sponsorships are copied to the new season, you can edit their categories. And you can add new Sponsors to your new season's Sponsorships.
➞ See more about Sponsorships.
---
Voilà! Your SwimTopia league site should be all ready for your new season!
Now that you've done the housekeeping for your league's transition to the new season, you can point your teams to our helpful article about the steps they'll need to take for their team sites:
➞ See New Season Setup Guide (for Teams)