If you need to issue a refund for a registration payment or invoice paid through WePay, you will need to log into your WePay account to do so.
>>Note: For COVID-19 specific instructions ➞ See WePay Refunds & Your Registrations (COVID-19)
---
Covered in this Article:
---
WePay Customer Support
➧

WePay Support Hours
9am-9pm EST M-F (WePay does not offer weekend support hours)
➧

WePay Chat Support
WePay offers chat support (9am-9pm EST M-F) from within your Merchant Center (bottom right of your Home screen when logged in to your wepay.com account). We suggest trying this avenue first when you have any questions related to your WePay account.
➧

WePay Online Request Form
Follow up with a support request directly to WePay if you do not receive an answer, or do not know/have an account to log into - WePay Support.
>>Note: SwimTopia does not have insight into the details of your WePay account as this is a secure banking relationship. If you do not hear from WePay in a timely manner, your friendly SwimTopia Customer Happiness team can help expedite your request.
---
Accessing Your WePay Account
You can log into your account by going to http://wepay.com/login directly, but to ensure you are logging into the correct account for your team, we suggest that you access your account from within your SwimTopia WePay Configuration page.
Access this page via Manage Team > Settings > WePay Configuration.
Click the "Account Id" link to go to the WePay site. You'll need your WePay login credentials to continue. If unsure you will need to submit a request form thru WePay Customer Support to obtain this information.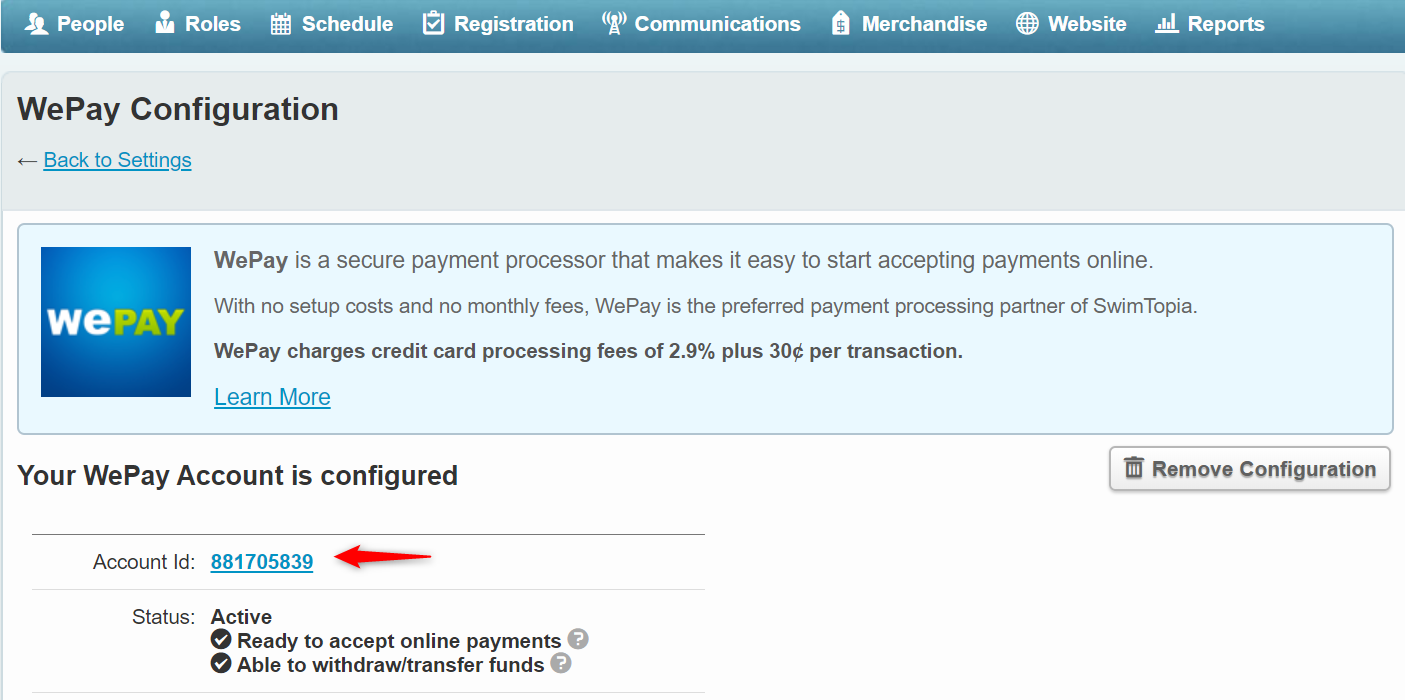 ---
Refund Steps In WePay
>>Note: You must have admin rights to your WePay account to perform refunds.
When logged in, go to the Transaction List and click the transaction you need to refund.

If you don't see the payment you want to refund in that list, you can click the "Reporting" tab on the menu on the left and search a date range for past payments. Payments have date, name, and amount so they are pretty easy to find.
>>Note: You can refund transactions made within the last 60 days. Outside of that time, you'll need to contact WePay Customer Support. If you do not see a "Refund" button, this is an indication that the transaction is beyond 60 days.
Once you have clicked on the transaction, one of the options on that screen is a "Issue Refund" button.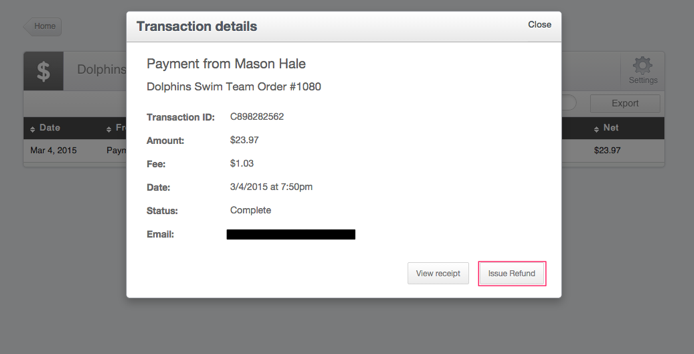 Confirm Refund.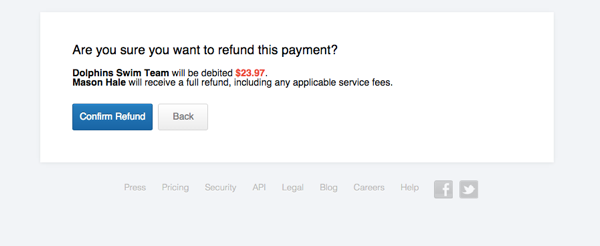 >>Note: If your WePay account reaches a negative balance due to a refund or chargeback, WePay will recover the net amount owed by directly debiting from your linked bank account.
---
Partial Refunds
To issue a partial refund, you'll need to provide specific information to WePay Customer Support ➞ See WePay's How do I issue a refund? support page.
---
Refund Timing & Processing Fee
Timing Expectations: Once a refund has been issued, it usually takes the payer's bank 3-7 business days to credit the payer's account.
Processing Fee Refunds: For a full refund, all processing and app fees are completely reversed. It is essentially like the transaction never took place. However, WePay does not refund any fees for partial refunds.
---
SwimTopia Status for Refunded Accounts
There is no communication between your SwimTopia site and your WePay account when you initiate a refund. All of the registrations are still listed as "Paid", and all of the parents who have registered are still considered to be "active" for the current season (2020).
If you don't want these refunded parents active for the current season, go to Manage Team > Registration > Click on "View Registrations" for the appropriate registration form. Find the name of the family in either "Pending" or "Approved," then click on the blue Reject button.
This will remove the family from your roster; they will no longer receive emails, and they will not be able to sign up for meets or volunteer jobs. This will also ensure your reports are accurate, such as "Seasons on Team", "Non-returing Athletes" and "Rookie Athletes".
---
For information on the setup of a WePay account ➞ See our WePay Configuration article.
If you have additional WePay questions ➞ See our WePay FAQs article.