You may be familiar with sending emails to individuals or groups using our Communications module, but did you know that you can also send group emails while working with reports and meet jobs & shifts?

We make it easy for you to select a subset of your members by running reports or checking on meet job assignments. Once you've created your subset, with the click of a button, you'll be taken to our Communications Center, where your group email message will be initiated.

A few tips about composing an email: In the Send To field, groups are now labeled based on type, including (Age Group), (Role), (Roster Group), and (Group). Group labels in the Send To field are now highlighted in green to differentiate from individual addresses, which are highlighted in blue.
Remember: green = group
Note: All email sent from your website will be from the name and email address associated with your own login. Some teams opt to set up a generic team or role admin logins to send team-wide email messages.
Emailing Members from Reports
Select the Reports tab in the Team Management console to access different ways to email your members.

Age Group Reports
Select the Registration: Athlete Count by Age Group report and select a season to search. Click Generate Report to create a swimmer count report organized by age group.
Then click Compose Email corresponding to an age group to populate a new email in the Communications Center with each member of this group.
You can also use the Athlete Information: Athlete Roster report in the same way, except you can limit your search to one age group, and the results display each name, phone and email in the group.
Volunteering Reports
The Volunteering Assignments Summary report is useful to quickly email members who have swimmers attending a meet but may be available to work a shift.
Swim Meet Reports
The Swim Meets: Meet Participants and Missing Entries reports allow you to email all members based on whether or not they have declared attendance at a particular meet.

See the Emailing Swimmers by Meet below for an alternate way to generate these email lists.
Emailing Swimmers and Volunteers by Meet
Select the Schedule tab in the Team Management console to email volunteers and swimmers based on their attendance at a meet.

Emailing Swimmers by Meet
Select a meet from your schedule, and then click the Entries: Reports tab. You will be able to generate lists of Participants, Missing Entries, First Time Participants, and Absences for that meet.
From each report, click Compose Email to create a new email in the Communications Center to that list of swimmers.
Emailing Volunteers by Meet
Click the Jobs tab to view the jobs and shifts for your meet.
Click the "Email All Assignees" button near the top to send an email to all volunteers for that meet.
If you'd like to email all volunteers who either signed up or were assigned to work any shifts associated with a particular job, click on the envelope icon located next to "Assignees" within that job section.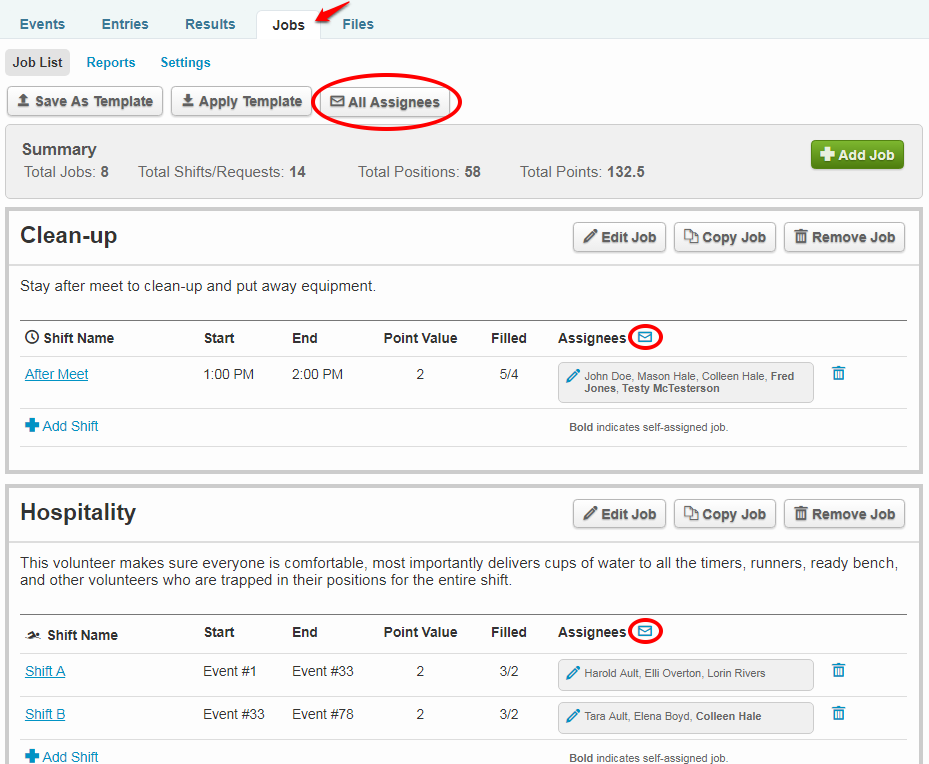 hcmanagescheduleswimmeetentriesreports hcmanagereports