Admin Menu
Activating your admin account from the activation email will allow you to automatically login to your website. 
The top menu will have different options, depending on the level of access granted for logged in users. 
Only Administrators will have the Manage Site and Manage Team options as seen here, so we call this menu the Admin menu.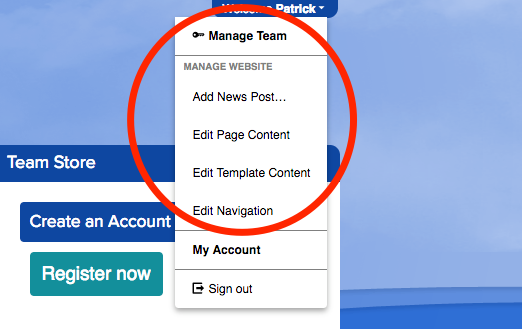 Manage Site
Your SwimTopia managed website is set up with default website pages which are customizable to your team's needs. 
Use the Manage Site tab to start editing the content right from the these pages on your website. 
» See the Managing your website tutorial section to get started.
Manage Team
To configure your website settings and manage all aspects of your team, click Manage Team from the top Admin menu on your public website.
You are now in the Team Management console.  

Use the navigation tabs to manage your team's Roster, Roles, Schedule, Registration, Communications, Site Navigation/Pages, and Reports.
» See the Managing your Team tutorial section to get started. 
Settings Menu
Once you've clicked on Manage Team, you'll see a link to a Settings menu for a list of site-wide settings and tools.

See the following Help Center articles for more information about each option under Settings: