Some teams choose to assign Registration Numbers for their athletes. Some teams (especially USAS year-round/club teams) use the USA Swimming-defined USS ID format for the registration number. Registration Numbers (whether USS ID format is used or not) can be imported from an existing Team Manager database, auto-generated, or created manually in SwimTopia. Whichever scenario fits your team, there are multiple options SwimTopia supports for assigning, viewing and downloading these numbers.
>>NOTE: The Registration Number is not used by SwimTopia to uniquely identify athletes, or to de-duplicate athlete records. However, the Registration Number is used to match/deduplicate athletes in other meet mgmt software. For this reason, care should be taken to ensure that if a registration number is assigned that it is unique for each athlete on the team.
---
Covered in this Article:
---
Assigning Registration Numbers
Registration numbers are not auto-assigned by default during registration, but there are several ways you can assign a Registration Number to an athlete.
➧

Option 1: Auto-generate USS IDs for new athletes
If you wish to use the USA Swimming ID format, you can turn on "Auto-generate USS IDs for new athletes" in Settings > Team Information. And below that setting, you'll see an option to "Generate USS IDs for existing athletes."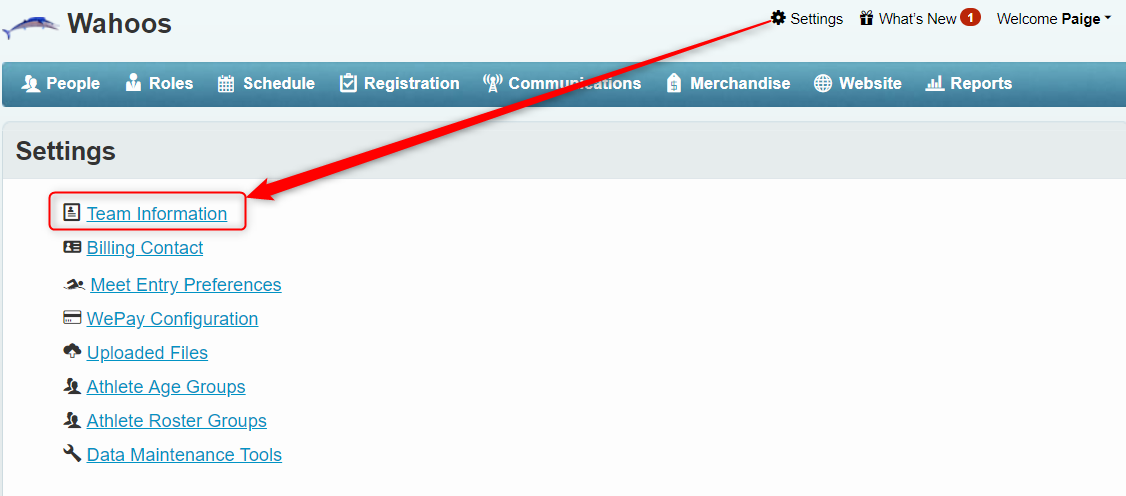 ➧

Option 2: Assign USA Swimming IDs
Retroactively auto-generate USA Swimming IDs for any athletes that do not already have an assigned ID in Settings > Data Maintenance Tools > Assign USA Swimming IDs.
>>Note: There is no page behind this button, so clicking on the button will start the process of automatically assigning USS IDs. These can be found within the athlete's profile (People tab), or in the reports listed below.

➧

Option 3: Edit "USA Swimming / LSC Registration" Report
Edit the "USA Swimming / LSC Registration" report under the Reports tab (within the Registration section).
>>Note: You can only update the USA Swimming registration information here, so you cannot enter a specific number. If you change the name or birthdate, the USS ID will be updated because the USS ID format is derived from the athlete's name and date of birth. Also, Flex, Full or Outreach Season Codes are not available for selection. These will have to be updated after exporting the file.)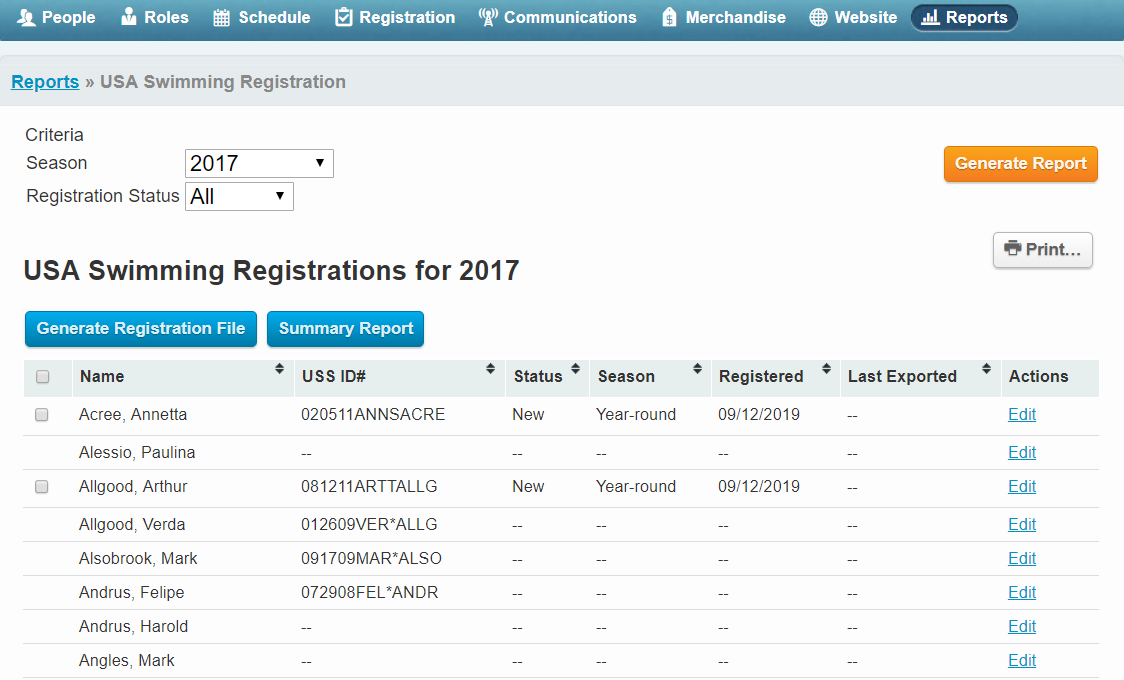 U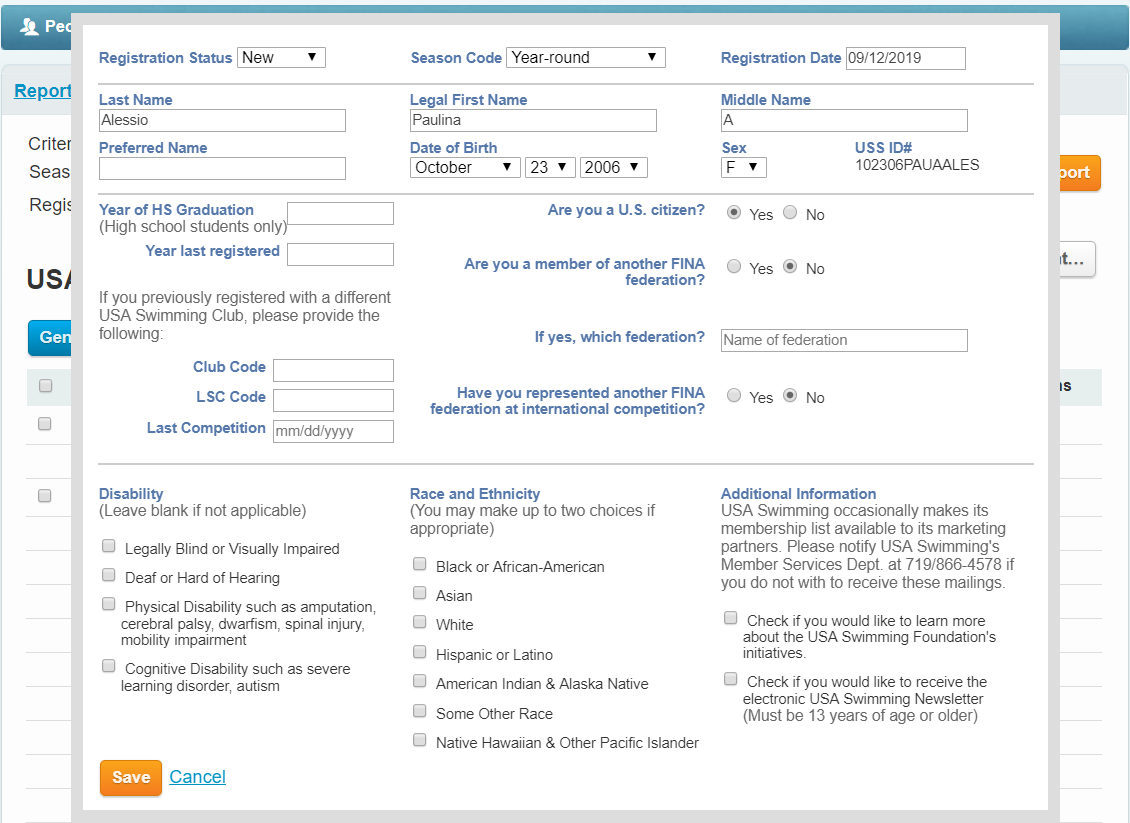 ➧

Option 4: Edit "Athlete Registration Numbers" Report
Edit the "Athlete Registration Numbers" report under the Reports tab (within the Athlete Information section) to either use the Auto-Assign button at the top, or manually enter each number.
>>Tip: You can enter an initial Registration Number, Save (at bottom), and then use "Auto-Assign" to generate additional incremental Registration Numbers based on this initial value.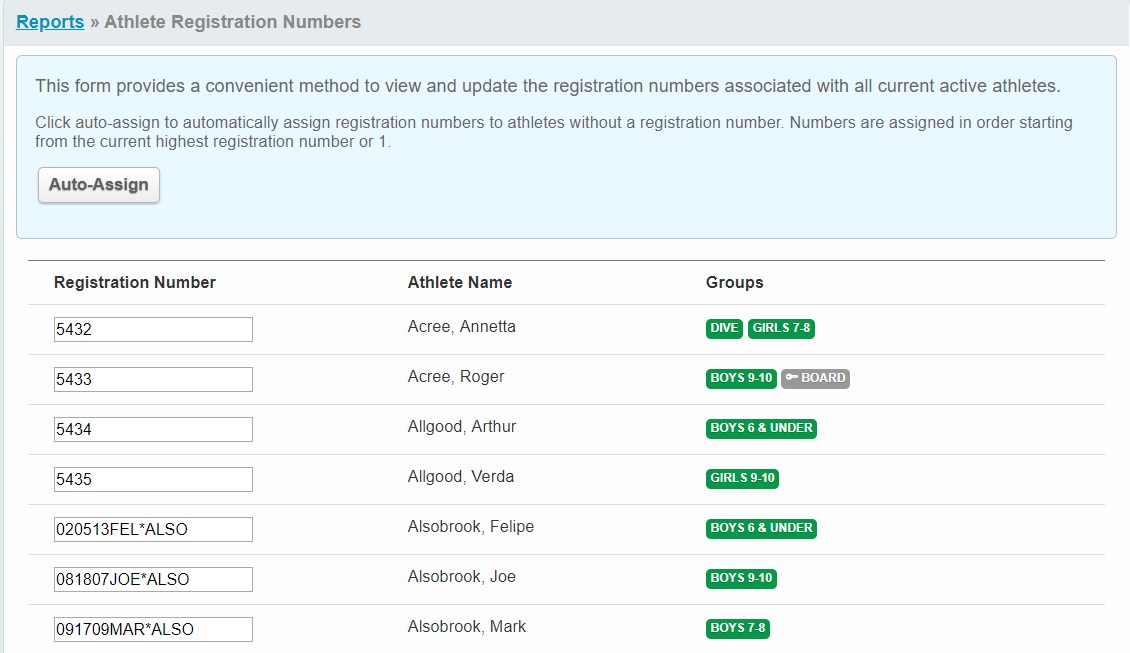 Don't forget to scroll to the bottom of the page to Save Changes!

➧

Option 5: Manual Entry on Athlete Profile
Manually enter a Registration number OR "Generate USS ID" in People > Athlete Name > Edit (top right corner within athlete profile).

Once on the edit screen, scroll down to the bottom and you will find the "Registration number" field.

---
Reporting
Under the Registration section of the Reports tab, you'll find the USA Swimming / LSC Registration report.

You can run the report for any season and registration status.

After generating the report in the browser, you have options to download a registration file (SDIF/.sd3), view a summary report, or print the browser view.

>>Note: The Generate Registration File button produces a .zip file that contains an SDIF-format file. We wrap the SDIF file in a .zip file because it avoids some errors that can occur when emailing SDIF files between Mac and Windows computers. If you double-click the .zip file it should automatically extract into an SDIF file (known by the filename extension .sd3).
---
Athlete Numbers in Meet Maestro
Athlete Numbers are configurable to display in the time entry interface and reports within SwimTopia's meet management application, Meet Maestro ➞ See Meet Maestro - Time Entry Interface Overview
---
Important Notes:
The USS ID is exported in the "registration number" field in Hytek and SDIF/Sd3 formats.
The USS ID is generated based on date of birth, the athlete's legal first name, middle name (if present), and last name.
If your team does not capture date of birth (Optional for School Teams Only), then you will need to edit the athlete's profile to add this information before generating the USS IDs.
hcmanagepeoplenewathlete hcmanagesettingsdatamaintenancetools
---