---
Covered in this Article:
---
Does SwimTopia have a meet management system?
You bet we do! SwimTopia provides our customers with the option to use our innovative and intuitive meet management module, Meet Maestro™, to run meets against other SwimTopia teams or non-SwimTopia teams.
If your team is not currently using Meet Maestro...
➞ Read more about our Meet Maestro features on our Meet Maestro tour page.
➞ Take a test drive or learn how to get started, visit our Meet Maestro - Manage Your Meets online help.
» Note: If your team is currently using Meet Maestro, but you have meets with teams who are not, spread the word on how easy and simplified Meet Maestro is to run your meets. We're happy to talk to anyone you refer our way! Have them contact our sales team at 877 856 2940, option 1.
---
Exporting a Meet Events File (Optional)
If the meet is being hosted by a team using another system and you want to ensure your meet will run smoothly, we advise sharing your meet events with the opposing team.
They can use the events file to confirm you are set up correctly based on the events list they have in their system, OR they can share their event file with you to compare with what you have in your SwimTopia meet or to use to create your meet (if not already created by you or your league).
When you have at least one event present in your meet, you'll see the option to Download Events File. This meet event file can be imported into any system that accepts EV3 files.
➞ See Downloading a Meet Event File (EV3)
---
Exporting Meet Entries and Team Roster for Meet Manager
» Note: SwimTopia is compatible with Hy-Tek Meet Manager 2.0 and above. This file is also compatible with the Swim Meet Maker system as well.
A. Export Meet Entries
SwimTopia meet entries import directly into Hy-Tek Meet Manager, for seeding and heat sheet generation.
From Schedule > Meet > Merge/Export, "Lock out all entry changes", click on the Downloads tab and download the Meet Entries in Hy-Tek format (.zip/.hy3) file to your local drive to upload to Meet Manager, or send to the host team.

» Tip: If you are the host team using Meet Manager, follow the instructions found in Active Hy-Tek's User Guide for Adding Meet Entries to import your .HY3 file.
B. Export Team Roster
From this same screen on your SwimTopia site, download your complete Team Roster (.zip compressed .hy3 file) for Meet Manager, or Team Manager.

» Note: Rosters can also be downloaded in .HY3 file format from the Athlete Roster report in Reports.
---
Seed Times and Team Manager Compatibility
» Note: Most teams use Meet Manager, not Team Manager so this is just an FYI for those that do import into Team Manager...
When importing entries into Team Manager, seed times will not be extracted from the entries file. Team Manager will instead look first to the database of times already loaded into Team Manager.
Team Manager matches swimmers to times in its database using the exact full name (including middle initial) of the swimmer plus date of birth. If some swimmers do not have seed times after importing entries into Team Manager, that would indicate that either (a) Team Manager does not have any times/results for those swimmers or (b) the names or birthdates do not match exactly (most commonly this is due to different middle initial or first name).
---
Exporting Meet Entries for Swimmingly
SwimTopia meet entries import directly into Swimmingly system for seeding and heat sheet generation.
From Schedule > Meet > Merge/Export, "Lock out all entry changes", click on the Downloads tab and download the Meet Entries in SDIF format (.zip/.sd3) file to your local drive to upload to Meet Manager or send to the host team.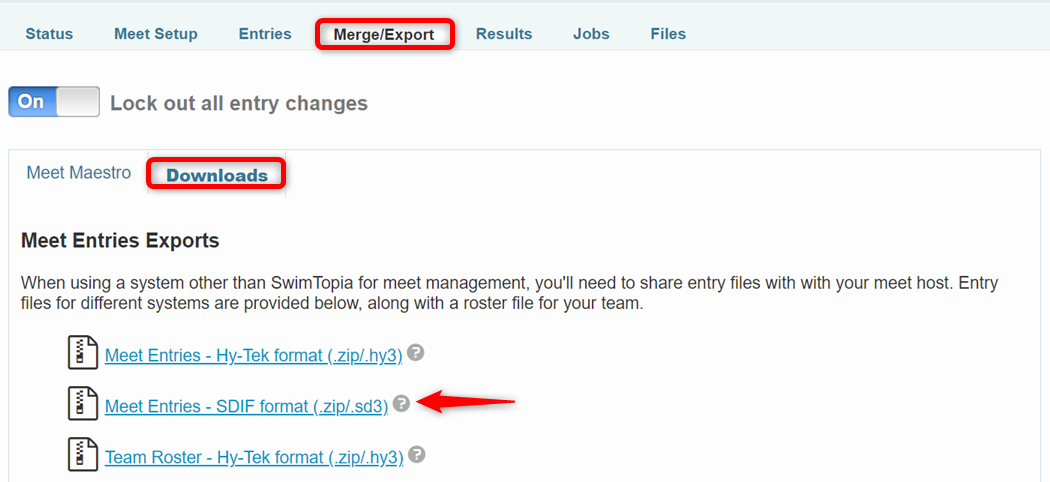 ---
Importing Results After the Meet
Meet results exported from other meet management software can be imported directly into each completed meet.
➞ See Meet Results: Transfer/Upload Process for details.
---
Reports - Heat Sheets, Results, Labels...
The Pre and Post meet reports in Meet Maestro were designed to be accessed when the meet is run using Meet Maestro. If the meet host is using Meet Manager (or another system), then it's really up to them to provide the heat sheets and results for the visiting team.
That's the benefit of getting every team to use SwimTopia/Meet Maestro, because then when the host merges the entries from both teams, you both have access to the same meet and can each run your own reports when and how you want.
Workaround for Pre-Meet Reports: You could ask for a Merge Entries .HY3 file, if you want to upload them to merge the meet as if you were the host. (Meet Manager has proprietary rules for how it seeds athletes when there are NTs etc, so you couldn't assume the heat sheets would be exactly the same.)
Workaround for Post-Meet Reports: We have a workaround you can use if you would like to follow the required steps below on your own.
1. Build/Merge original meet to Meet Maestro
Create your meet as usual but merge your team's entries on the Merge/Export > Meet Maestro tab to create the meet in Meet Maestro (you don't have to have the other team's entries, since it's just to get a meet created in Maestro for now, like an Intrasquad) ➞ See SwimTopia Meet Entries – Ready to Merge

2. Mobile App Settings - Turn off Notifications
To avoid generating mobile app results notifications, turn this setting off before uploading the results. Upcoming Swim Reminders should not matter since the meet is over, but just to be safe, turn all notifications off.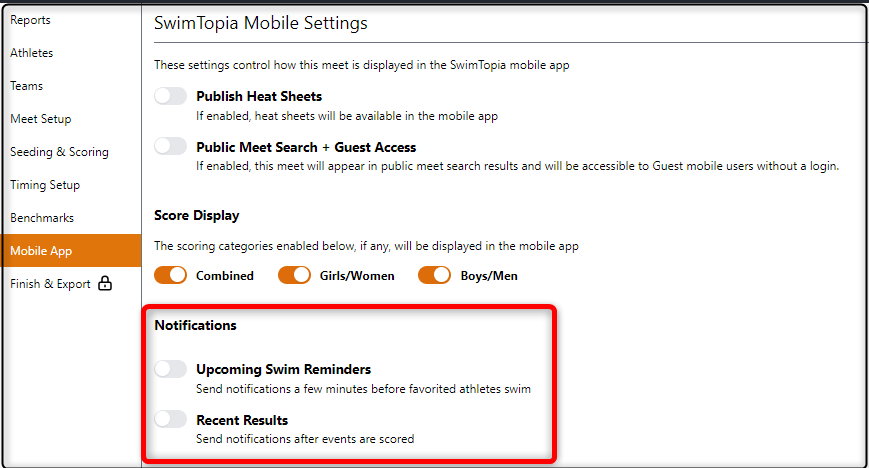 3. Enable Virtual Meet
After the meet has been run in the host's meet management system, and you've obtained the results file from the host, go the Settings (gear - upper right) in the Meet Maestro meet, and under Meet Setup click "Enable Virtual Meet" at the bottom and Save. ➞ See our Meet Maestro Settings – Meet Setup & Sessions article for this and the next two steps.


​
4. Upload Results to New Session
A new tab named Sessions will now appear on the left. Access this area and create a new session using the results file received from the host team. You may upload your specific team's results, or you may upload a Merge Results file containing results from multiple teams.
​

5. Delete the original session.
From Settings > Sessions, click Edit for the original session, then Delete. You will be prompted to confirm that you intend to delete the session. This may take up to a minute. The page will redirect when finished.
Now you can view and print reports in Maestro as needed.
» Note: Do not transfer results from Maestro, as this won't work since the results file was imported into Meet Maestro directly. You can save the Results file as a PDF from the Maestro Reports tab to upload this on the Files tab within your SwimTopia meet for your parents to access from your Schedule webpage on your SwimTopia site.
---
hcmanagescheduleswimmeetentriesmergeexport