If your team is competing against a team that does not use SwimTopia, or if your team is using another system for your entries, SwimTopia supports the upload of a Meet Entries File or Merge Entries File. This allows you to use Meet Maestro to run your meet!
» Note: If all competing teams are using a SwimTopia team site to enter athletes into events, See ➞ SwimTopia Meet Entries – Ready to Merge
---
Covered in this Article:
➧

File Specifics
➧

Upload Process
---
Supported Formats
.hy3 (Hy-Tek proprietary)
.sd3 (SDIF - Swimmingly, TeamUnify)
.zip file (containing a .hy3 or .sd3)
---
Who Can Upload Files
Either team (home/visitor) with access to the SwimTopia meet can technically upload entries files. The team that merges the meet (typically designated as home) will import the following into Meet Maestro:
All entries from meets created in a SwimTopia site linked to their meet
Any uploaded files for teams that do not have entries created in a SwimTopia account
---
Entries From Visiting Teams
➧

Entries from Teams Without a SwimTopia Subscription
Teams without a SwimTopia account who are invited to a swim meet will submit their meet entries to the meet host via a meet or merge entries file.
If the meet is virtual: both teams must have a SwimTopia account to access Meet Maestro. See ➞ Meet Maestro - Virtual Meets
If the visiting team manually times (No Meet Software): Teams and athletes can be manually added to Meet Maestro after the merge step to create the meet. See ➞ Meet Maestro Settings - Teams
➧

Entries from Teams With a SwimTopia Subscription
How entries are managed for the teams that are not merging the meet (typically visiting teams), relates to whether they have entered athletes into events on their SwimTopia meet:
If a linked team has meet entries on their SwimTopia site those entries will be merged into the meet by default.
If those teams want to use an entries file instead, they should ensure there are no athlete entries in their Meet Setup > Entries table, and that the team abbreviation in the uploaded file matches the abbreviation on their account under Settings > Team Information. OR the alternative option is to make two copies of the meet -- one for entries in SwimTopia and another without SwimTopia entries to import a merge entries file into.
» Note: If a team that is not merging the meet uploads a file with entries (whether for one team or multiple teams), all the teams show up but any team with an abbreviation that does not match the visiting team show up with a warning indicating the non-matching uploads are being ignored, as seen here: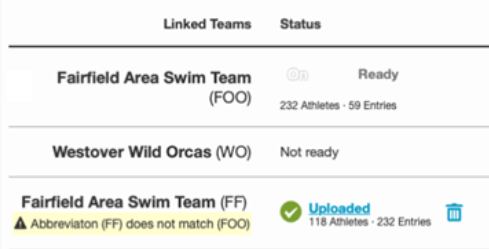 ---
Heat/Lane Assignments
If a meet entries file (including the "merge entries" file variant) is uploaded in HY3 format that includes heat and lane assignments, those heat and lane assignments will be honored by Meet Maestro. There are some caveats, however:
The file must be HY3 and not SD3 format because SD3 does not include heat/lane information for meet entries
As stated, if uploading an entries file for your own team (matched based on team abbreviation), and you also have meet entries for that meet created in SwimTopia -- the SwimTopia entries will be used and the uploaded entries will be ignored. See above for how to use the file instead.
---
How To Upload Files
Click the Upload File button (bottom right).

Choose the file to upload.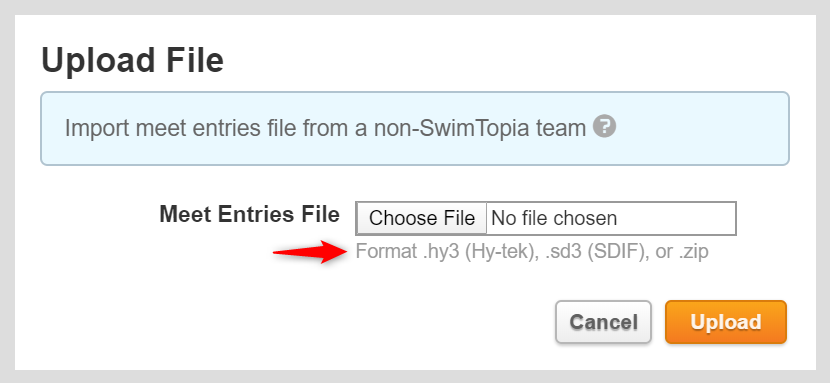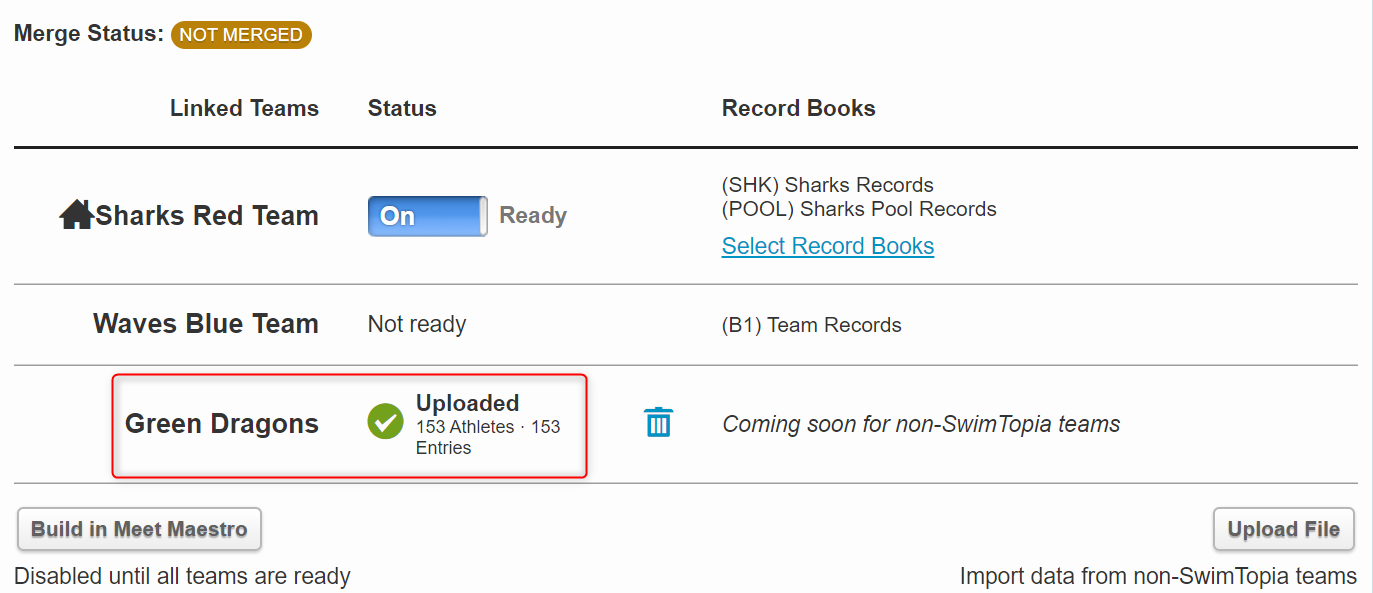 ---
Upload Errors
If you receive an error when attempting to upload the file, it is likely due to either the file not being a supported entries file or mismatched events between your meet and an uploaded file. Ask the visiting team to correct their file or edit your events as necessary. The best way to ensure events are in sync is to download your events file from Meet Setup > Events to send to teams.
---
More Than Two Teams Competing
You can repeat this process for each team if competing against multiple teams in a meet, or upload a Merge Entries File containing all teams. Any time you upload a file with multiple teams (i.e. Merge Entries, Advancers), the Upload Confirmation pop-up window lists each team separately with the athletes, entries, and relay totals for each team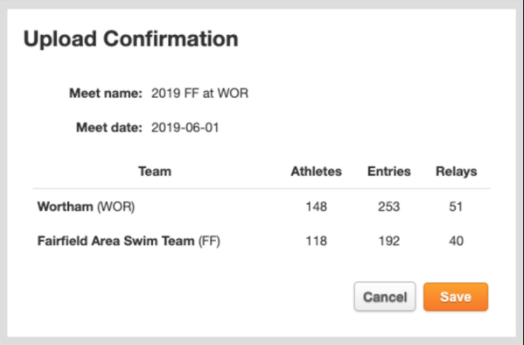 On the merge/export page, each team is listed separately: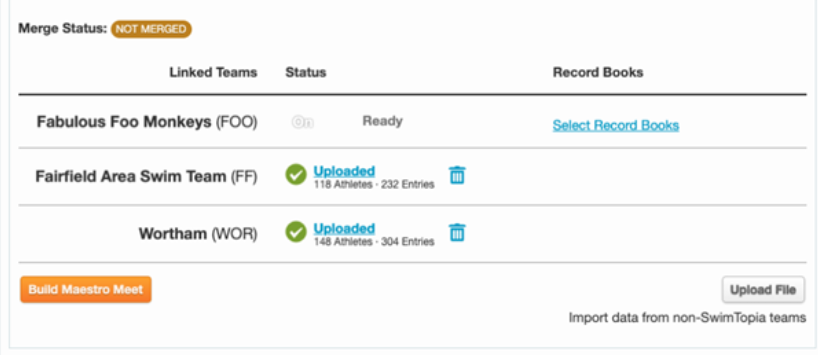 » Note: Both of these teams are linked to the same entries file. However, each team can be deleted independently. Thus it would be possible to upload a file with entries for multiple teams, then delete the teams you don't want to import.
---
Next Steps - Change Merge Status and Merge Meet
After you have uploaded the entries file(s), you will need to follow the steps to ensure each team is marked as "Ready" and then merge the meet entries. See ➞ SwimTopia Meet Entries – Ready to Merge
---
hcmanagescheduleswimmeetentriesmergeexport