Welcome to SwimTopia! We're pleased to help you manage your league website, with special features that can help you manage the teams in your league.
Use this Quick Start Guide to get started with your new league website. Follow the links below each item for step-by-step instructions. We also offer a comprehensive League Onboarding Checklist that guides you through every action item as you set up your league with SwimTopia.
---
Covered in this Article:
---
League Features Overview
If you need a refresher of all the great league features available, watch the recorded workshop webinar at your leisure.
➞ direct link to our League Features video.
---
Need help along the way?
SwimTopia offers a robust system for managing your site - visit our Help Center for more information, including our section about Leagues.
➞ Example League Sites - Check out how other leagues have set up their SwimTopia sites.
➞ Workshop Webinars - Sign up for our live webinars as they are available.
➞ ▶️ Video Guide - Topic-Focused Training - Watch pre-recorded videos at your leisure.
➞ SwimTopia Support - How can we help you? - SwimTopia's Customer Happiness Team is here to provide guidance as needed.
---
Link your Teams
If any of your teams are already using SwimTopia sites, we'll want to make sure they're linked to your league. To see the list of teams that are affiliated with your league, see the Member Team Summary report. If you know of teams that are using SwimTopia but do not appear on the Member Team Summary report, contact our Customer Happiness Team.
---
Manage your League Settings
You can review (and edit if needed) your league's name, abbreviation, add a logo, and set your time zone. We'll cover additional topics in this area below as well.
These configurations are found under Manage League > Settings > Team Information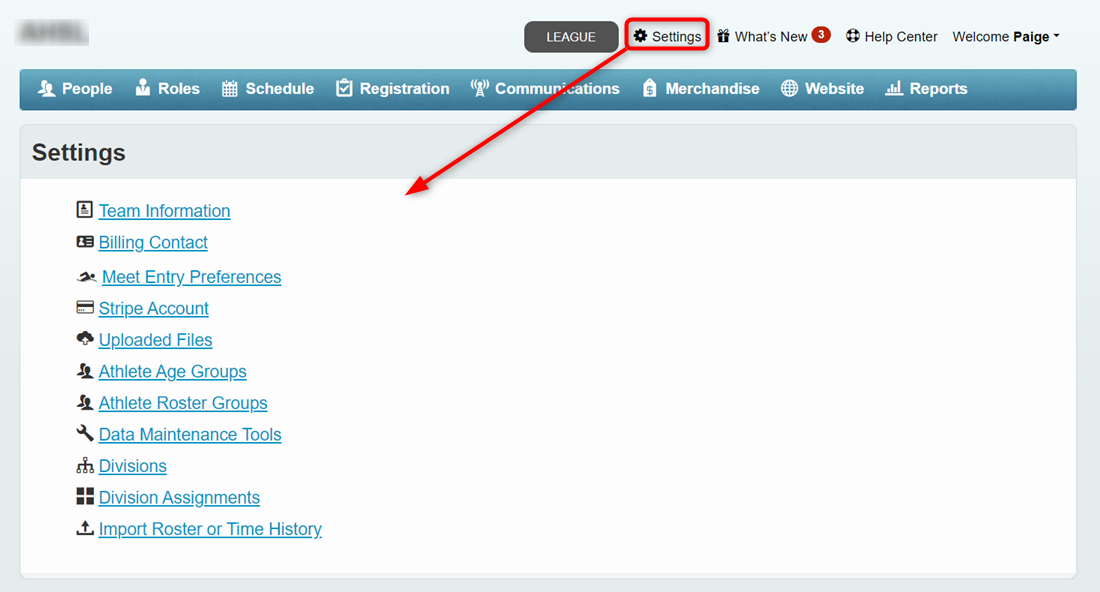 ---
Set up an Online Payment Account (Stripe)
If you plan to collect League Fees online through each team's registration, you will need to set up a Stripe account through your league site to accept online payments.
Reference our step-by-step tutorial ➞ Stripe Account Setup
This is found under Manage League > Settings > Stripe Account.
---
Manage your People
Manage the people in your league including admins, board members, and league officers.
---
Add Content to your Website
Modify your site's color scheme, add content to your pages, and arrange your pages and navigation.
➞ ▶️ Training Videos: Your Site's Content and Appearance
➞ Customizing your site's appearance
➞ Editing Page Content with Snippets
---
Create Meet Templates
Define Shared Meet Templates that can be applied to your SwimTopia teams' meets. This helps ensure consistency across teams' meets for swim events, meet entry rules, meet entry fees, and eligibility rules.
---
Import your Meet Schedule
Create a meet schedule file that can be pushed down to your teams who are using SwimTopia and will auto-populate your SwimTopia teams' Schedules.
---
Set up Scoring and Standings
You can create a league standings page by enabling the scoring feature, if all of your teams are using SwimTopia. You can even track standings within divisions.
➞ Setting up Divisions for your League
---
Set up Shared Roles
Create roles that will be used by your teams who are also using SwimTopia, such at Team Rep, President, Coach, and more. Once you create these Shared Roles, they'll be available on your teams' SwimTopia sites, and your teams can then assign names to them.
➞ Sharing Roles with Member Teams
---
Set up Shared Registration Acknowledgements
You can create acknowledgements to be pushed down to the registration forms of your teams who are also using SwimTopia. In these shared registration acknowledgements, you can include waivers, capture electronic signatures, and add league fees to be paid directly to your league.
---
Set up Shared Time Standard Sets
Leagues can set up Shared Time Standard Sets, apply them to Shared Meet Templates and push them down to all of the league's SwimTopia teams. This is helpful and ensures accuracy for league-wide meets, such as championship meets and invitationals. It also allows teams who are using Meet Maestro to track when a time standard has been achieved during a meet.
➞ See more about League Shared Time Standard Sets
---
Set up your Merchandise Items and Online Store
If your league wants to sell merchandise, sponsorships, meet entry fees, donations, etc., you set these up as merchandise items to sell when you enable the online store for your league site.
➞ Setting up the Online Store*
*Features available to customers on our Premium tier PREMIUM
---
Email your League Members
Use automatic mailing lists to communicate with the league members who are set up on your site, with team members who are assigned to Shared Roles, and to all members of your teams who are using SwimTopia.
➞ ▶️ Training Videos - Communication
---